War crimes in Afrin: 58 people including 26 Êzidîs abducted
Turkish invasion forces and their allied gangs have abducted at least 58 people including 26 Êzidîs since April 18. The abductees were tortured and held for ransom, and their homes are confiscated.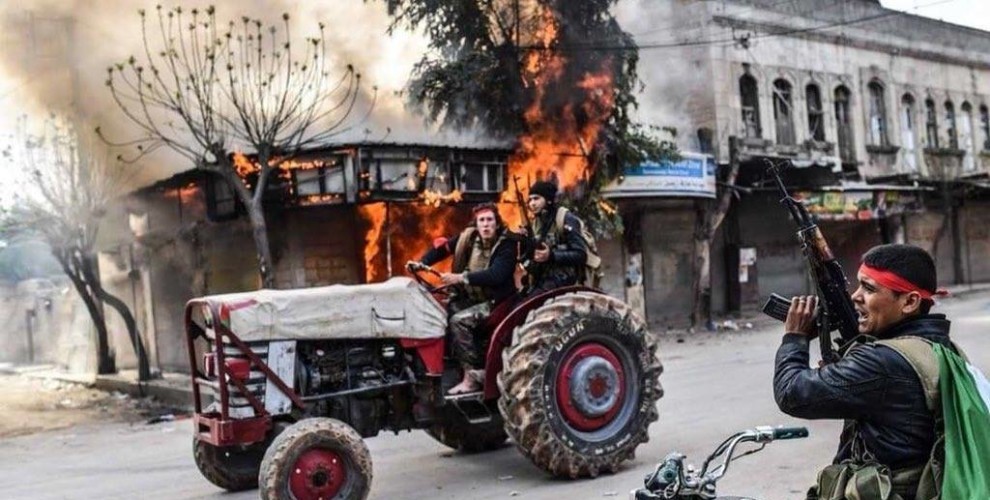 The Turkish state and their allied gangs continue to commit severe crimes since they invaded Afrin, and have recently abducted dozens of people. The fate of the abductees is unknown. Meanwhile, torture and looting continues with all intensity. Since April 18, at least 58 people have been abducted, while the actual number is assumed to be much higher. The invaded area is rife with fear and terror, and regular information flow is not possible.
16 ÊZIDÎS ABDUCTED IN QITME
Reports say 16 people have been abducted and taken to the village mosque in the Êzidî village Qitme in Afrin's Shera district. All 16 people are Êzidîs and their names are:

Hac Ehmed Hemo (70), Nebîl Mihemed (46) and spouse İlham Mihemed (60), Hisên Îbo (70), Henan Birîm (65), Azad Birîm (35), Hemîd Qasim (39), Ednan Qasim (45), Nîdal Qasim (43) and son Hemdûş Qasim (15), Fewzî Şemo (55) and two of his sons, Eymen Hemade (35), Şêxo Hemade (28) and Sadiq Silêman (34).
ABDUCTIONS, TORTURE, RANSOM AND LOOTING
The gangs tortured villagers Nebil Mihemed and Ilham Mihemed and stole 2.500 Syrian Liras from them, after which they released the couple but confiscated their home.

Villagers named Umer Umer, Xelil Behri and Mihemed Bedri were also abducted and their fate is unknown.
In the Qibare village, 5.000 dollars were confiscated from villagers Fadi Arif, İbrahim Arif, Henan Arif, Abdulrehman Arif, Ali Arif and Semir Arif.

MİT ABDUCTED A FAMILY
Sources in Afrin had exposed on April 25 that the Turkish intelligence service MİT had abducted the Êzidî family of Ednan Heciko, known as Mendo. This attack took place in the Qibare village and Zekiye Hecîko, Rizgan Hecîko and Alan Hecîko were abducted. Same sources also said Ednan Heciko was abducted, severely tortured and later released. Heciko is said to have lost his mental health due to the torture.
5 PEOPLE ABDUCTED IN SHERAWA AND BILBILE
A source in Afrin's Sherawa district stated that on April 25, two brothers Ehmed Hesen and Murad Hesen were abducted from the Kimare village and violently tortured.

In Sherawa's Girzîlê village, civilians Mihemed Elo Umer (45) and Ebdulrehman Welo (50) were taken to an unknown location and gangs from Ghouta were settled in their homes.

News of another abduction came from the Bilbile district on the same day. Civilian Mihemed Birim from the Qere Gul village of the district was abducted for ransom.
15 PEOPLE INCLUDING 6 ÊZIDÎS ABDUCTED IN BILBILÊ
On April 22, invaders abducted 9 people from the Şexorze, Qoşo, Xelilak and Qeregul villages of the Bilbilê district and 6 Êzidî people from the Qibar village. The fate of the abductees is unknown. The names of the abducted Êzidîs are: Fadi Arfi, İbrahim Arif, Eli Arif, Abdulrehman Arif, Semir Arif and Henan Arif.

AT LEAST 14 PEOPLE ABDUCTED IN MABETA
Turkish regime forces and gangs under their protection abducted a civilian in the Mirkan village of Afrin's Mabeta district. After the villager M.H. (48) was abducted, homes in the village were looted and property within them confiscated. Men of the same village were gathered in the school and subjected to insults and torture.
According to leads submitted on April 18, the invading Turkish army and their allied gangs abducted 13 people in Afrin within the span of one week.

The abductees from the Gobekê village are: X.Ş. (30), E.Ş. (28), E.H. (24), E.H. (22), M.H. (22), D.H. (20), S.H. (20), K.B. (20), K.K. (26), M.K. (29), M.K. (25), W.H. (60).

TORTURE AND ABDUCTION IN QURNE
Our source M.H. from the Bilbile district who wishes to remain anonymous for security reasons stated that the Turkish army tortured and abducted a civilian named H.H. (28) in the Qurne village.