A mother fighting the embargo
Every day early in the morning, she starts her journey against all the hardships of life, collecting and selling herbs and vegetables. She is resisting the challenges of the embargo and high prices to ensure a dignified life for her children.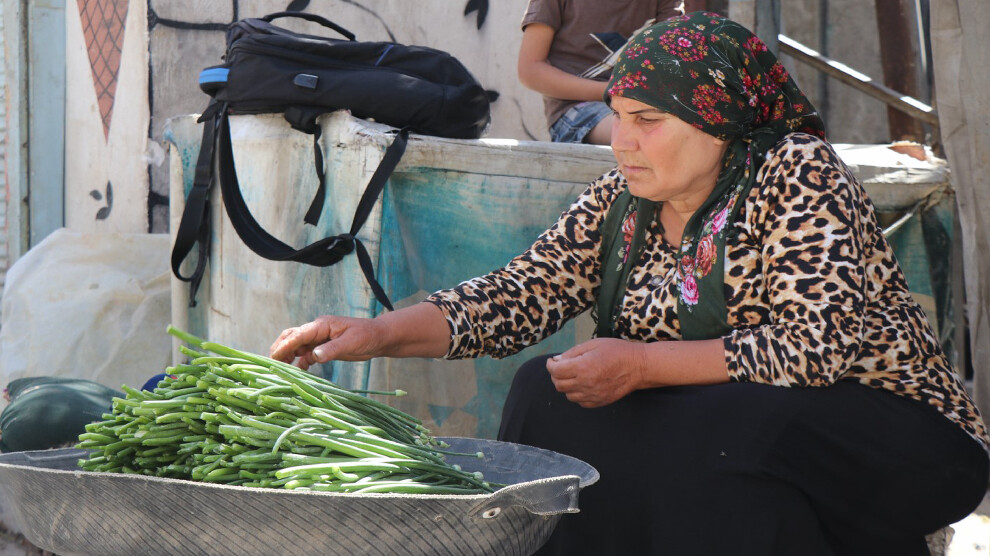 Sadet Mihemed Elî, a mother of 6, wakes up early every morning and starts her journey against the hardships of life. She goes to the agricultural lands in the neighbourhoods of Şêxmeqsûd and Eşrefiye and collects herbs.
The woman, who migrated from occupied Afrin, collects and sells herbs to meet the needs of herself and her children.
After the Turkish state occupied the Afrin Canton in 2018, Elî migrated to Aleppo with her family. Like thousands of Afrin refugees who settled in Shehba, Şêxmeqsûd and Eşrefiye, the family are experiencing difficulties due to the embargo by the Damascus government.
In order to meet the needs of her children and livelihood, Elî goes to Til Eran, Til Hasil and Ramûsê regions, which are famous for agriculture, in the southeast of Aleppo. She brings the herbs she collects to Aleppo and sells them. Elî told ANHA: "My husband is disabled and old. He cannot do any work. Therefore, I have a double responsibility. I have to meet the needs of my children and the costs of my husband's treatment."
Despite all the difficulties, Elî still welcomes its customers with a smiling face. She waits for customers at the market to the west of Şêxmeqsûd. "Because of the embargo and the high prices, I can't get my children many things. The money I earn from the sale of herbs is sufficient for basic needs such as bread and food."
Elî added: "I am struggling more and more every day because of the embargo and the high prices."
The Turkish state attacked Afrin Canton on 20 January 2018, and occupied the city of Afrin on 20 March, after the citizens and defense units put up 58 days of great resistance.