Amude Kongra Star Coordination publishes program for 4 April, Abdullah Öcalan's birthday
Amude district Kongra Star Coordination published its program for 4 April, Abdullah Öcalan's birthday.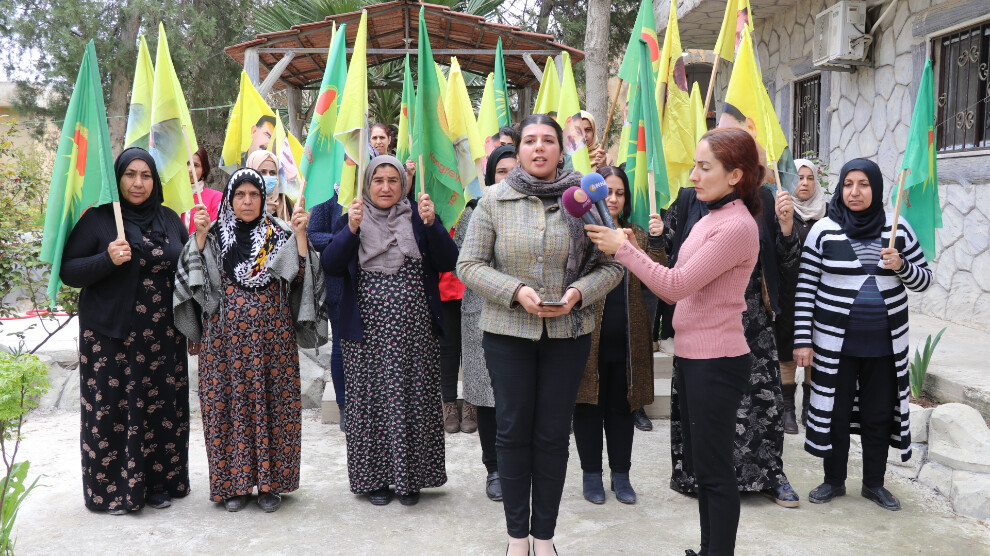 Kongra Star Coordination in the Amude district of Qamishlo Canton published its action program on the occasion of 4 April, the birthday of Kurdish people's Leader Abdullah Öcalan.
The members of the Amude District Kongra Star Coordination gathered in front of the women's organization headquarters and made a statement.
Kongra Star member Hena Xalid saluted Leader Abdullah Öcalan on his birthday and his resistance in Imrali.
According to the statement, the 4 April event schedule in Amude will be as follows:
On 2 April, an event will be held at the district culture and art center for the children of martyrs.
A statement will be made on 3 April, and saplings will be delivered to civil institutions in the province. A committee will be formed from all civil institutions of the province, which will visit the families of martyrs and invite them to the 4 April celebration while presenting them with Leader Abdullah Öcalan's books. At 9am, a committee of young people and women executives of institutions will be formed to decorate the celebration area. The People's Municipality will plant saplings in Sinaa Forest at 10am.
On 4 April, saplings will be planted at the Martyrs' Academy at 9am and an event will be held at 11am at the headquarters of the Syrian Revolutionary Youth Movement in the district.
After the announcement, the participants will deliver 60 saplings to institutions and celebrate Leader Abdullah Öcalan's birthday.