Azime was a symbol of commitment to freedom
Azime Urfa, who joined the guerrilla in 1993 against the tyranny of the Turkish state, became a symbol of commitment to freedom with her struggle and resistance.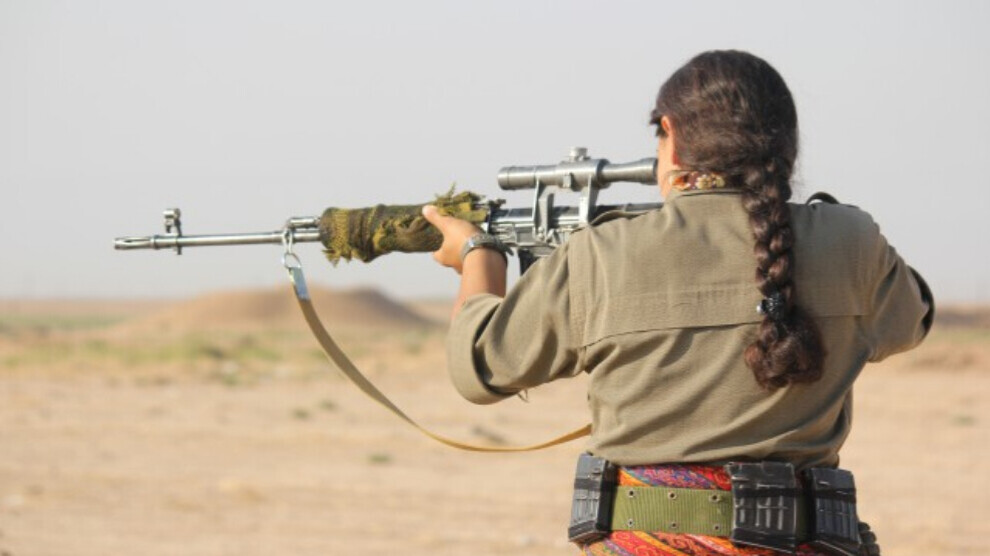 Some people devote their lives to the freedom of a people. Some people enthusiastically seek the most precious, most sacred life and struggle to create it. There are also some whose hearts beat for all humanity, not just for themselves. One of these great people is Azime Urfa, who devoted herself to the struggle for revolution and freedom. Azime Urfa was born in 1977 in Viransehir (a district of Urfa province). Thanks to her patriotic family, she developed a love for her own culture. Her patriotic feelings encouraged Azime to actively participate in the struggle for Kurdistan.
Rozerin Piran, who was martyred in 2011 while fighting for freedom in the mountains of Kurdistan, had described her comrade with the following words: "Comrade Azime joined the guerrilla in 1993. Until 1994, she was involved in activities in public sphere with the GAP. She and a group of other friends came to Gabar for training in late 1994 and they were trained in the winter of 1994-1995. After the training, she was assigned to the area of Mışare.
At that time, I was sent to Gabar with a group of friends, and we went to meet the friends from Mardin. We met friend Azime there. Those who saw Azime would think that she had already been in the party for many years. She was very sociable and confident. I was also sent the area of Mişare. I carried out activities in Çiyaye Reş and Suske areas. During this period, we were in the same team with Azime. We stayed together for a few months. She had a very strong stance.
Azime was a very strong friend in every aspect of her guerrilla life. Her biggest dream was to meet with Abdullah Öcalan and receive education from him. She would repeatedly say that she wanted to go to the field of the Leader after a work of a few years and share her experiences and the people's patriotism with the leader.
Her life was perfect. She knew what to do as a woman with her attitude. I was very impressed that she developed herself in such a short time. I was inspired by her in every aspect. As a female guerrilla, she approached the enemy with seriousness and she did this in every aspect of life. That's why she always displayed a successful practice. Friend Azime saw the life within the PKK as her own life."
FIGHT TO THE LAST BULLET
Martyr Rozerin Piran talked about an armed conflict they had been engaged in with the Turkish state forces: "We were encircled by the enemy in Mışare. The enemy raided our point from Suske Mountain. The fighting lasted until the evening. Azime fought until her last bullet. Berivan was also there, she was Azime's aunt. There was a very intense conflict. The friends confronted the enemy with great courage. Especially Berivan and Azime repulsed the attacks of the enemy with their struggle on the hill where they were stationed, and they seized weapons from the enemy.
They did not allow the enemy to enter our position. Friend Azime was unwavering in war, as in all areas of life. Her resistance pushed back the attack of the enemy. Her courage kept her grudge against the enemy alive. She had such a great spirit of vengeance. Azime clashed with the enemy until the last drop of her blood and was martyred in battle."