Congress of women's centres starts in Amed
The three-day congress of women's shelters and counselling centres against violence against women in Turkey has started in Amed. Adalet Kaya from the Rosa Women's Association opened the congress with the slogan "Jin, Jiyan, Azadî".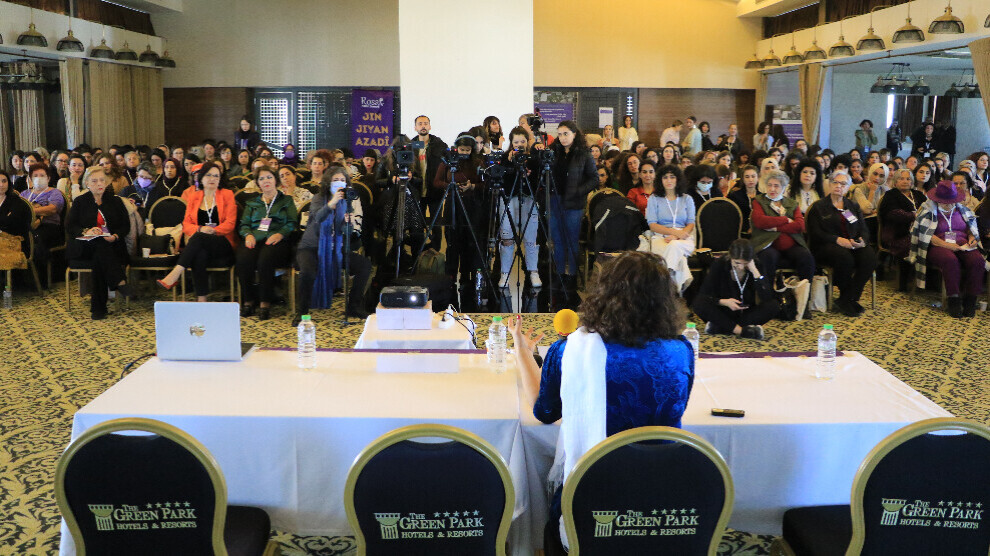 The 25th Congress for Women's Shelters and Counselling and Support Centres against Violence against Women in Turkey is taking place in Amed (tr. Diyarbakir). The Rosa Women's Association and the Mor Çatı ("Purple Roof") Foundation are organising the congress, which is attended by about 350 women, including academics and representatives of various women's organisations. Adalet Kaya, chairperson of the Rosa Women's Association, welcomed the participants in Kurdish and opened the congress with the slogan "Jin, Jiyan, Azadî" (Woman, Life, Freedom).
"I would like to start my speech by welcoming the women's resistance in Iran with great enthusiasm. I would like to continue with the memory of Jina Amini. The increasing political murders of women are another dimension of the feminicide that is taking place. In this context, I would like to commemorate Nagihan Akarsel. I salute her women's struggle with respect," she said.
With regard to the increasing politics of violence, Kaya stated: "We feel very intensely how these politics restrict all our lives. In this context, we have seen a period of increasing attacks on women's rights and achievements through the Istanbul Convention and gender equality policies, especially in the last year or two. In the face of these attacks, women's associations, organisations and feminists have to fight. Because they are waging this struggle, they are being persecuted by the police and the judiciary. Women's organisations, activists and feminists in particular are subject to legal harassment, and the violence has a serious dimension. Our event today is the 25th anniversary and we respectfully salute all the women who have contributed over the years."
Kaya pointed out that the types of violence women face and the methods of struggle are different in every city in Turkey and Northern Kurdistan: "Maybe the principles are the same, but each place experiences different types of violence. On this basis, we will talk about how to connect and strengthen the common struggle and solidarity."
The congress will focus on the impact of the Turkish government's family policy, the issue of micro-power within the family and the state's policy of violence, among other things, Adalet Kaya noted. "None of these issues is independent of the other, so we attach great importance to all of them. These family policies are the most important part of what we call special war policies."
In conclusion, Adalet Kaya emphasised that women's struggle continues with great resistance to all attacks: "We believe that the construction of social transformation will be realised under the leadership of women's struggle."