Database on missing women in Afrin
A research project based in the USA documents the cases of women who have gone missing since the Turkish occupation in Afrin in Northern Syria. A database provides information on the place, time and circumstances of the disappearance or abduction.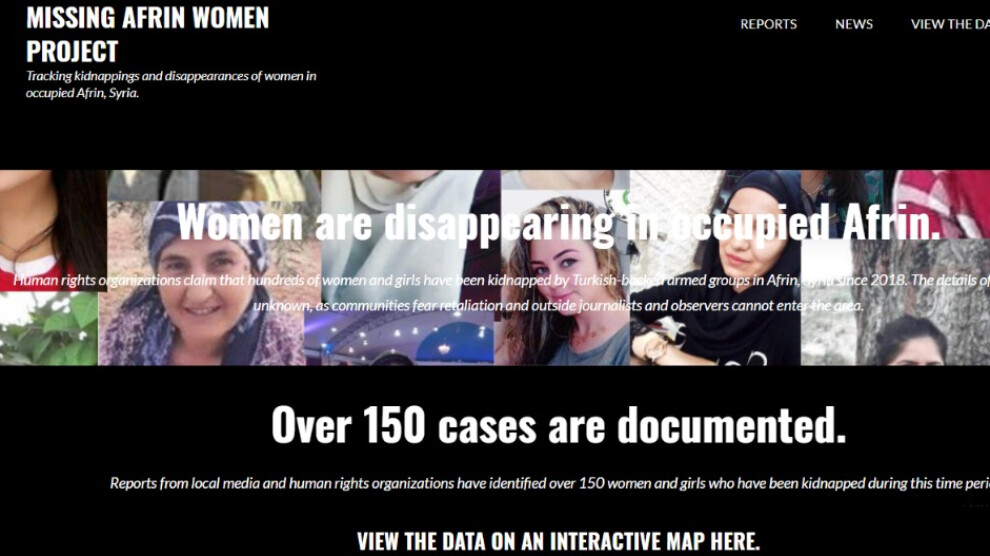 Since the invasion of Syria's Afrin region by Turkish forces and their affiliated armed opposition groups in 2018, over 150 women and girls have gone missing from the area, and the fates of many remain unknown. One US-based independent researcher documents the kidnappings and disappearances of these women to raise awareness of the continuous violations happening in Afrin.
The project, called the Missing Afrin Women, launched in July 2020, though research for the project had been ongoing for months prior, according to the project's founder, independent researcher Meghan Bodette.
"Since the start of the invasion and occupation of Afrin in 2018, mainstream media, foreign governments, and international institutions have done nothing to raise awareness of the human rights abuses that take place there on a daily basis—let alone taken action to stop them," Bodette told North Press, adding that she launched the project to raise awareness of just one aspect of the various abuses carried out against the region's indigenous population.
Afrin has been controlled by Turkish-backed Syrian militias, often known as the Syrian National Army (SNA), since March 2018 when the Turkish army launched its cross-border offensive on the Afrin region claiming to target the Kurdish People's Protection Units (YPG) which had been prominent in the area since 2012. Since this time, residents in the region have reported many human rights abuses, including theft, looting, assault, kidnapping and murder.
The project's website includes a list of the missing women and girls, including information about the date and location from which they were kidnapped or disappeared, which armed faction kidnapped them, their current status, and additional notes about the kidnapping or disappearance.
The list is also represented in an interactive map, which shows the location of kidnappings and whether or not the women in question have been found or released. The site also publishes articles and news reports about ongoing ethnic- and gender-based violence in Afrin.
Bodette compiles claims from both local news agencies and human rights groups. While she started the project individually, she has gone on to collaborate with other concerned individuals and groups to create a more comprehensive database, and expressed her wish to develop even more connections in the future.
"I wanted to show specifically how Turkey and its extremist proxies are targeting women to destroy the advances in gender equality and women's rights made by the Autonomous Administration of North and East Syria," she added.