East Kurdistan Women's Defense Units announces death of guerrilla Rojînda Xwebûn
The East Kurdistan Women's Defense Units (HPJ) announced the death of Rojînda Xwebûn, who succumbed to injuries sustained in a Turkish drone strike on Mount Asos last year.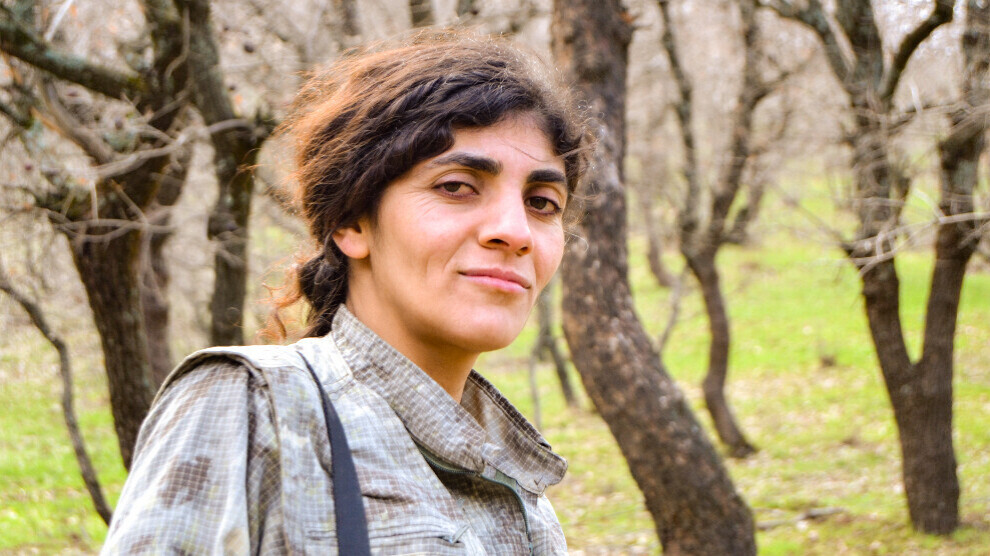 The East Kurdistan Women's Defense Units (HPJ) announced the death of guerrilla fighter Rojînda Xwebûn, who passed away on March 28 in Asos as a result of injuries sustained in a drone attack by Turkey in southern Kurdistan (northern Iraq). During the air strike on August 22, 2022 on the mountains in the Iraqi-Iranian border area, a three-man guerrilla unit was targeted by Turkish aircraft. While two guerrillas from the YRK (Defense Forces of East Kurdistan) died immediately, Rojînda Xwebûn survived with serious injuries.
BORN AND RAISED IN URMIA
Rojînda Xwebûn's real name was Gozel Kadiri and, according to HPJ information, she was born in 1997 in the eastern Kurdish city of Urmia as the daughter of a patriotic family. "She grew up in an environment where Kurdish national consciousness was strong and where the culture, ethics and history of Kurdish society had not lost its vitality. At the same time, she was confronted with the reality of the patriarchal system in Iran that women experience double oppression in East Kurdistan; as a woman in general and as a Kurdish woman in particular. They are subjected to a genocide of their ethnic identity and a feminicide of their gender identity," emphasized the HPJ.
ALL-OUT WAR AGAINST WOMEN
"Especially when an individual, a family or, in general, people with anti-systemic ideologies organize themselves in the context of social reality, living their patriotism with their national identity, they are repeatedly exposed to attacks. If this ideology is that of Rêber Apo [Abdullah Öcalan] and that of his liberation movement, these attacks do not have comparable dimensions," said the HPJ, speaking of a comprehensive "special war policy" by the colonial powers that occupy Kurdistan, which also include Iran, where the regime is waging a comprehensive, structurally anchored war against women, both in the armed conflict against the Kurdish movement and in everyday life. "It is a war that takes place on the physical-military level as well as on the ideological, social and psychological levels."
AT 17 IN THE MOUNTAINS
At the age of 17, Rojînda Xwebûn went to the mountains to defend herself and to fight the prevailing occupation system. She joined the guerrillas in her hometown of Urmia, later moving to other regions of Kurdistan. Their last place of action was the Asos Mountains, which are about 60 kilometers north of the southern Kurdish metropolis Sulaymaniyah and a good 200 kilometers from the Turkish-Iraqi state border. Turkey regularly attacks the region.
SHE LIT A FIRE IN OUR HEARTS
"Comrade Rojînda was aware of the reality that the identity and values of the Kurdish people can only be defended through resistance and struggle. She knew that this fight would be far more difficult for women. Based on this understanding, as a Kurdish woman and advocate of the women's liberation line, she led a great resistance against the occupying power of Iran," said the HPJ, expressing their condolences to the family of Rojînda Xwebûn and the people of Kurdistan.