Event on the role of women in North and East Syria
On the initiative of the group "Schwerin for Rojava", Hamburg ethnologist Anja Flach spoke in Schwerin on "democratic confederalism" in Rojava and its struggle for survival against the Turkish jihadist invasion.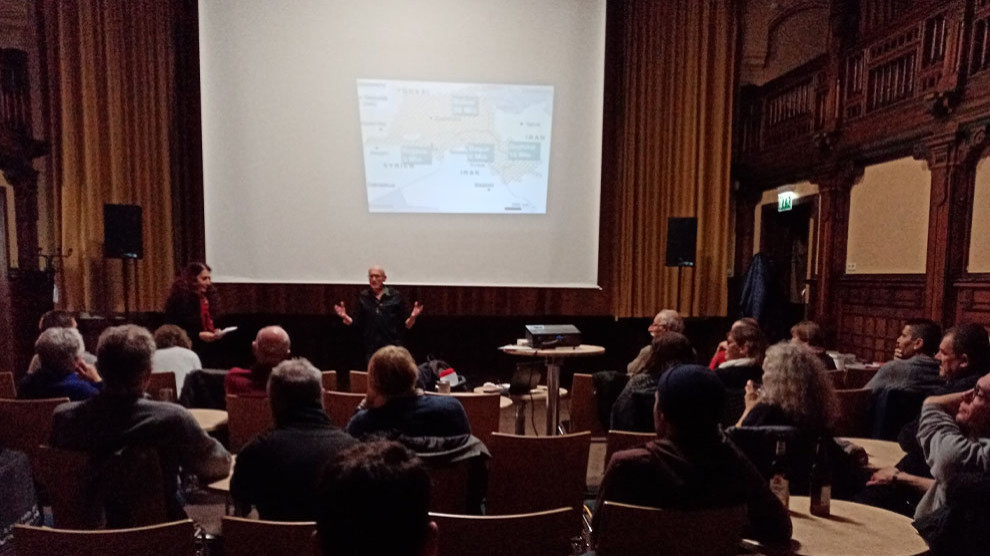 North and East Syria (Rojava) stands for a deeply democratic experiment which, under the cynical name of "Operation Peace Spring", has been threatened with destruction by NATO partner Turkey in front of a silent world public since October 2019.
To stop this danger is in particular also a matter for Kurdish women and their military defense units in the construction of a "democratic federalism": equal rights of cultures, religions and sexes, the practical overcoming of nation-state mindset, democratic self-government "from below" and an ecological and sustainable society.
Since 2014, this vision has been put into practice - a concrete utopia in which the Kurdish women's movement, in accordance with the approach of "Jineolojî" (women's studies), strives for a different kind of politics: to create common values such as community, discussion by consensus, and a caring and responsible coexistence.
The faces of the colourful visitors were full of expectation when Kurdish songs were sung on Friday at the opening of the event on the role of women in North and East Syria and Rojava. On the initiative of the group "Schwerin for Rojava", the Rosa Luxemburg Foundation (RLS) had invited Mecklenburg-Vorpommern to the venerable auditorium of the Schwerin Adult Education Centre. About 40 people listened intently to the lecture of the Hamburg ethnologist and activist Anja Flach on her experiences with the project of a "democratic confederalism" in this region of the Middle East. Flach reported on the new, self-determined way of life in northeastern Syria, on its endangerment by the Turkish Jihadist occupation, and above all on the ability of women from the various ethnic components to shape and resist.
Thus, for example, the Arab women, who are integrated into diverse traditions (without instructions "from above"), gratefully take up the new opportunities for professional and personal education as well as joining the military women's units. The subsequent, very lively discussion focused on how such a form of democracy works on the ground and how the eloquent silence of the large and small powers involved in this democracy project and its endangerment could be broken.
Who is Anja Flach?
Anja Flach is an ethnologist, activist of the Kurdish women's movement, member of the Rojbin Women's Council in Hamburg, author of the books "Jiyaneke din, another life - two years with the Kurdish women's army" (2003), "Women in the Kurdish guerilla" (2007) and "Revolution in Rojava" (2015). She is also involved in the campaign "Tatort Kurdistan".