Female ISIS member from Germany surrenders to SDF in Deir ez-Zor
German national Elina Viktor talked to ANHA News Agency about her participation in ISIS, her trip to Syria via Turkey and finally her escape from ISIS.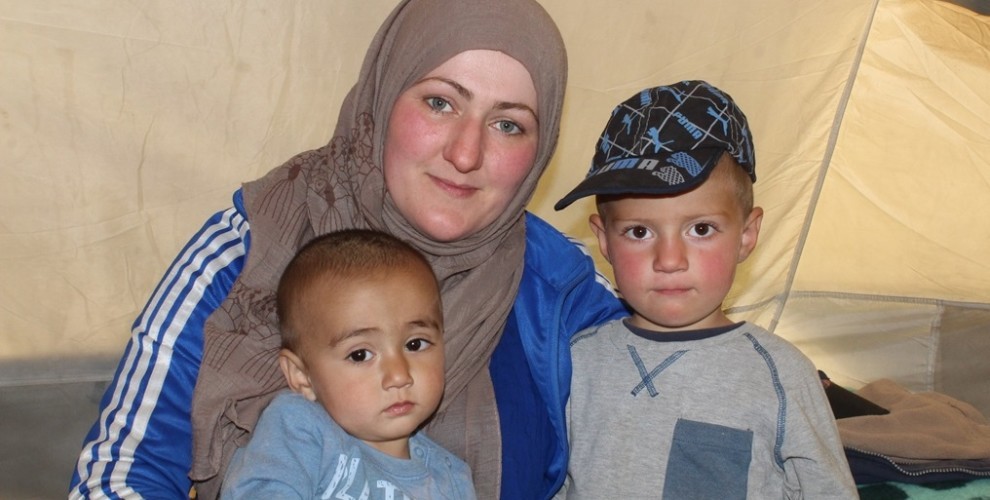 Rojava's Hawar News Agency (ANHA) has published an interview with German ISIS member Elina Viktor. Viktor, or Um Bîlal El-Muhacira as she called herself in the Islamic State, has recently surrendered to the Syrian Democratic Forces (SDF) in Deir ez-Zor. In an interview with ANHA, Viktor describes in detail how she decided to join the Islamic State.
Life in Germany
Elina Viktor stated that she had lived with her parents and two siblings in Dusseldorf and worked in retail market as a saleswoman. In addition to German, English and Turkish, the 28-year-old speaks fluent Arabic. She also attended self-defense courses such as karate to handle dangerous situations and violence against women.

At the age of 17, she married Serkan Edlar, a native of Turkey, and founded a vehicle sales and distribution business. Her husband was active in German mafia structures and engaged in theft, smuggling, arms and drug trafficking, she tells.
Conversion to Islam with the outbreak of civil war

With the outbreak of the civil war in Syria, she converted to Islam in 2011, says Elina Viktor. Her husband traveled to Turkey and stayed there for two years, constantly sending pictures of children who had died in Syria. "Serkan then went to Syria to wage the holy war on the path of God. He said that I also had to come to Syria to fight the Syrian regime."
Travel to Turkey
After her husband reached Syria, he told her to travel to Turkey with all her savings. "From Turkey I was supposed to go to Syria under the pretext of adopting children. In January 2012, I traveled to Turkey and stayed there for three months. I had no problems there. Then my husband called me and told me to prepare for the trip to Syria. Later, two people, who I assumed were traffickers, drove me to the border."
Crossing the Turkish-Syrian border
Viktor tells that she was noticed by Turkish soldiers at the border. "At first, they pointed a gun on us, but did nothing and allowed us to cross the border. I went to Azaz first. From there I went Kefer Hemra in Mount Seman where my husband was staying."
Clashes between ISIS and Al-Nusra
After the military training of Serkan Edlar, with the fighting name Ebû Bîlal El-Turkî, ended on Mount Seman, the couple stayed in the area for another seven months. At the same time, clashes were taking place between the Islamic State and the Al-Nusra militia. "Jabhat al-Nusra kidnapped Serkan. ISIS then took me to Raqqa. Back then I always saw armed people, but I did not know anything about the organizations ISIS and al-Nusra and who belonged to whom."
Husband dies
After about four months, her husband Serkan was released during a prisoner exchange and joined the ISIS again, says Viktor. After another two months in Raqqa, she received a call from an ISIS-Emir. "He told me that one of their members, Ebu Bilal, who had a tattoo with Turkish characters, had been killed in Deir ez-Zor. That's when I understood that my husband had died. Around the same time, I also learned that I was pregnant. I loved my husband and was saddened very much that he was no longer alive. But because of Serkan's ISIS mentality, my whole life has been ruined."
Plans to escape
Two years after the death of her husband, Elina Viktor forged escape plans to return to Germany. However, she was noticed, captured and investigated for attempting to escape. She was then married off to ISIS member Ebû Hemze El Afganî.
Hemze El Afganî was also intending to flee the Islamic State, so she decided to accept the marriage. "I planned to escape to Turkey after marrying him and to separate from him there," Elina Viktor tells.
But after the marriage, Ebû Hemze El Afganî treated her very badly and told her that she had to become 'like an Afghan woman'. "He did not have slightest humanity," she says.
Surrendering to SDF
When Elina Viktor surrendered to the Syrian Democratic Forces in Deir ez-Zor, Ebû Hemze El Afganî was also captured there. Elina tells that her sibling in Germany repeatedly told her this during telephone conversations, "Flee to the Kurdish areas. They will save you."
"I feel like I am reborn. The people here helped me a lot. I will build a new, honorable life for myself and my two sons. I do not want to return to Germany. They say there is democracy, but that's just talk. I got to know the real morality and democracy here."