HDP and DTK commemorate 6 Kurdish women revolutionaries murdered
The HDP Women's Assembly and the DTK commemorated the Kurdish women revolutionaries who were murdered by the Turkish state in Paris and Silopi.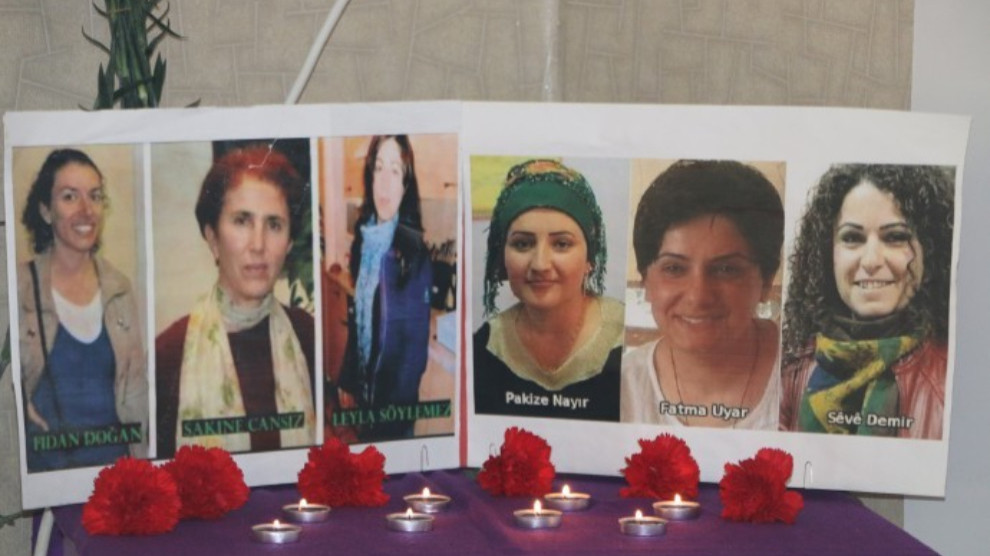 The People's Democratic Party (HDP) Women's Assembly and Democratic Society Congress (DTK) issued written statements today to pay tribute to Kurdish women politicians who were murdered by the Turkish state in Paris and Silopi.
HDP: Paris and Silopi massacres targeted women who were resisting and fighting
The HDP said: "While a process of negotiations was underway with Mr. Abdullah Ocalan, on 9 January 2013 in the French capital of Paris, Kurdish women politicians Sakine Cansız, Fidan Doğan and Leyla Şaylemez were murdered. Seven years after the political assassination the real authors have not been disclosed and those responsible for the murder have not been tried."
The statement added: "Three days before the 3rd anniversary of the Paris massacre, three other Kurdish women politicians were murdered in Silopi. Sêvê Demir, Fatma Uyar and Pakize Nayır were deliberately targeted."
The HDP continued: "Struggling, resisting women politicians were targeted, in an attempt to silence women's voices."
DTK: The authors of the murders and those who have the order must be brought to justice
The DTK pointed out in its statement that the Paris Massacre was the continuation of the international conspiracy [against Abdullah Ocalan] and added: "It is clear that the massacre of three Kurdish leading women revolutionaries in Paris, would have been impossible to carry out without the knowledge, approval and patronage of international forces."
The statement emphasized that the Kurdish women's struggle was targeted and said: "The Paris Massacre case has been covered up since the very beginning. The international community should not allow this cover up, it should not remain silent. The authors of the murders and those giving the order to kill the three women must be brought to justice."
The DTK said: "We commemorate our comrades, Sakine, Fidan, Leyla, Sêvê, Pakize and Fatma once again on the anniversary of their martyrdom."