'History is being rewritten with the participation of women'
According to Rîhan Loqo of Kongra Star, one of the key organizations of North-East Syrian women planning for a new 8 March, life has been rebuilt from the perspective of women, and history has been written with the participation of women.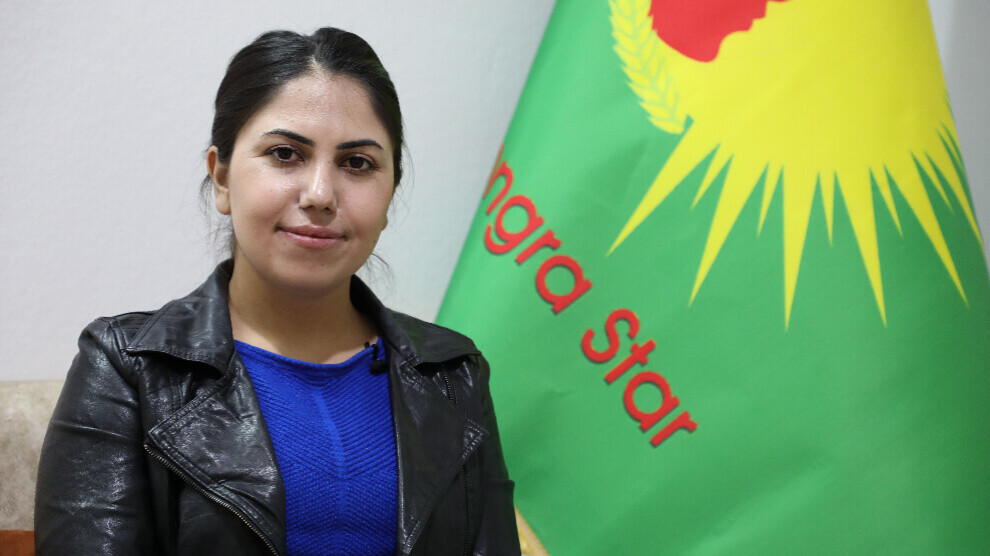 The Women's Movement, Kongra Star, and Syria's North-East Women made significant contributions to diplomacy, politics, the press, culture, organization, education, science, and the military. They were a forerunner in all academics and fields. North-East Syria Kongra Star Coordination Member Rîhan Loqo stated that "Women built the women's revolution within the revolution, organized themselves, trained, informed, and went into the army. Kongra Star is a social work since it represents society. As a result, there is no separation between society and Kongra Star."
Syria's north-east Rîhan Loqo, a Kongra Star Coordination member, responded to ANF's questions about the forthcoming International Working Women's Day on 8 March.

Since 8 March 2021, how has the Rojava women's movement progressed in the political, social, and diplomatic fields?
The Women's Movement, Kongra Star, and Syria's North-East Women made significant contributions to diplomacy, politics, the press, culture, organization, education, science, and the military. He was a forerunner in all fields. It is not confined to the position of a woman within four walls of their homes or to acts carried out with the permission of the state, as it was before the Rojava Revolution. Women achieved decision-making ability as a result of the system developed in North-East Syria. All of the projects were accomplished by women, life was reconstructed from the perspective of a woman, and history was written with a woman's inclusivity in mind. Some works in diplomacy, politics, and sociology were conducted for this purpose. Efforts to recognize the women's revolution, elevate the struggle, broaden the work, reach all women, comprehend the significance of the Kongra Star, and defend women's gains persisted. Everyone is wondering why and the secret of our revolution is recognized as the Women's Revolution, and they are on the lookout for its secret. Women secretly started the women's revolution within a broader revolution, organizing themselves, educating themselves, and joining the army. Kongra Star is a social work since it represents society. As a result, there is no separation between society and Kongra Star.
How many women's organizations exist in Rojava under the umbrella of Kongra Star, and how does it interact with the institutions inside its organization?
Yekîtiya Star, the first women's movement in North-East Syria, was established on 15 January 2005. At the time of its announcement, the Baath dictatorship was waging a ferocious campaign against women and the movement. As a result, Yekîtiya Star was declared and created in secret in order to reach, organize, and train women. Despite all of the attacks, problems, arrests, and pressures, Yekîtiya Star's activities expanded day by day.
There are now numerous women's movements in the region. Activities are being organised in Damascus, Homs, Aleppo, and throughout Syria. However the headquarters of these groups are in North-East Syria, where the chance for women's organizations was granted. Dozens of organizations, movements, institutions, and organizations have established headquarters in Syria's northeast. We can use the Sara Organization for Fighting Violence Against Women, the Nûdem Organization, and numerous more groups as examples. The Syrian Women's Council and the North-East Syria Women's Council were established as a result of these recent developments. The Zenubian Women's Community was established, particularly in Raqqa, Tabqa, and Deir ez-Zor. These groups are constructing projects that will span the entire territory of Syria.
As Kongra Star, we communicate with all women's organizations affiliated with the North-East Syria Women's Council. We collaborate on a lot of projects. The struggle of all women is for liberty, democracy, and equality. We continue to collaborate for the same goal. All women's organizations are welcome in the North-East Syria Women's Assembly. Together with the women's movement, we carry out all plans and programs related to the struggle against violence against women, the defense of revolutionary gains, the attacks of the invading Turkish state against the region, on 8 March.
Is Kongra Star's goal to appeal to all women in Syria, and what are your relationships with women's organizations in the Middle East, particularly in Syria?
In Syria, we have organizations to a certain extent. We have a presence in Aleppo and Damascus as well. We have a centre in Damascus and other areas controlled by the Syrian regime, and we have good ties with women's organizations. In addition, we have an official centre in Lebanon. We also have offices in Bashur Kurdistan, and Europe. We are also working to strengthen our European organizations. We believe it is critical to open Kongra Star centers around the world in order to construct a free life, propagate women's struggle around the world, introduce the revolution, and be the voice of the revolution. In comparison to previous times, we are growing and extending. We can witness how Kongra Star rises as a result of women's unity, solidarity, and organization. Kongra Star has evolved into a haven for all women. It structured itself into 13 categories, including military, political, diplomacy, journalism, culture, economy, and education, with dozens of women in each. Every woman actively participates in their profession and assumes a leadership role in society.
The social sphere may be one of Konga Star's most essential pillars. How far have you advanced in this regard?
To begin with, women with a warrior spirit, such as Leyla Agirî, Zehra Berkel, Yadê Aqide, Yadê Emine, Hind, and Sedaa, sacrificed their lives by fighting until the last second of their lives. We owe everything to these leading figures.
Our work on justice is still going on in general. We have featured articles on women's rights, gender equality, early marriages, forced weddings, and marriages that do not incorporate a democratic family model. We attempted to explain to society the problems that early marriage brings with it. Many works have been conducted in order to make society realize why we are defending these articles and why we want them to be implemented. We have focused on marriage at a young age in recent years, and we have continued our efforts in this direction. As Kongra Star and women, we have worked hard to find a solution to the question of why we oppose polygamy. We did not accept the spread and expansion of the concept of polygamy and stood in front of it.
On the other hand, substantial research has been conducted on the co-presidency system. A co-presidency system was established in North-East Syria under the leadership of women. We tracked the system's implementation level. Of course, it took time for this system to settle down because we were confronted with impositions and an unwillingness to accept and a patriarchal attitude opposing this system. All of our efforts are directed on the individual completing the program and now sincerely accepting our system. However, there are still concerns that they refuse to accept. Educating both men and women in this direction took a long time.
This year, the co-presidency system underwent significant changes and modifications. There have also been significant changes in women's counterparts. Concepts including the woman's opinion, decision, not making a decision without the woman, or taking the woman as a determinant factor were prominent. It is now natural to regard women as responsible and to acknowledge their existence. Men understood that he was neither the only decision-maker nor the only one with the authority to speak. This year, the emphasis was on males' education. Women should also be educated and conscious, but a one-sided struggle is not a productive strategy. As a result, we concentrated on men's education. Education programs in a variety of areas, including women's history, jineoloji, women's reality, patriarchal mentality, coexistence, and other topics, and nearly all of the men went through training. We have seen that the result of years of education in academies is even more productive this year. The men recognized the need for change, and we even had male friends in the organization who educated their own gender about the women's struggle, and these studies are ongoing.
Women protected themselves and their nation within the realities of the revolutionary people's struggle in the fields, in order to protect the gains of the Women's Revolution, to protect the identity of women, and to protect the fields.
Self-defence was regarded as a natural duty. Society has understood that protecting our homeland requires more than just military power. People moved away from the belief that the YPG, YPJ, SDF, and Public order were merely there to protect their houses, neighbourhoods, and streets, and instead internalized this as a natural obligation and responsibility. Women, in particular, acquired this obligation and responsibility and took on the role of pioneer. Women defended the revolution's accomplishments day and night in order to protect the Women's Revolution.
Education, science, and diplomacy were also prominent. We collected numerous records revealing the Turkish state's torture strategy, rape, kidnapping, and violence against women in the occupied districts of Afrin, Girê Spî, Serêkaniyê, Bab, Idlib, and Jarablus in order to acknowledge the revolution and protect North-East Syria.
We're looking for ways to improve the fight even further.
As a result of the Turkish state's occupation of Rojava territory, many Rojava women have been forced to reside in camps for a long time. What is the level of organization among the women in the camps?
The North-East Syria Democratic Autonomous Administration assisted those forced to flee during the invading attacks. The groups in the camps collaborate on everything from the construction of the camps to the organization, the education system, and the economy. In the camps, there are women's facilities and women's houses. Projects are planned in the camps in the same way as it is done in cities under the administration of the Autonomous Administration. There is no distinction between them. Of course, the general public is also participating in the projects. The people that live in the camp have a strong spirituality and live in unity, cooperation, and communality. We are always there for them with the means at our disposal. We are them, and they are us.
What kind of impact did this have on women, and can you tell us about your efforts to alleviate it and what the results were?
When we see our parents and people who had to flee their occupied territories, the first question they ask is, "When will we get our land back?" What we see is a group of people that refuse to leave their homeland. It is sacred and significant to devote oneself to their homeland.  Our people have a strong attachment to their land. So far, they have refused to acknowledge the invasion and are always waiting for it to end. As a result, there are significant psychological challenges. There will inevitably be psychological, physiological, and social issues. Of course, expressing these feelings isn't the same as living them, but our people have been through a lot. Our parents' psychological troubles at the camp are worsening by the day, due to their strong attachment to their homelands. There is still a self-governing administration. Many calls were made for the people to return from the occupied regions, but the people did not listen to them. They said, "We will not accept those who forbid us from leaving our home, force us to migrate, and assault our accomplishments every day. They stick to an elevated and spiritual mindset in their daily lives in the camp. Of course, it is difficult to wait, to live in hope, and to contemplate your home and land.
Kurdish women, particularly those from North-East Syria, have constantly prioritized their freedom since the Kurdish people's leader, Abdullah Öcalan was kidnapped in 1999. Can you explain the connection here?
The women's fight has been reinforced, grown, and achieved its current level thanks to Leader Apo's [Öcalan ] concepts and ideology. The physical emancipation of Leader Apo will be the first task we will carry out as women of North-East Syria on 8 March 2022, under the motto "We will protect our revolution, we will liberate our territories." Anyone who owes Leader Apo a debt of gratitude should take part in the field. Leader Apo's liberty is the liberty of women, and so is the liberty of society.
With our unity, solidarity, and organization, we are constructing a free, equal, and democratic society. No one can stop this. We invite all women to fields on 8 March. As women struggling with our free will, we must declare to the world that we will win.