International women's delegation meets UN official, demanding "Justice for Nagihan Akarsel"
An international delegation of women met with the UN Special Rapporteur on extrajudicial, summary or arbitrary executions, in Geneva.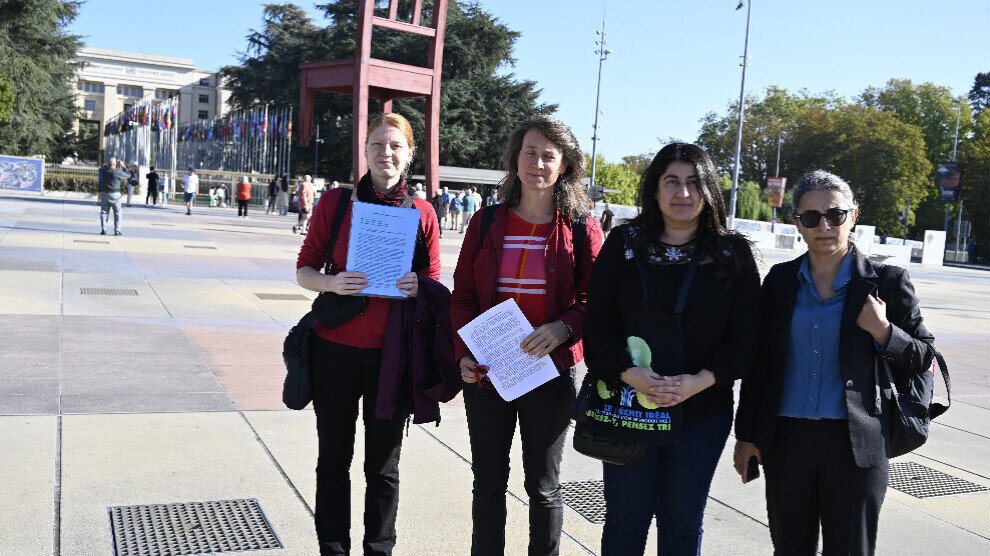 An international delegation of women met with the UN Special Rapporteur on extrajudicial, summary or arbitrary executions, in Geneva.
The delegation called for UN action concerning the extra-judicial killing of Nagihan Akarsel and all crimes of feminicide. The initiative was organized by TJK-E (Kurdish Women's Movement in Europe), Jineology Academy and the International Initiative Justice for Nagihan Akarsel on the first anniversary of the killing of the Kurdish journalist, academic and women's rights defender Akarsel who was assassinated when leaving her home in Sulaymaniyah, in Southern Kurdistan-Iraq, on 4th October 2022.
The delegation was made up of Agnès Golfier, co-director of Danielle Mitterrand Foundation in France, Sarah Marcha, member of Jineolojî Centre Brussels, and the Kurdish Women's Movement in Switzerland (YJK-S) activists Sultan Şafak and Özlem Öztürk.
The delegation submitted an open letter to the international community, signed by hundreds of activists, politicians, journalists and writers, which demands an end to impunity concerning the extra-judicial killing of Nagihan Akarsel and all crimes of feminicide.
In a statement after the meeting, the delegation noted that the perpetrators in the killing of Nagihan Akarsel are yet to be brought to account and justice. The delegation stated that the open letter signed by 312 personalities and women's organizations from 51 countries, has been submitted to the UN Special Rapporteur on extrajudicial, summary or arbitrary executions, to be forwarded to the UN Secretary General António Guterres.
Addressed to UN Secretary-General Mr. António Guterres, President of the European Council, Mr. Charles Michel, and the Prime Minister of Iraq, Mr. Mohammed Shia' Al-Sudani, the open letter calls for action to end impunity concerning the extra-judicial killing of Nagihan Akarsel and all crimes of feminicide.
The letter will also be conveyed to the UN offices in Beirut, Qamishlo, Maxmur and Strasbourg, as well as to Gurdip Sangha, United Nations High Commissioner for Human Rights - Field Operations and Technical Cooperation Division, Middle East and North Africa Section, who will be met in Geneva on 4 October.
The open letter includes the following:
"One year ago, on 4th October 2022, the Kurdish journalist, academic and women's rights defender Nagihan Akarsel was assassinated when leaving her home in Bakhtiary district in the town center of Sulaymaniyah, in Southern Kurdistan-Iraq. Since then, our grief as well as our search for justice continues. So far, no legal or political measures have been taken - either to enact justice for Nagihan Akarsel or to prevent further political killings. We call upon the international community, together with human rights defenders, journalists, artists and women's organizations from every region of Kurdistan and across the world, to take urgent action.
One day after the assassination of Nagihan Akarsel, the police of Sulaymaniyah announced publicly that they had arrested the perpetrators of the assassination. They were reported to be on the run towards Erbil, and captured rapidly after the crime as a result of intense investigation and cooperation between the security forces of Erbil and Koye. According to information disseminated in the media, the killer of Nagihan Akarsel was identified as Ismail Peker from the Turkish region of Mamak in the city of Ankara.
He was apparently hired by the National Intelligence Organization of Turkey (MIT) to carry out the assassination. The fact that Peker was employed by MIT was reinforced by a press statement by Ali Rıza Güney, the Turkish ambassador to Iraq. To date, no legal steps have been taken to convict the perpetrator and clarify the political background of this murder. Neither the Kurdistan Regional Government nor the Iraqi authorities have shown any efforts to resolve this extra-juridical killing, to convict those responsible, or bring accountability to the employers of the killer.
Nagihan Akarsel was targeted on her way to the Kurdish Women's Library, Archive and Research Center in Sulaymaniyah, an officially registered institution which she established with other women. Nagihan Akarsel was targeted because she had a brave heart and a clear mind. She was aware of the origins of oppression that continuously denies freedom to women and the Kurdish people. She was a journalist and academic, a founding member of the Women's News Agency JINHA and the Jineolojî Journal in North Kurdistan and Turkey, and an initiator of many research projects of the Jineolojî Academy. Through this work she committed her life to researching and revealing the truth. Nagihan Akarsel never kept silent in the face of oppression, occupation and injustice. She united women and people from all sections of society towards a common life of dignity and freedom. This is the reason why Nagihan Akarsel was a thorn in the side of the Turkish state and became a target. In her personality and attitudes she united the three elements of the Kurdish slogan "Jin, Jiyan, Azadi" (Woman, Life, Freedom). This slogan was picked up and spread by women in Eastern Kurdistan and Iran who were rebelling against the killing of Jina Emini by Iranian state forces. This crime happened just 18 days before Nagihan Akarsel was assassinated by contract killers of the Turkish state.
The assassination of Nagihan Akarsel joins the systemic extra-judicial killings of Kurdish women committed by state forces during the last four decades. Especially since the beginning of the AKP-Erdogan government, extra-judicial killings targeting activists of the Kurdish Women's Freedom Movement inside and outside the borders of Turkey have multiplied. In November 2020, the Kurdish Women's Movement in Europe (TJK-E) created the 100 Reasons campaign – namely 100 cases of extra-judicial killings of women - to prosecute Erdogan and the AKP government for their feminicidal politics.3 235,727 people signed their support of the demand to indict Erdogan according to international law.
The UN Committee on the Elimination of Discrimination against Women and the Special Rapporteur on violence against women and girls have reiterated their concern that a high number of predominantly Kurdish civilians, including many women, have reportedly been killed by the Turkish security forces under the pretext of "counter-terrorism operations". At the same time, they called upon the Turkish state to investigate, prosecute and adequately punish the perpetrators and to "establish an independent and impartial investigation mechanism for this purpose with international assistance".None of these recommendations have been implemented.
On the contrary, the situation has continued to worsen. As perpetrators act with the certainty that their crimes will go unpunished, targeted political killings of Kurdish women have increased dramatically since 2022. These killings, which violate international law, are frequently carried out by drone strikes on Kurdish territory in Iraq and in North and East Syria. In the period between January and June 2023, 53 people were killed by targeted drone attacks of the Turkish military against the citizens of the Autonomous Administration of North and East Syria. Among them were women politicians and community leaders. On 23rd August 2023, a Turkish armed drone targeted a vehicle of the women's TV channel JIN TV on the Qamishlo-Amude road. Due to the bombing, the channel's employee, Necmeddin Feysel, was killed and the journalist Dalila Akid was severely injured. In another example, there is clear evidence showing that the Turkish state designed the executions of leading members of the Kurdish Women's Movement in Paris in 2013 and 2022. Yet again, these crimes remain unpunished. In East Kurdistan and Iran, dozens of women were assassinated or tortured to death by Iranian state forces during the uprisings that followed the murder of Jina Emini. None of the perpetrators have been prosecuted.
All these examples show the systematic crime of extra-judicial killings committed by state forces against Kurdish women rights defenders. It is only through legally holding the offenders and their employers accountable that we believe an important step will be taken towards ensuring justice for individual cases and for all victims of extra-judicial assassinations. Ending impunity of political killings, bringing perpetrators and their employers to justice, means to prevent future crimes against humanity.
Therefore, we appeal to the United Nations and all concerned institutions to take urgent and effective action. By demanding justice for Nagihan Akarsel, we demand justice for all women who have been subjected to extra-judicial killings and other forms of feminicide. By saying Ni una menos! we request that the international community takes urgent measures to defend the lives and rights of women.
These measures should include:
The prosecution and conviction of the perpetrators responsible for the assassination of Nagihan Akarsel and all other extra-judicial killings.
 Closure of Iraqi and Syrian airspace for the Turkish Air Force, including armed and unarmed UAVs (unmanned aerial vehicles).
Urging Turkey to stop its illegal attacks, politics of occupation, war, and systematic assassinations of women rights defenders and people living in any part of Kurdistan, especially with regards to the territories of Iraq and North and East Syria.
 Prosecution of war crimes and crimes against humanity – including genocide and feminicide - committed by Erdogan and the AKP government, in accordance with international law.
Ensuring justice for Jina Emini and all other women in Iran who have been assassinated, tortured or imprisoned due to struggling for women's rights and freedom.
As the signatories of this open letter, we request that you take our demands as your own, and undertake immediate steps to obtain justice to prevent further killings."
The open letter was signed by numerous human rights defenders, activists, academics, initiatives and NGOs. A complete list of all signatories can be viewed below.