Istanbul: Women take to the streets for political prisoners
In Istanbul, women and relatives of prisoners have taken to the streets to demand freedom for political prisoners against the background of the Coronavirus pandemic.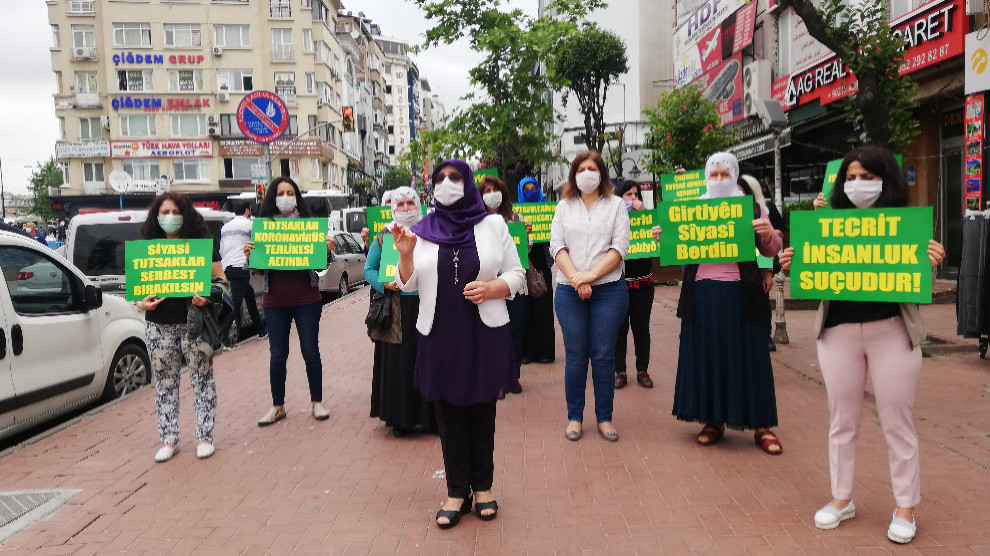 The Free Women's Movement (TJA) and the Solidarity Association of Prisoners Families TUHAD-DER took to the streets simultaneously in three districts of Istanbul to demand the release of political prisoners.
In front of the district association of the Peoples' Democratic Party of the (HDP) in Fatih, a demonstration was held, in which TJA activists and HDP politicians as well as many relatives of prisoners took part. Signs in Kurdish and Turkish denounced solitary confinement and demanded the release of imprisoned mothers with small children.
TJA activist Süreya Kılınç pointed out in a speech that the right to life and health of Abdullah Öcalan and all other political prisoners is being violated. She said that the law enforcement reform pushed through by the AKP/MHP government, which excludes political prisoners, also contributed to this.
"As mothers, women and relatives of prisoners, we call on the government to adhere to the principle of equality. All prisons must be emptied immediately, especially sick prisoners and prisoners over 65 years of age must be released," the TJA activist said.
HDP MP Hüda Kaya said: "The prisoners do not even have enough water to wash their hands. The unjust enforcement law must be reformed again in accordance with the principle of equality. As soon as parliament reopens, it must guarantee the lives of the people in the detention centres."
Activists in Kartal and Avcılar expressed similar demands. HDP MP Dilşat Çanbaz Kaya pointed out that there is no way for prisoners to protect themselves from infection with the novel coronavirus.
The TJA, together with women's organisations from Kurdistan, Pakistan, Palestine, Latin America, Morocco, Egypt, Afghanistan and Spain, is conducting a campaign for the release of political prisoners during the coronavirus pandemic.
RELATED NEWS: