Jin, Jiyan, Azadi: March in London in solidarity with women in Iran
The Jin, Jiyan, Azadi Collective will march today in London for women in Iran.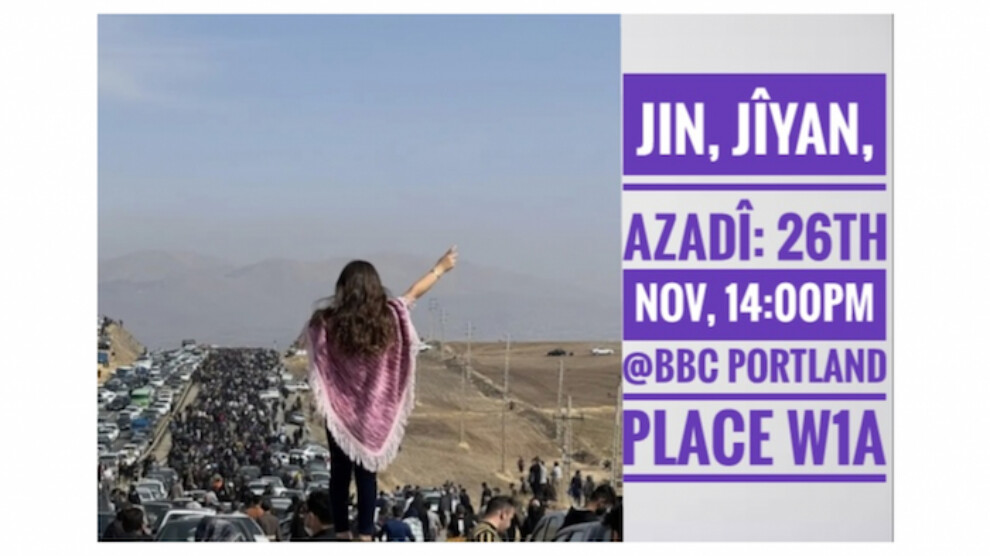 A march will take place today in London to express solidarity with women protesting in Iran. 
The march is organized by the Jin, Jiyan, Azadi Collective and supported by the Peace in Kurdistan Campaign. The meeting point is at 2 pm (UK time) in front of the BBC in  Portland Place. The march will go to 10 Downing Street.
Background
Since mid-September 2022, the citizens of Greater Iran have been in the midst of nation-wide protests, which have rapidly become more of a revolt against the Islamic Regime as protesters begin to gain ground, and in some provinces, the regime has totally retreated.
The protests began in response to the death of Jina Mahsa Amini, who was detained by the morality police for not wearing her headscarf properly; she later died as a consequence of torture in custody. However, since her death, many thousands have disappeared, died, or been detained as the IRGC tried to repress dissent and responded violently towards protesters.
Consequently, the resistance has seen many massacres, including that which was inflicted on the citizens of Zahedan in the provinces of Baluchistan and Sistan. 
Simultaneously, in the Kurdish provinces, the citizens of Oshnavieh, Mahabad, Sanandaj, and Kermanshah, among others, have experienced massacres. In Oshnavieh, the civilians managed to take over the city in the early days of the protests; however, the regime responded by using its air force to target and shoot at civilians. Indeed, a few days ago, the city of Bokan was also taken back by the protesters, and the regime retreated out of the city; however, without international support and recognition, the civilians can hold off the regime for only so long.