Journalist Deniz Fırat commemorated by her grave
Journalist Deniz Firat who lost her life in an ISIS attack on Makhmur three years ago, has been commemorated by her grave in Van on Tuesday.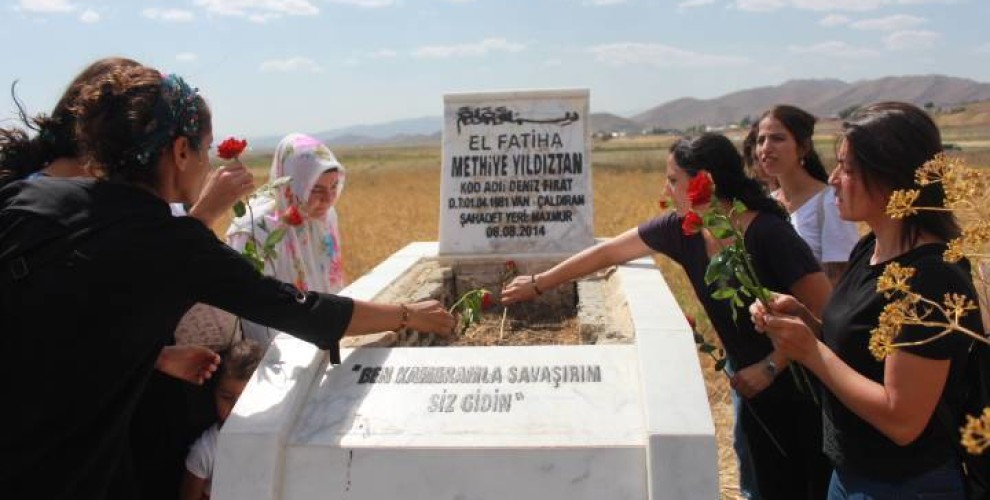 On 8 August 2014, journalist Deniz Firat (Methiye Yıldıztan) was hit by shrapnels when she was at the scene to report on the attacks of ISIS on Makhmur Camp in Southern Kurdistan. At the third anniversary of her martyrdom, she was commemorated by her grave in Hangedik (Heci Xatun) village in Van's Çaldıran district. The commemoration was joined by Fırat's family, colleagues and members of the Mesopotamian Platform of Female Journalists.
Spokesperson of the Mesopotamian Platform of Female Journalists, Ayşe Güney recalled that Fırat's life was an exile from Van to Makhmur, which she turned into a great struggle with her passion for freedom. Güney said: "Deniz had her camera on until her last moments to inform the world on the massacres perpetrated against her people. We commemorate and honour her with the promise that her camera will never be turned off, because we will carry her flag until our last breath."
Deniz Fırat's brother Seyyat Yıldızhan spoke afterwards, and vowed "We all will continue the struggle. We as her family, will never leave her camera unclaimed. I commemorate in her person all the martyrs of Kurdistan with respect."
Fırat's sister Binefş Sarya who is a journalist in Rojava, attended the ceremony via Skype and expressed her feelings with the words, "I wish I could be by her grave now, but Deniz is always with me, because thousands of young women joined the struggle after her, and all the Kurdish women are following her path now."
Women then adorned Fırat's grave with her favourite flowers and stones from Lake Van.