KJAR member Viyan: Every woman should be able to defend herself against attacks
"In Rojhilat and Iran, women have turned every place into a battlefield. No matter what it takes, the women are always on the streets. They insist on struggle and freedom," said KJAR member Peyman Viyan.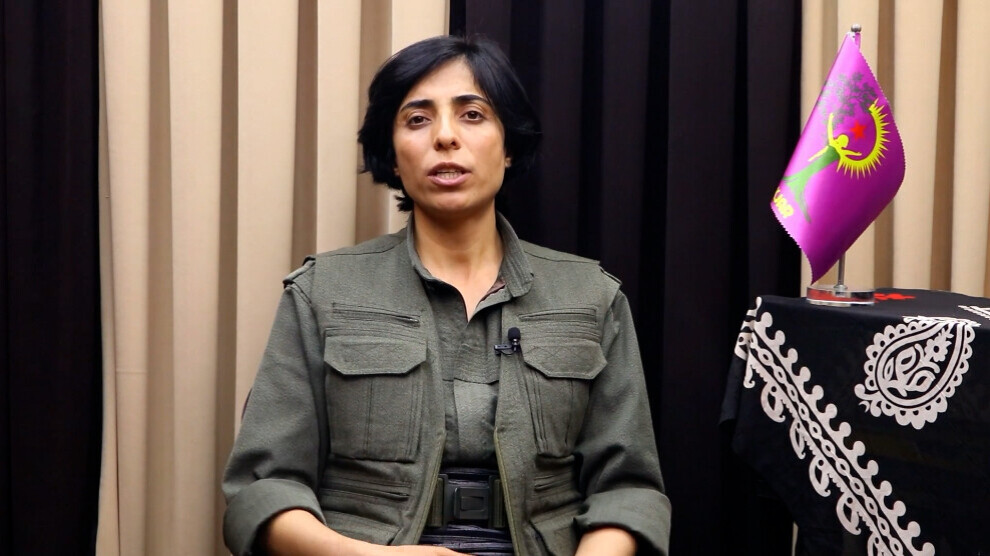 Peyman Viyan, a member of the Community of Free Women of Eastern Kurdistan (KJAR), assessed this year's activities for the International Women's Day on 8 March worldwide as positive.

Speaking to ANF, the KJAR representative stated: "We welcome the work that has taken place with great struggle and creativity all over the world for 8 March. Women have conveyed the message that they will not submit to power and the male-dominated mentality, no matter what. With the steps they have taken in their struggle, they have once again shown their persistence in standing up for freedom. We welcome the events organised by the Peace Mothers and the Mothers of Laleh Park in Eastern Kurdistan and Iran. In addition, on the occasion of 8 March, women's committees have been established in Kurdistan, Tehran and other cities. We welcome this as well. It shows that women are now constantly involved in the process of organising and solidarity. Women have realised that the more they organise, the closer they are to success. We expect that these committees will be systematically organised and will bring the philosophy of 'Jin, Jiyan, Azadî' [Woman, Life, Freedom] to all individuals in society. These committees will help organise women in all fields."
WOMEN TURNED EVERY PLACE INTO A BATTLEFIELD
Referring to the series of earthquakes in Northern and Western Kurdistan, Peyman Viyan said, "After the earthquake disaster in Bakur and Rojava, women have shown great solidarity to help the earthquake victims. Women have made 8 March a day to embrace each other and live a free life. We salute the women and their actions once again. In Rojhilat and Iran, women have turned every place into a battlefield. No matter what it takes, women are always on the streets. They insist on struggle and freedom. This year's 8 March in Rojhilat and Iran was different from all previous years. With the 'Jin Jiyan Azadi' revolution, women also drew men to the battlefields. This revolution was the biggest blow to the Iranian state."
POISONING OF FEMALE STUDENTS
Remarking that the Iranian regime is doing everything it can to suppress the revolution, Peyman Viyan continued: "One of the measures the state is taking is poisoning female students. The uprisings have once again shown how much the Iranian state fears women. Young women in particular are being targeted so that the state is not confronted with what it fears. This revolution, which has developed under the leadership of women and youth, is still going on. Where there are women and youth, the potential for freedom is great. They do not submit to power. In the last six months, the biggest uprisings have taken place in schools and universities. In schools, young women in particular have been very radical and violent in their opposition to the mentality of the Iranian state. In the universities, too, young women played a big role and made their struggle very clear.
The students' reaction has thwarted the policy that the Iranian state has been pursuing in schools and universities for years. By poisoning female students, it is seeking revenge for the 'Jin Jiyan Azadi' revolution. The dictatorial state must be held accountable for these acts. It carries out such attacks to intimidate young people and their families. For 44 years, the state has tried to break the will of the people with the policy of killing, torturing and executing. Women, youth, teachers and the families of students must publicly demand accountability. Human rights organisations must also exert serious pressure. The Iranian state should know that it cannot silence anyone by killing and poisoning."
EVERY WOMAN SHOULD BE ABLE TO DEFEND HERSELF AGAINST ATTACKS
In conclusion, KJAR representative Peyman Viyan stressed that every woman should be able to defend herself against attacks: "Every committee should be a defence committee. This is true physically, mentally and emotionally. We will continue to strengthen our women's defence system. Self-defence is necessary in all walks of life. This year we want to take even more important steps towards this. We will expand our work with our strength and experience to further spread the system of women's confederation.
This is how we, as women, will achieve freedom. We will make 2023 the year of victory and freedom in East Kurdistan and Iran. We believe that the Newroz Festival 2023 will be celebrated by all women and our freedom-loving people with this strength and enthusiasm. I congratulate the women whose hearts beat for freedom and all our people who are resisting the oppressive system of the Iranian state. We will definitely make this year a year of success for women."