KNK women submit dossier to German ministry on Turkey's attacks
Female members of the KNK demonstrated in front of the German Foreign Ministry to raise concern over the latest invasion attacks of the Turkish State against the Medya Defense Zones in South Kurdistan.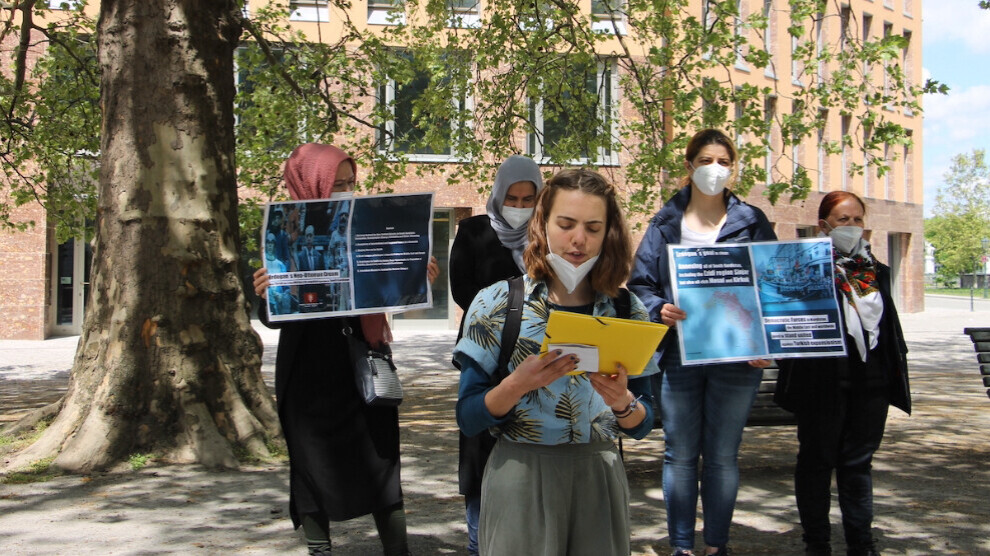 The Turkish state has been attacking the Avashin, Metina and Zap regions in southern Kurdistan (northern Iraq) since April 23 night.
Female members of the Kurdish National Congress (KNK) made a press statement in front of the German Ministry of Foreign Affairs in Berlin denouncing the Turkish state's invasion attempts in the Medya Defense Zones. The activists also submitted a dossier to the German authorities.
"We believe that these military operations mark the beginning of a genocide campaign against the Kurds. These operations were launched on the anniversary of the Armenian Genocide in 1915, coinciding with the day when US President Biden officially recognized the Armenian Genocide. We regard the current war as an attempt to destroy our people," the women said.
The statement continued as follows:
"Turkish President Recep Tayyip Erdogan received permission from NATO, the EU and the US to attack the Kurds once again on April 23 following a phone call with US President Joe Biden. While Erdogan and his adherents talk about a battle between the PKK and Turkey, we know very well that the current conflict is only the last episode of the Turkish state's longstanding war against the Kurdish people.
"This is a longstanding war against our people's right to exist. When the so-called Islamic State (ISIS) terrorist group attempted to capture most of Syria and Iraqi territory threatening to spread all over the Middle East in 2014, it was neither NATO nor the United States that protected the Kurdish people and women in Kurdistan."
The KNK women stressed that the Turkish state poses a threat to women, especially Kurdish women, and femicide has become a main policy of the Turkish state, beyond its borders as well.
The activists pointed to the systematic war crimes committed especially in the occupied areas in Rojava, saying, "As the Turkish-backed forces in Syria are promoting pillage, rape and forced marriage, the situation of women in the Turkish occupied areas in Syria is appalling."
"The Turkish state's expansionist policies clearly violate NATO's stated principles. We call on NATO member states to intervene and stop Turkey, a NATO member, violating the alliance's norms and principles," the women concluded their statement.