KONGRA-GEL: We will establish a society based on women's freedom
In a written statement to mark March 8, the KONGRA-GEL Co-Presidency Council woved to "establish a democratic and ecological society based on women's freedom".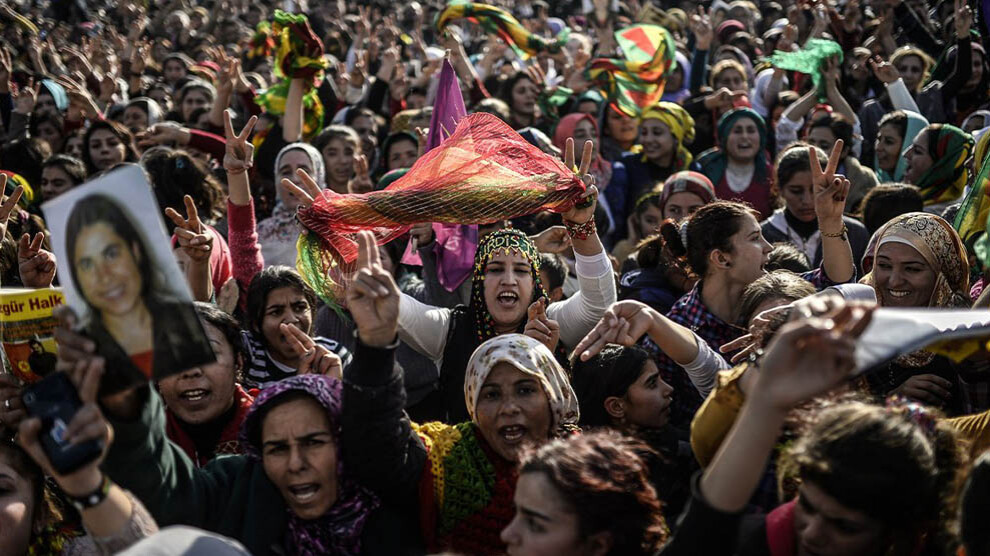 The KONGRA-GEL Co-Presidency Council released a written statement to mark March 8, International Women's Day. "We congratulate Kurdish leader Abdullah Öcalan, the leader of the ideology of women's freedom on International Working Women's Day. We also congratulate the women resisting in the mountains and prisons, and the women of Kurdistan and the world."
"On the occasion of March 8, we commemorate with respect and gratitude all the women comrades who were martyred while leading the struggle for women's liberation and the freedom of the peoples of Kurdistan, in the persons of Tolhildan Raman, Sosin Bîrhat, Şilan Goyi, Sozdar Cudi, Awaz Urmiye, Garibe Gezer and Nujiyan Öcalan. We reiterate our vow to follow in their footsteps to the end.
Freedom of women is freedom of society, peoples, nature and humanity. Women are the pioneers of freedom, change and transformation. Under the guidance of women, the freedom revolution is spreading in Kurdistan, the Middle East and the world.
The resistance of the female guerrillas led by the Free Women's Troops (YJA Star) played a major role in frustrating the Turkish army's concept of advanced warfare. Female guerrillas have thus proven that the Turkish state cannot break the will of the guerrillas.
This resistance by the female guerrillas has been a deadly blow to the fascist regime of the Turkish state.
Furthermore, the crisis of the Turkish state fascism gradually aggravated in 2021. We state very clearly that this grave and serious crisis is heralding the defeat of fascism.
As the Freedom Movement, we have decided to determine the physical freedom of Abdullah Öcalan as the main goal of the year 2022 as part of the "Time for freedom" campaign. The role of the Women's Movement is strategic in achieving this goal. Just as female guerrillas have played a leading role in the military campaigns, the Women's Movement will lead the way for organizing the struggle in civil society.
We will answer Öcalan's resistance and guerrilla resistance through an organizational campaign in the social arena during 2022. We will establish a democratic and ecological society based on women's freedom.
This year, March 8 is being celebrated with great enthusiasm everywhere. We hail all celebrations with all our heart and soul. The enthusiasm for the March 8 celebrations and the women's resistance in general have a positive effect on our people. The enthusiasm for March 8 will reach its peak with the Newroz celebrations and have an impact on organizational activities throughout the year.
This year, we will carry out all our activities to defeat fascism and secure the physical freedom of Öcalan. On this basis, we congratulate once again the Kurdish leader Öcalan, women resisting in the mountains and prisons, and the women of Kurdistan and the world on the occasion of International Women's Day."