Kurdish Women's Initiative in Britain establishes women's council Jiyan
The Kurdish Women's Initiative went to congress in Britain and established a women's council called Jiyan.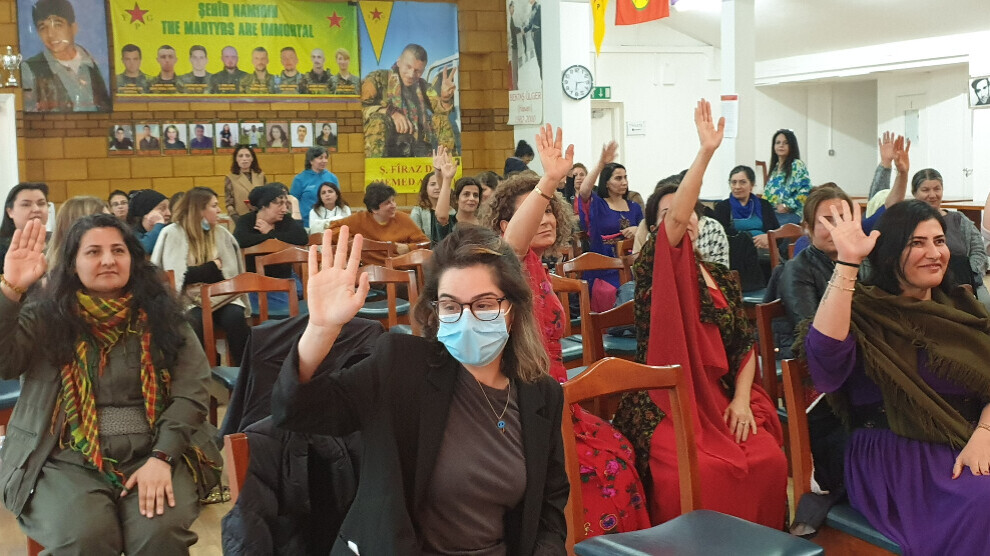 Many women as well as representatives of socialist revolutionary women's organizations attended the congress held by the Kurdish Women's Initiative at the London KCC building.
In the congress, which started with a minute's silence in memory of those who lost their lives in the struggle for revolution and democracy, the first council election was held. After the formation of the council, an opening speech was made.
In the speech, it was underlined that the stage the Kurdish women's struggle has reached inspires the women's freedom struggle all over the world today. The speech also touched upon the sexist, commoditizing and masculine mentality of capitalist modernity towards women, and underlined that today a women's revolution is taking place in Rojava.
Deniz Zeyno, one of the activists of the European Kurdish Women's Movement, who attended the congress via Skype, gave a speech on the political process and the role of Kurdish women.
British Kurdish People's Assembly co-chair Elif Sarıcan noted that with the freedom paradigm of Kurdish people's leader Abdullah Öcalan, the women's freedom struggle has made great steps. Referring to the parallelism between Öcalan's freedom and the women's freedom struggle, Sarıcan said: "We will expand the struggle for the physical freedom of Leader Apo."
Alevi organizations, SKB and women's commissions of local associations sent a congratulatory message to the congress.
The new council members and the new council name, Jiyan Women's Council, were established as a result of the voting.