Kurds organize event in Switzerland to commemorate three women murdered in Paris
Kurdish activists organize the "Sê Jinê Azad" event in Basel, Switzerland to commemorate three Kurdish women revolutionaries murdered in Paris in 2013.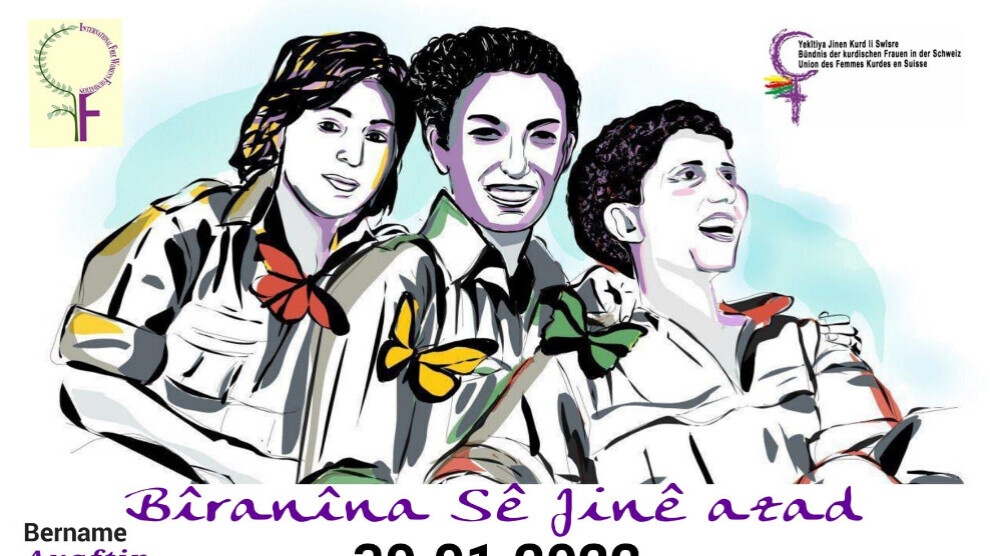 The 'Sê Jinê Azad' event is dedicated to the three Kurdish women revolutionaries, Sakine Cansız (Sara), Fidan Doğan (Rojbîn) and Leyla Şaylemez (Ronahî) who were murdered in Paris on January 9, 2013. During the event, a documentary movie about the struggles of three Kurdish women activists will be screened. There will be poem and music performances, including speeches that will be made by TJK-E members.
The event will be co-organized on January 30 by the Swiss Kurdish Women's Movement (YJK-S) and the International Free Women's Foundation. Rabia Baldemir, a spokeswoman for the European Kurdish Women's Movement (TJK-E) called for participation in the event in an interview with ANF.
'WE WILL PROMOTE WOMEN'S STRUGGLE'
"The 'Sê Jinê Azad' event dedicated to 3 female revolutionaries, Sara, Rojbîn, Ronahî, is not just a commemoration, we rather aim to reflect the Kurdish women's belief in the revolution and its effects on the world women's struggle in the person of the murdered women. The women's revolution in Rojava came into existence thanks to the women who relied on the resistance line of Sara, Rojbin, Ronahi. The women's revolution has managed to set a unique precedent in the women's struggle in the world. We will continue to hand down this line of resistance to future generations. We call on the public, particularly women activists, to attend the 'Sê Jinê Azad' event," Baldemir told ANF.
The "Sê Jinê Azad" event was held for the first time in 2014 in Rotterdam, Netherlands.
The "Sê Jinê Azad" event will take place on January 30 at 13:00 at Elsässerstrasse 215, 4056 Basel. Artists Nuarîn and Gulan will appear on stage during the event.