Let's be the voice of the mothers resistance!
Dayika Qadriye and Gulê Koç mother and wife of two of the 14 hunger strikers in Strasbourg who reached day 140 of their fast, expressed their solidarity with the mothers of prisoners being beaten by police.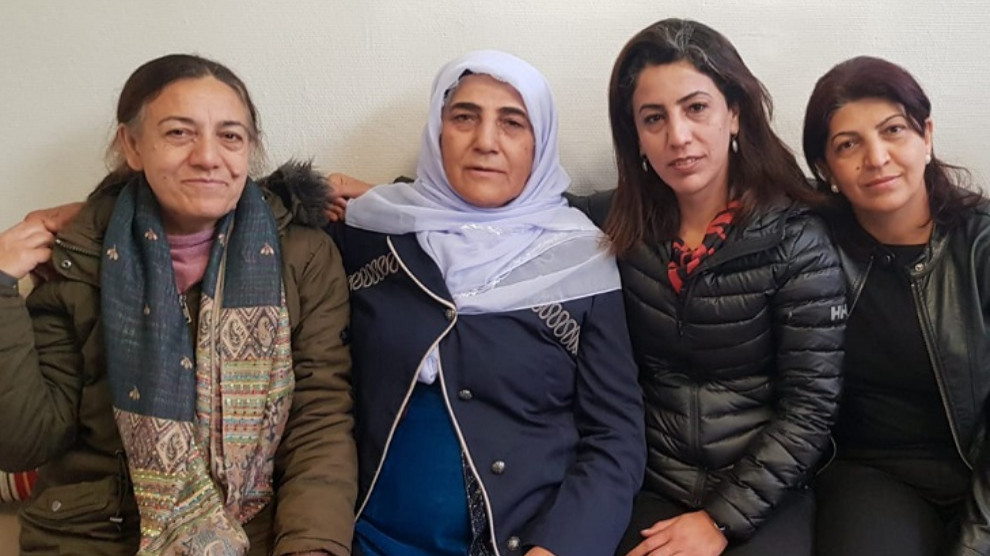 The hunger strike in Strasbourg by14 Kurdish activists demanding the end of isolation against Kurdish People's Leader Abdullah Öcalan has reached day 140. 
Now activists are faced with persistent and dangerous health problems as are the thousands of hunger strikers in prison in Turkey and Kurdistan. The mothers of the prisoners on hunger strike have been displaying an incredible resistance despite the attacks by the state and the police. 
Dayika Qadriye' son, Ramadan, is on hunger strike in Strasbourg. Dayika called on everyone to support the resistance of the mothers of prisoners in Turkey and Kurdistan. 
Dayika Qadriye stressed that support for the resistance should not only be limited to the Kurds in Europe, but stressed that the resistance will be successful only if everyone struggles together.
"As long as we exist, we will resist. - said Dayika Qadriye - We cannot live without our sons and daughters and they cannot live without their leadership."
If we seat at home victory won't come
Gulê Koç is the wife of Yüksel Koç who has also been on hunger strike for 140 days. "The louder our voice is, the higher the chance to win. - she said - They are 14 on hunger strike but their voice is one. We will succeed if we be their voice."
Gulê Koç pointed out the importance of participation in the actions in solidarity with the hunger strike resistance. Criticizing the European countries and their silence, she added that these countries advocate democracy only within the framework of their interests.
The protest against the isolation in Strasbourg, France, was launched on 17 December 2018 by 14 members of the Freedom for Öcalan Initiative. 
The 14 hunger strikers are: Gülistan Ike, Nurgül Başaran, Dilek Öcalan, Mustafa Sarıkaya, Yüksel Koç, Mehmet Nimet Sevim, Ramadan Imir, Deniz Körgüt, Agit Ural, Mohamed Ghaderi, Ekrem Yapıcı, Ayvaz Ece, Kerem Solhan and Kardo Bokani.