Purple women's chain against femicide in Istanbul
TJA and HDP activists have formed a purple women's chain against femicide in the Üsküdar district of Istanbul and commemorated victims of patriarchal violence.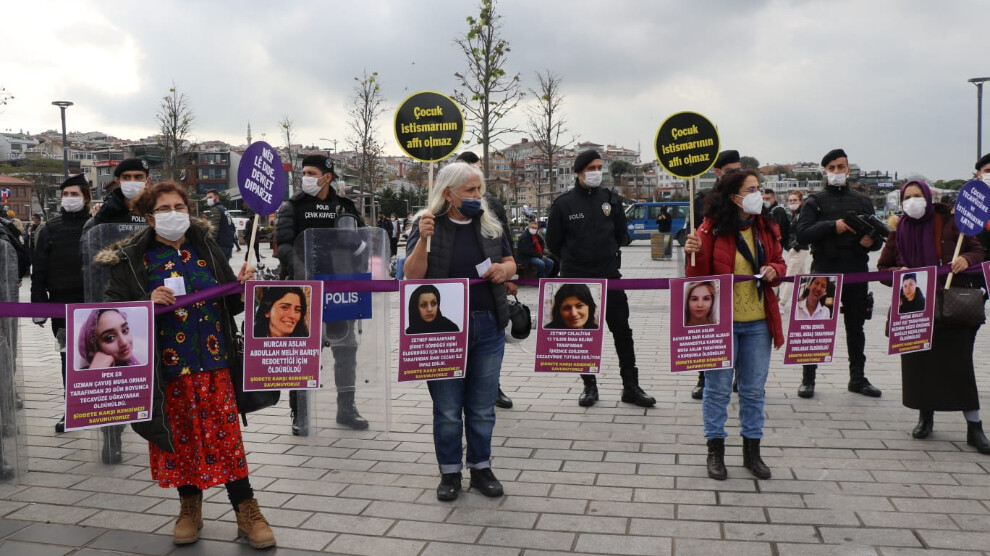 Activists of the Free Women's Movement (Tevgera Jinên Azad, TJA) protested on Sunday in the Üsküdar district of Istanbul together with members of the Women's Council of the Peoples' Democratic Party (HDP) against patriarchal violence. Forming a purple women's chain, the activists, who carried signs with pictures and short biographies of murdered women, called for the combating of femicide and the prosecution of the perpetrators. The action took place as part of the activities to mark the International Day for the Elimination of Violence against Women on November 25.
"We will not forget the murdered women, nor will we stop demanding accountability for those who without scruples have torn women out of life, tolerate femicides, did not prevent them and want them to be forgotten. We will also demand accountability for employers who confront women with poverty and hunger, who exploit them as cheap labor and do not recognize their diligence, from the policies of the ruling class, to those who do not implement the Istanbul Convention," said Özbek.
Aysel Özbek continued; "Women defend themselves by resisting militarism, sexism, exploitation, homophobia, transphobia, male and state violence, harassment and rape. Also on November 25th we will fill this place. Because we organize ourselves - for our lives and for our rights."
Fight against male and state violence
This year's activities on November 25th of the Kurdish women's movement run under the slogan "Fight against male and state violence" and are embedded in the campaign "Em xwe diparêzin" (We defend ourselves) against sexual assaults, violence and any form of oppression policy launched by the TJA in September.
The campaign includes the fight against state and sexual, physical, psychological, digital and economic violence. The women's movement demands the punishment of violent offenders. A further aspect is the state's "special war policy", which turns women into slaves through sexual violence and torture and removes young people from their social environment through drugs and targeted recruitment of informers. The TJA wants to fight together with the religious communities and ethnic groups affected by lynch attacks for their defense and to get involved against religious fanatical "Hate-Speech". The campaign also involves a struggle against the isolation on Imrali and promotion of the Kurdish mother tongue. The TJA is committed to the unity of the Kurdish people and the promotion of a collective economy. Further priorities are to defend the nature of Kurdistan and the Istanbul Convention against violence against women.