Saturday Mothers in Galatasaray on 24th anniversary
Saturday Mothers are entering the 24th year of their struggle. The mothers called on the state and said, "We will prevail, you will lose."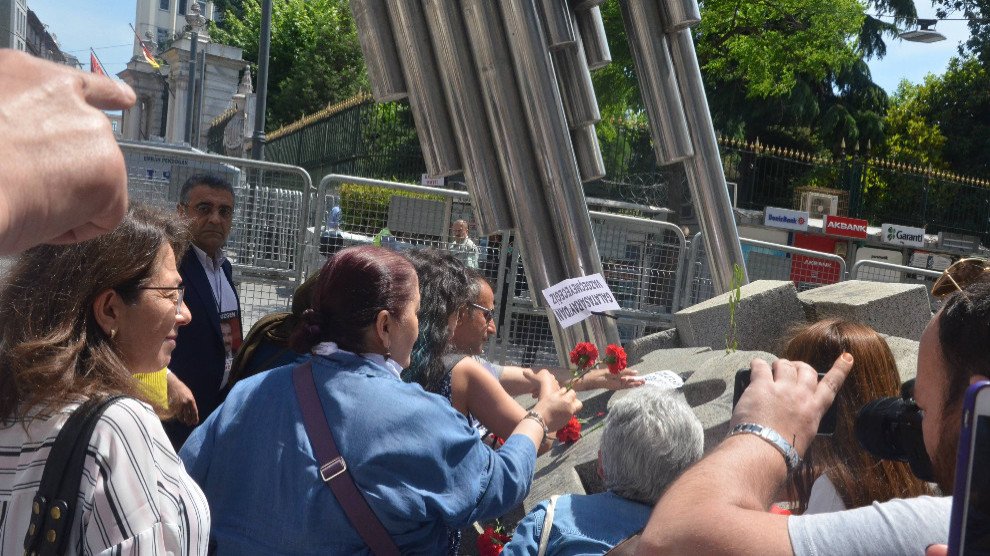 The Saturday Mothers had gathered in the Galatasaray Square for the first time to look for their relatives disappeared in custody on May 27, 1995 and today they met again on the 24th anniversary of their struggle. The Mothers were accompanied by Peoples' Democratic Party (HDP) MP Oya Ersoy, Republican People's Party (CHP) MP Sezgin Tanrikulu and Human Rights Association (IHD) Istanbul Chapter Chairperson Gulseren Yoleri.
"WE WILL PREVAIL"
Saturday Mothers entered the Galatasaray Square cut off by metal barricades and left carnations. Hanife Yildiz, mother of Murat Yildiz who had disappeared in custody, said: "We will put up a statue in this square to symbolize the disappeared. We will prevail, they will lose."
Hanim Tosun, wife of Fehmi Tosun who had disappeared in custody, said: "This is the square where we bid Mother Berfo goodbye. We promised her on this square. We promised our disappeared on this square. We will never give up our disappeared, or the Galatasaray Square."
After the statement, the mothers left carnations and signs that read "We won't give up Galatasaray" by the 50. Yil Monument in the square. They later left the Galatasaray Square and marched to the IHD Istanbul Chapter along the Istiklal Avenue, holding photographs of their disappeared relatives.
BANNED BY THE POLICE FOR 40 WEEKS
The police had attacked the 700th week protest held by the Saturday Mothers on August 25, 2018 and stopped the demonstration. Since then, for 40 weeks, the Saturday Mothers have been banned from entering the Galatasaray Square by the police.