Six women jailed on terror charges in Amed
Six Kurdish women activists and politicians have been sent to prison in Amed on terror charges. A court has imposed reporting requirements on nine women who had been detained at the same time. Eight others remain in police custody for the time being.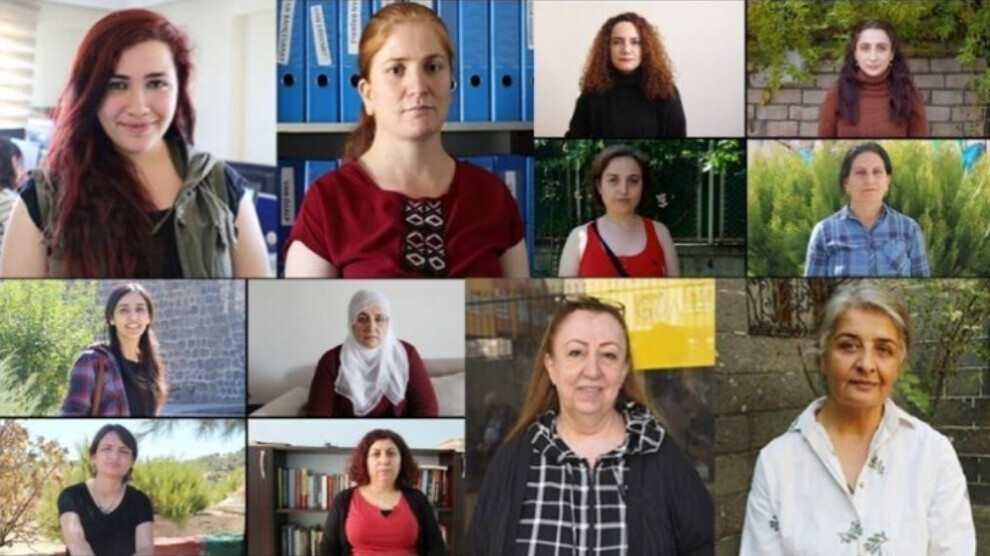 Six women have been jailed in Amed (Diyarbakir) on terror charges. The women who were remanded in custody after appearing in court are Council of Socialist Women (SKM) Executive Board Member Satiye Ok, Leyla Akgül, former press assistant to HDP deputy Dersim Dağ, Amed Women's Academy member Figen Aras, Şehriban Zuğurli, Nurşen Akbal and Ayşan Kanuş Zengin. They are accused of membership in a terrorist organization.
Since Monday, the Kurdish women's movement in Amed has once again been the focus of state repression. Within one day, a total of 22 well-known figures, including activists, journalists, politicians and artists, were detained throughout the province on absurd charges. The investigation file is classified, but the chief public prosecutor's office announced that the defendants were engaged in terrorism "under the cover of legal structures" and were organizing gatherings, demonstrations and meetings.
Registration orders for nine women, house arrest for another
The criminal division of Diyarbakir Magistrates' Court on duty ordered registration orders against nine more women on Thursday evening, including journalist Beritan Canözer. Nezahat Teke of the Peace Mothers Initiative will be placed under house arrest.
In the case of the remaining eight women concerned, police custody has been extended. The hearing of evidence has not yet been completed, it was said in justification. For TJA activists Zelal Bilgin and Emine Kaya, city council members Bahar Karakaş Uluğ and Ruken Bekalp, former co-chairwoman of the HDP district association in Kayapınar, Besile Barin, co-chair of the DBP provincial association Seval Gülmez, co-mayor of Çinar, Necla Tamiş and Rabia Tekas. The women in question will have to spend an additional 48 hours in police custody for the time being.