HDP Women's Assembly pays visit to Syriac women in Mardin
A delegation from the HDP Women's Assembly met Syriac women in Mardin. The women discussed their experiences with racism.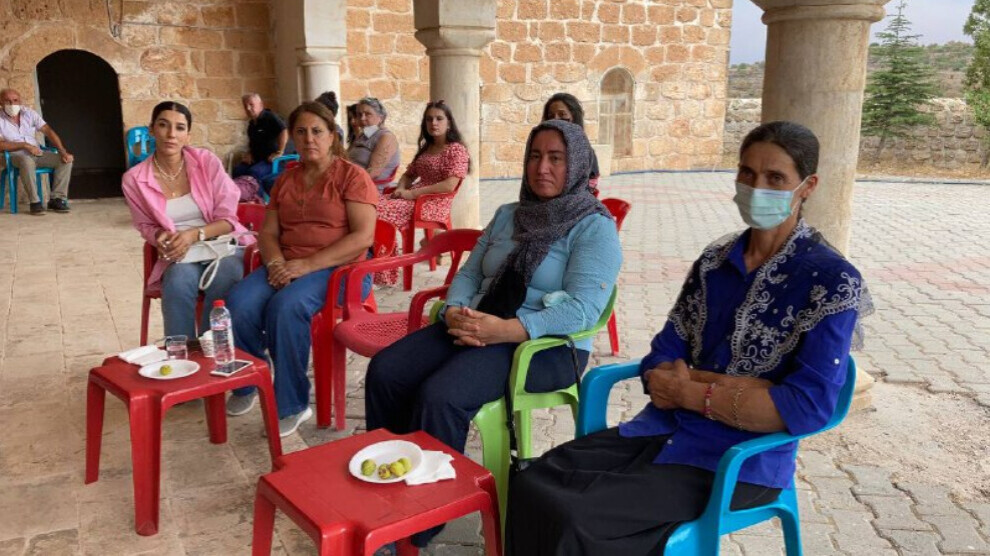 A team from the HDP (Peoples' Democratic Party) Women's Assembly met Syriac women in Mardin. The delegation included the HDP Women's Council Spokesperson Ayşe Acar Başaran, Party Spokesperson Ebru Günay, Member of Parliament Semra Güzel, Deputy Co-Chair of the Labor Commission Şaziye Köse, Women's Coordination members Mediha Yüksel, Gülsüm Ağaoğlu and Latife Demirci Kahya, Women's Assembly members Gülcihan Şimşek. , Mardin Provincial Co-chair Perihan Ağaoğlu, Mardin Provincial Women's Council members, former HDK Co-spokesperson İdil Uğurlu.
Syriac women were visited as part of the "Against Women's Impoverishment" meetings in Mardin's Midyat area. "We want to talk about the problems on women's experience," Women's Council Spokesperson Ayşe Acar Başaran remarked on behalf of the delegation. "We are in a culturally rich country, yet we are confronted with a tyranny that tries to singularize us. We say that our differences make us stronger. We are aware that you are experiencing challenges in this country and these cannot be ignored. These lands are also home to Syriacs," she said.
'BECAUSE WE'RE SYRIACS, THEY DON'T EVEN BUY OUR CHEESE'
Following that, a Syriac woman spoke about the divisive attitudes she had been exposed to, saying, "Both as a people and as a Syriac woman, we are very timid. Now I want to overcome my timidity. They say 'I'm sorry. I wish you weren't Syriac'. When our children go to school, they quarrel with them. 'You will not go to heaven. Why are you Syriac?' they ask. How much longer can this go on? They don't buy our cheese and milk because we're Syriac. Are animals Syriac as well? We live by selling molasses or fruit pulp. We even sell them without disclosing that we are Syriac."       
"I brought my cheese to Midyat to sell," remarked another Syrian woman. " They were going to buy my cheese and I weighed them all. When I reached down to hand over the change, they noticed the crucifix around my neck and decided not to buy the cheese."
The women's delegation delivered a message of solidarity and fight, stressing that Syriac women are not alone and that they will raise their voices wherever they are.
Tomorrow, the delegation will proceed with their visits in Kiziltepe district.