Kurdish women's movement TJA launches campaign in Botan
The Kurdish women's movement TJA is going on the offensive with its campaign "To freedom with Jin-Jiyan-Azadî" and is calling for international support.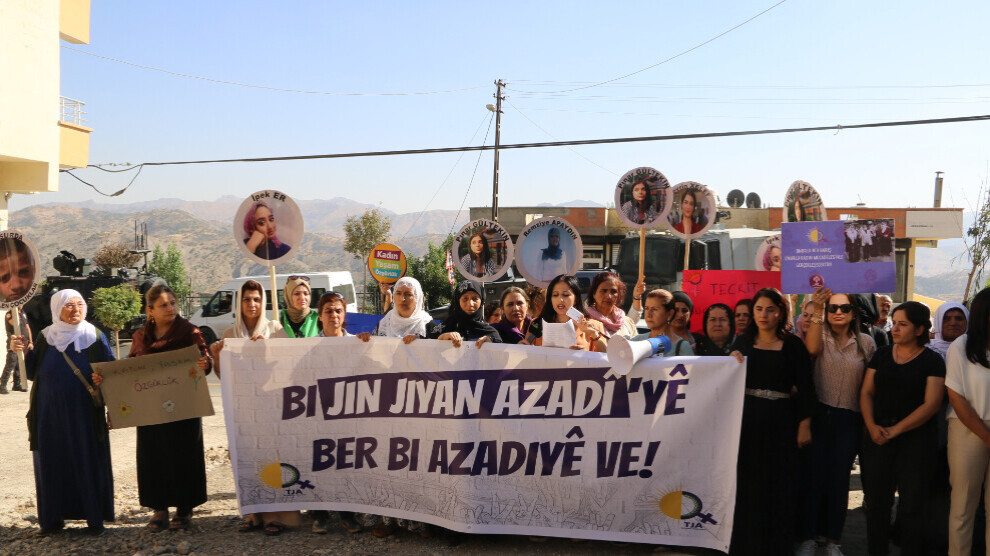 The Free Women's Movement (TJA) has launched its campaign "With Jin-Jiyan-Azadî to freedom" (Bi 'Jin Jiyan Azadi'yê ber bi azadiyê ve) in Botan.
The campaign launched last week by the women's movement in Northern Kurdistan is scheduled to last until International Women's Struggle Day on 8 March 2024 and includes a call to all women fighting for freedom.
On Wednesday, the TJA announced the start of activities in the Botan region. Women's movement activists, including Green Left Party MPs Ayşegül Doğan, Newroz Uysal Aslan and Adalet Kaya, made a statement about the content and objectives of the campaign in front of the office of the party in Gûndikê Melê, Şirnak Province. The press statement was read out by Zilan Yaman (DBP).
"Support our fight against the occupation"
Zilan Yaman said that the TJA was fighting against state denial and destruction and that the policies of the AKP-MHP government were misogynistic and dirty.
Zilan Yaman said: "The Kurdish freedom movement is being attacked at all levels and the first target is fighting women. With our campaign, we want to strengthen resistance to war and the fight for freedom and, above all, we would like support from civil society organizations, including at the international level. We want support for our fight for freedom against the occupation."
"We are fighting a fight for existence"
The statement continued: "As TJA, we are fighting for existence. We fight for our language, our culture and our identity as women. Women are being attacked massively and from all sides. These attacks are not independent of the isolation on Imrali. Abdullah Öcalan has been isolated for a quarter of a century. At the same time, political and social crises and femicide are intensifying. As TJA activists, we say that the  person for a solution to the Kurdish question is in Imrali. The aim of isolating Öcalan is to isolate his paradigm."
Call for common struggle
The path to success lies in organizing together, said Zilan Yaman, adding: "We appeal to women in Turkey and in the world to support this campaign. Despite all attacks, we will liberate society with our fight as organized women. Come and let's stick together!"