"The State protects perpetrators of rape"
The Free Women's Movement (TJA) and HDP Women's Council raised concern over a child molestation in Gercüş, Batman and pointed out that the State protects the perpetrators of rape.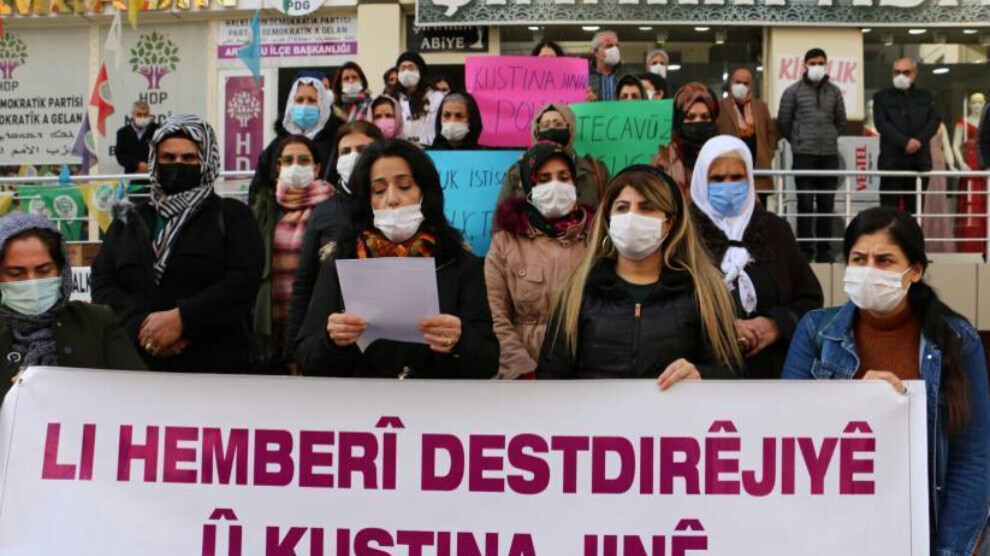 Free Women's Movement (TJA) and Peoples' Democratic Party (HDP) Women's Council issued a press release in Mardin, regarding the rape of a 15-year-old teenage in the Gercüş district of Batman. While many women attended the press briefing made in front of the HDP Mardin province headquarter, a banner written in Kurdish "We defend ourselves against rape and massacres" and signs against sexual abuse were displayed. HDP provincial director Münevver Ölker spoke on behalf of women.  
Ölker stated that the AKP and MHP adopted a political attitude to rape and sexual abuse, saying: "The specialist sergeant who raped İpek Er and caused her death was rewarded with impunity by a dirty mindset. Same policy was followed in the case of a special operations police officer B.K. The punishment for harassment and rape is eliminated in a legal context in Kurdish provinces."
Referring to the developments following the rape incident in which 27 people were involved in Gerçüş district of Batman, Ölker said, "The investigation of those who perpetrated rape for 8 months does not result in a criminal sentence for some reason. This means being a partner in the crime. We say no to male state violence, child abuse, harassment and rape.''
The women ended the press release with slogans.