TJK-E calls on everyone to attend actions to mark the anniversary of killing of Jina Amini in Tehran
One year after the murder of the Kurdish young woman Jina Amini in Tehran, protests have been announced around the world. The Kurdish women's movement TJK-E called for participation in activities in Europe.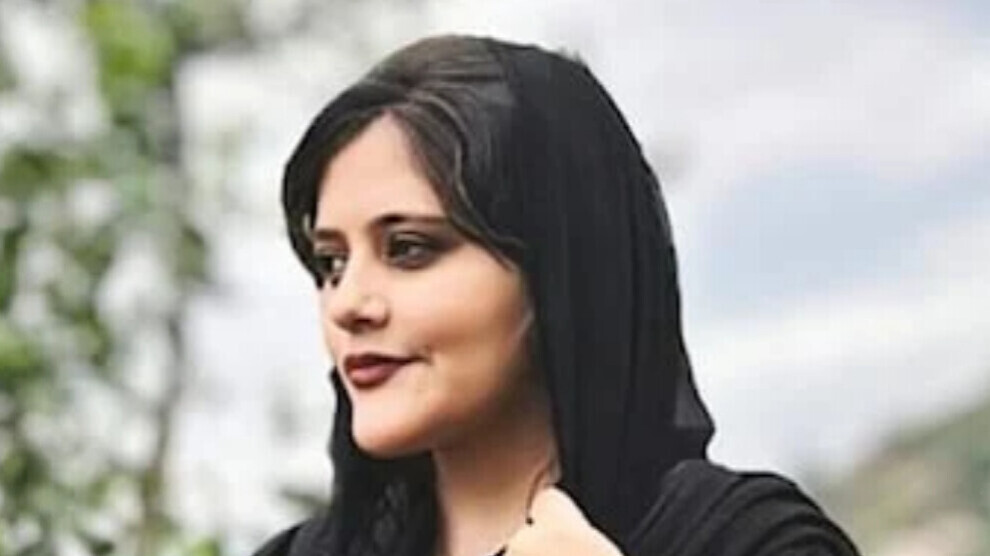 The first anniversary of the killing of Kurdish young woman Jina Mahsa Amini, is approaching. On 16 September 2022, Jina Amini died in Tehran at the age of 22 as a result of severe beatings by the so-called Iranian morality police. Her death sparked nationwide protests that spread from her hometown of Seqez in Rojhilat (East Kurdistan) to the whole of Iran with the slogan 'Jin, Jiyan, Azadî' (Woman Life Freedom).
The Kurdish Women's Movement in Europe (TJK-E) said: "The murder of Jina Amini by the regime in Iran a year ago triggered a historic process of resistance by women and the entire society. The fight against the politics of oppression and massacres of women has reached a new level. On the anniversary of Jina Amini's death, we once again remember with love and respect all the women who have been killed throughout history by the policy of femicides promoted by the patriarchal system. We salute all women who do not bow to these policies and, as representatives of the strongest freedom movements in history, carry the torch of resistance from the past through the present into the future."
When man turned into a ruler
The statement continued: "Today there is a major crisis in the Middle East, which has its origins in the structural problems of the patriarchal and capitalist system. Although this crisis may seem like a recent problem, it is fundamentally a problem that stems from the system of exploitation that began with the repression of the values created by women over millennia through the use of violence and deception. In other words, it was a crisis that arose when man turned into a ruler who, starting with woman, used violence against the entire society."
Freedom must be fought for
The statement added: "Rêber Apo [Abdullah Öcalan] is trying to overcome this crisis that threatens all of humanity's values with the paradigm of democratic civilization. This is a paradigm of freedom advocating a free life being built for all of humanity, especially for women. With their women's liberation struggle and their uncompromising line of self-defense, the Kurdish women are reclaiming all given values, definitions and structures and, with their resistance, are showing women of the world the hope that freedom is possible through struggle. By questioning the values, culture and life created by the male-dominated mind-set, women have further strengthened their fight for a new life based on the principles of freedom. In Kurdish society, this women-led revolution within a revolution has brought about social change."
Dynamics of change
The statement underlined that "for years, women have been fighting a bitter battle to be themselves. This historic experience, from the mountains to the cities, from the workplaces to the schools, is still in full swing. The uprisings erupted after 16 September 2022, i.e. after Kurdish woman Jina Amini was tortured and murdered by the morality police in Tehran because her hair was visible under her hijab, have opened a new page in the Iranian Kurdish resistance tradition and created a new unity of women's liberation movements worldwide."
Political prisoners must be released
The statement stressed that "hundreds of people died during this uprising. We remember these people who died for freedom with great love and respect. Thousands of women, young and old, have been arrested by Iran's state special forces. They are put under pressure and tortured. The fate of many of them is not even clear. All detained women and political prisoners, especially Zeynab Jalalian, must be released immediately."
From Kurdistan to the whole world
The statement said: "The idea of Jin, Jiyan, Azadî and the dynamics of this idea producing a change - a transformation - is a reality that has been experienced throughout the world and in Kurdistan in particular for more than 40 years. It is known from the free mountains, and the experience of North Kurdistan and Turkey, and has recently become a de facto reality in the women's revolution in Rojava. Jin, Jiyan, Azadî is a magical slogan that fundamentally summarizes the truth of Rêber Apo's democratic, ecological and women's liberation paradigm. As he himself said, the 21st century will be the century of women's freedom. Unlike other centuries, the potential for freedom struggle that this century carries is embodied in women's movements. In almost all parts of the world, women's movements are resisting with more active and, above all, more result-oriented struggles than ever before."
For my sister, for your sister, for our sister...
The statement continued: "In Rojhilat, young women with long hair, holding hands, wrote a one-sentence on a school blackboard: For my sister, for your sister, for our sister... These words reveal the spirit and form of a self-developing woman's struggle and express the reality of the Jin Jiyan Azadî uprising. The spirit of the free women's paradigm draws its strength from historical-social reality and weaves a free future for women around the women's revolution. Now in the 1st year, we celebrate 16 September with the universal philosophy of Jin, Jiyan, Azadî. Women all over the world are uniting under this slogan and moving closer to one another. This is very exciting and gives all of us hope."
With Jin, Jiyan, Azadî to the women's revolution
The TJK-E called "on people to take part in the actions that will be organized across Europe on the anniversary of Jina Amini's death as part of its campaign "With Jin, Jiyan, Azadî for the Women's Revolution". We women insist on liberating and beautifying life with our mind, our resistance and our colors. We are determined to win the battle that will define this century. And we say: let's fill the streets for my sister, for your sister, for our sister and expand the fight for freedom."
Activities have been announced in Belgium, France, Switzerland, England, Scandinavia, Germany and the Netherlands.
The planned actions so far are as follows:
GERMANY
13 September
Karlsruhe, 5 p.m., St. Stephan Church square
15 September
Cologne, 6 p.m., Heumarkt
16 September
Hamburg, 12 p.m., S-Bahn Sternschanze
Münster, 2 p.m., main station
Berlin, 5 p.m., Bebelplatz / Rosa Luxemburg Platz
Frankfurt, 2 p.m., Alte Oper, Consulate General of Iran
Stuttgart, 4 p.m., Rotebühlplatz
Saarbrücken, 2 p.m., Schillerplatz 14
Hanover, 1 p.m., Ernst-August-Platz
Kiel, 12.30 p.m., Europa Platz
Dortmund, 5 p.m., German Unity Square / Central Station
Aurich, 1 p.m., Town Hall
Freiburg, 2 p.m., square of the Old Synagogue
BELGIUM
13 September
Brussels, 4 p.m. Plas Pulatrt 1000
FRANCE
16 September
Paris, 7 p.m., La Place de La Bastille
Marseille, 1 p.m., Canebiere
Strasbourg, 3 p.m., Place Kleber
SWITZERLAND
16 September
Lucerne, 2 p.m., Helvetiaplatz
UK
16 September
London 1 p.m., BBC Broadcasting House
SWEDEN
16 September
Stockholm, 2 p.m., Norra Bantorget
NORWAY
16 September
Oslo, 1 p.m., Christian Frederijs Plass- Mellom/ OsloS-Opera
FINLAND
16 September
Helsinki, 2 p.m., Narinkkatori Helsinki
HOLLAND
Amsterdam, 1.30 p.m., Leidseplein.