Tree nursery named after Hevrîn Xelef opened in Qamishlo
A tree nursery named after Hevrîn Xelef has been opened in Qamishlo. The saplings, grown in memory of the Kurdish politician murdered by mercenaries loyal to Turkey, will be planted for the reforestation of Rojava.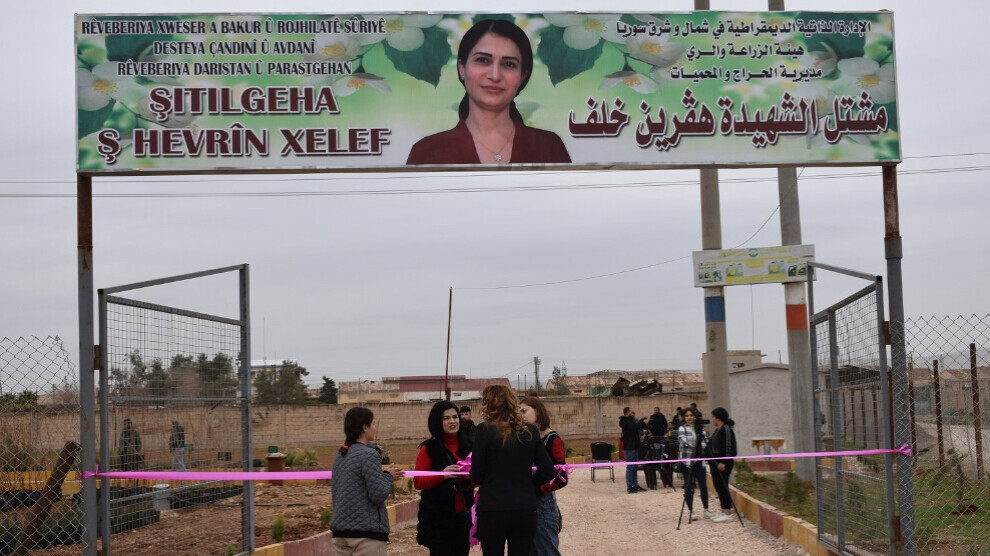 A tree nursery named after Hevrîn Xelef was opened in Qamishlo on Sunday. It is a joint project of the Directorate General of Agriculture and Rural Development and the Forestry Committee. Preparations for this took months, and around twelve thousand seedlings have been grown so far. These are now being planted for the reforestation of Rojava.
At the same time, the garden also created a place of perpetuation of remembrance, it was said. The date of the inauguration of the tree nursery was not chosen by chance by the responsible committees, but was determined for this day. For days now, celebrations have been taking place in the autonomous region of northern and eastern Syria on the occasion of International Women's Day on 8 March.
The traditional red opening ribbon was therefore purple and was cut by Hevrîn Xelef's mother, Suad Mistefa. She was visibly touched and moved. In a greeting to the numerous guests, among them members of civil society, political parties, the ecology movement and the women's umbrella organisation Kongra Star, Mistefa wished "the revolutionaries, mothers, prisoners and fighters of this world" all the best for Women's Day.
Hevrîn Xelef
Hevrîn Xelef (also Havrin Khalaf) was the general secretary of the Syrian Future Party (Hizbul Suri Mustakbel), which is guided by a grassroots initiative principle, and a beacon of hope for a diverse, democratic Syria. On 12 October 2019, at the age of 34, she was murdered together with her driver near Qamishlo in the course of the Turkish war of aggression against northern Syria. Members of the so-called "Battalion 123" of the jihadist militia "Ahrar al-Sharqiya", a grouping involved in the invasion under the umbrella of the proxy invasion corps SNA ("Syrian National Army") founded by Turkey, ambushed Xelef, dragged her out of her car and mutilated her body before executing her. According to the autopsy report, the politician's body had numerous injuries, including many bullet wounds, fractures to her legs, face and skull. Her scalp was partially detached because her hair had been pulled.