Trustee changes name of park dedicated to Kurdish activist
The Turkish regime's anti-Kurdish stance knows no limits. It even targeted the name of a park in Nusaybin dedicated to Kader Ortakaya, a Kurdish activist who was shot dead by Turkish soldiers at the Kobanê border in 2014.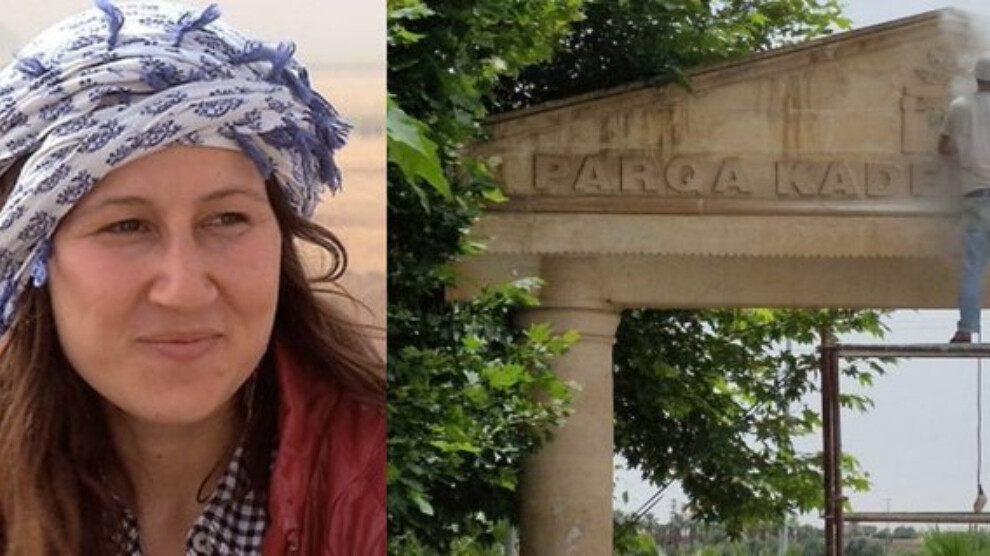 According to Mezopotamya news agency (MA), the trustee appointed to the municipality of Nusaybin in the province of Mardin had the Kurdish name "Parqa Kader Ortakaya" removed. The park was named after Kader Ortakaya, a Kurdish activist murdered at the Kobanê border in 2014.
On 6 November 2014, the Free Art Initiative tried to reach the border of Kobanê through a human chain action. The border had been closed by the Turkish government to prevent humanitarian aid and human rights observations and to cover up Turkey's support for the Islamic State. The Free Art Initiative action was banned and attacked with tear gas and Live Ammunition. In this attack, a border guard shot Kader Ortakaya with a bullet to the head.
Kader Ortakaya
Kader Ortakaya, a 28-year-old Kurdish woman, was killed by Turkish soldiers near Suruç on 6 November 2014.
She was part of a crowd gathered in support of the people of Kobanê's resistance against the Islamic State.
Ortakaya was born to a working class family in the Siverek district of Urfa. She was a woman who started working at a young age, trying to contribute to her family through her work.
In order to support the labor movement, in which she was also active, she used her academic time after graduating in sociology at Eskişehir Anadolu University, Turkey, by writing her research papers on labor movement issues in the Department of Development Economics and Labor Economics at Marmara University. Kader Ortakaya was a member of the Initiative for a Free Society (TÖP-G). 
In June 2025, as a tribute to Ortakkaya, the Kurdish Municipality of Nusaybin created the "Kader Ortakaya Brotherhood Park" on an area of 4,000 square meters next to the historic Baghdad Bridge.