Turkish occupation in Afrin guilty of femicide and gender crimes
A new dossier published by Kongra Star documents violence against women in Afrin, proceeding from Turkey and the jihadist groups supported by Turkish state.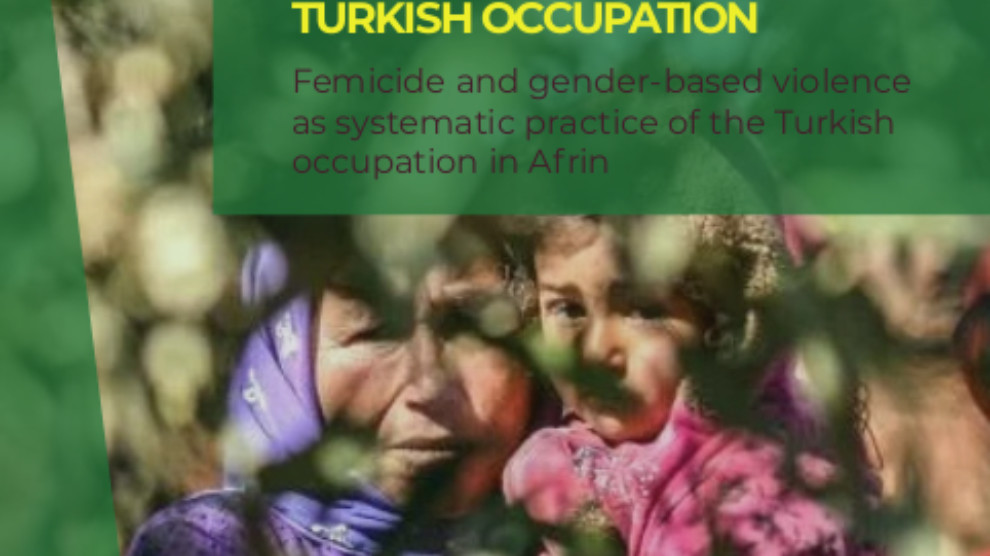 Women Defend Rojava has issued a new report titled 'Women under Turkish occupation. Femicide and gender-based violence as systematic practice of the Turkish occupation in Afrin'.
The dossier documents violence against women in Afrin, proceeding from Turkey and the jihadist groups supported by Turkish state.
Since Turkey attacked and occupied the north-western region of Syria at the beginning of 2018, people, specially women, have repeatedly been subjected to abductions, violence, including in particular sexual violence, and murder.
This violence in general and the gender violence are consequences of the occupation and the mentality of the Turkish state and its jihadist groups.
The documented crimes and violations of the rights of women and girls in Afrin show the
inhuman and brutal extent of the systematic violence to which women and the population
in this region are exposed on a daily basis.
For women, life is like a prison, they are
oppressed, humiliated, abused, forced to marry, including many underage girls, subjected
to torture as well as physical and sexual violence, culminating in rape and femicide. Many
women no longer leave the home for fear of punishment and violence. The women are
deprived of all their previously acquired rights.
The report underlined how "these acts of violence are clearly evident in recent events. At the end of May, it was revealed that many local Kurdish women are being detained, abused and tortured under the most inhuman conditions in the prisons of the pro-Turkish militias. There are reports
of abducted or murdered girls and women almost every day."
The dossier stated that as of 25 June 2020, 30 women have been kidnapped, 13 released and 5 killed.
The report also outlied how "since the establishment of democratic structures in the region of the Autonomous Administration of North and East Syria, a new women's law has also been introduced on the basis of women's liberation. This was published on October 22, 2014 by the Women's Office of the Autonomous Administration of Cizîrê Region in order to anchor women's
rights in the new political system.
The law contains points that establish certain rights of women and prohibit practices that
are considered oppressive. The law was passed by the Afrin, Kobane and Cizîrê regions.
One of the most important rights and freedoms enshrined in the law is the prohibition of
forced marriage of minors.
However, in the course of the occupation of Afrin, these acquired women's rights were again denied and the forced marriage of minors is yet again one of the common misogynistic practices
of the jihadist mercenaries.
Kongra Star called on the international institutions and actors to take responsibility and
act to prevent further genocide and femicide as well as forced demographic change.
The following demands have been listed:
• An immediate no-fly zone to be established over North and East Syria
• Serious steps for the immediate withdrawal of the Turkish occupying armed forces
and all related armed groups from the territory of Syria
• The establishment of an international community peacekeeping force on the Turkish-
Syrian border
• Immediate economic sanctions to be implemenyted against Turkey and the cessation
of all arms trade with Turkey
• Immediate humanitarian assistance to the region of the Autonomous administration
of North and East Syria
• Human rights organisations must be given immediate access to the regions occupied
by Turkey in order to monitor the situation on the ground
• The practices of genocide and femicide must be stopped immediately and the Turkish
state and its allied jihadist groups must be held accoutbale and be brought to justice
• Establishment of an international criminal court to prosecute human rights violations
and war crimes in North and East Syria