Uniformed violence in Kurdistan
The uniformed brutality and sexual assault against Kurdish women, which runs along with the military and political massacre in Kurdistan, continue.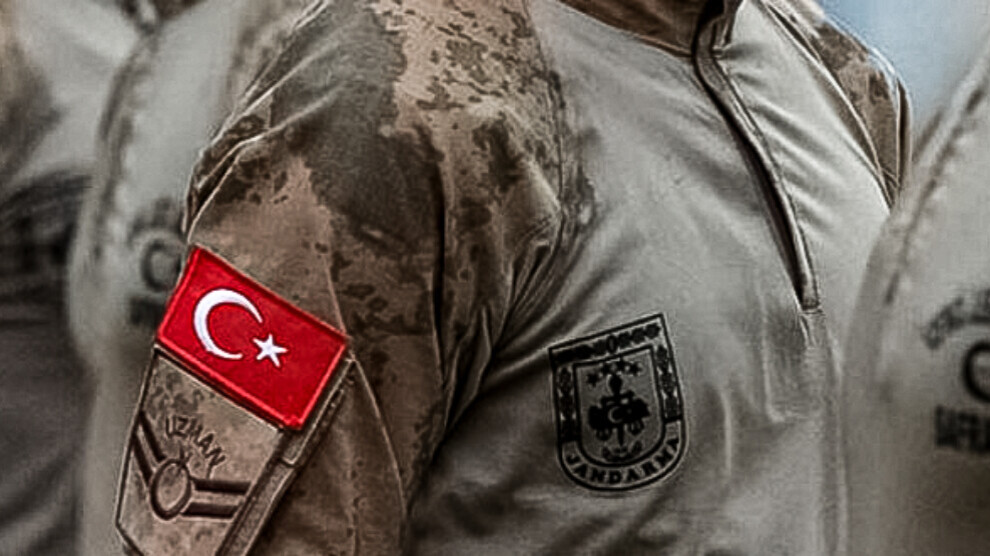 The Turkish state's dirty and private war policies aiming for social degeneration in Kurdistan are intensifying.
The Turkish state started its methods of cultural assimilation and moral corruption again in Northern Kurdistan after suffering an ideological defeat in its war against self-government.
Uniformed troops, police officers, village guards, guards, and other government officials are attempting to lure Kurdish teenagers into prostitution and drug use, as well as young women into prostitution and drug use with promises of "love and marriage."
According to a report prepared by the Free Women's Movement (Tevgera Jinên Azad, TJA) in 2021, 75 women filed complaints against uniformed personnel for sexual assault and violence during the year.
Uniformed personnel harass young women in Kurdistan by following them on social media and pressuring them to have intercourse by threatening to inform their families if they do not receive a response. Since the 1990s, dirty war policies have been implemented to target women and children in conflict zones. The perpetrators' impunity despite all of this being in the public eye is the clearest indication that this is a special war technique.
THE STATE'S UNIFORMED RAPIST
On social media, Specialist Sergeant Musa Orhan met 18-year-old İpek Er and sexually attacked her. After being raped by Orhan, Er committed suicide. On the charge of "qualified sexual assault," an investigation was opened against the perpetrator Musa Orhan, who had abducted Er for 20 days, after Er had detailed the sexual assault in a letter she left behind before suicide. In the court where he was taken on June 17, Orhan was released on the condition of "judicial control." Musa Orhan was suspended after the public reacted to his contradictory comments in court. Musa Orhan's lawyer, who was involved in the proceedings, accused İpek Er's father of "not being able to take care of his daughter" and made serious accusations.
"SUSPICIOUS" DEATH OF MERVE A.
Merve A., an 18-year-old girl from Bingöl's Ulubağ neighborhood, was discovered "suspiciously" dead on January 31, 2021, in a rented daily pension. Merve called her aunt before she died and told her that she had fled with a sergeant and that they were on their way to Manisa, despite the fact that it was alleged that she had committed suicide. When Merve A.'s family was unable to reach her, they reported a missing case to the police. Despite the fact that the incident was recorded by the police and photographs of Merve A.'s admission to the hostel was taken, no information was given to her family. Merve A., who returned to her family, died "suspiciously" shortly after her return, allegedly by suicide.
MURDERED AND FORCED TO MARRY
On February 4, 2021, in the Bismil district of Amed, village guard Aslan Karakaş tried to persuade his 16-year-old relative, Emine Karakaş, to marry him, and when she refused, he murdered him with a gun. Emine Karakaş's family alleged that Aslan Karakaş was 37 years old, married, and the father of seven children, while Emine was very young and loved someone else in the case where Aslan Karakaş and his older sister Münevver Karakaş were tried. After their daughter was murdered, the family moved from Amed to Izmir in order for the offender on trial to face the worst punishment possible.
THE PERPETRATOR IS A JITEM CONFESSOR
Murat İpek, village guard head and JİTEM confessor in Amed's Eğil district, seriously injured 21-year-old Aleyna Avcı with a firearm. The perpetrator claimed that he gave a statement to the gendarmerie after the occurrence and that the case was dismissed since there was no substantial evidence.
SEXUAL ATTACKS OF THE VILLAGE GUARDS
The village guards H.B. and R.Ç., who sexually attacked a woman in a neighbourhood of Mardin's Savur district, were apprehended after the victim filed a complaint.
THE TYRANNY OF SPECIALIST SERGEANT AND HIS BROTHER
Zeynep Sevim was tortured and threatened by her husband and her brother, a specialist sergeant, in the Kozluk district of Batman. "We came here to shed blood, we are the state," the specialist sergeant threatened as he searched Sevim's home, but he was released. Jinnews stated that Zeynep left the house twice and went to her parents' house. Samet Aktaş, her husband, came over and apologized, promising that it would not happen again. He persuaded Zeynep and drove her home. He locked her in the barn and bound her hands, but Zeynep discovered a way out. Samet Aktaş constantly threatened death and raided the houses of Zeynep's father and the expert sergeant at the Kütahya Tavşanlı Police Station Command Cevat Aktaş.
PUBLIC REACTION PREVENTED A MASSACRE
On May 20, 2021, two specialist sergeants in Dersim held their guns to the head of a woman named Fidan Yıldırım, whom they claimed was a suicide bomber, and beat her. Hundreds of people gathered at the place after the sergeants fired fire in the air to show their outrage, and Fidan Yıldırım was freed as a result of the public outrage. The specialist sergeants were the subject of an investigation, but they were not punished.
SPECIAL WAR POLICIES
The rise in violence against women in Kurdistan is also a result of gender-specific war policies. While the goal in Turkey is to create "meek women," the Turkish state's war in Kurdistan is also fought through the female body. Harassment, rape, and sexual assault, which are among the oldest war tactics, have never changed since the 1990s, despite the fact that governments have changed. While women were subjected to violence, were murdered in the street, and were sexually assaulted, the state always protected the criminals, not the victims.