Vienna pays tribute to Sakine, Fidan and Leyla
Sakine Cansız, one of the founders of the PKK who was murdered on 9 January 2013 in Paris, together with Fidan Doğan, KNK Paris Representative and Leyla Şaylemez, a member of the Youth Movement, were commemorated with a march in Vienna.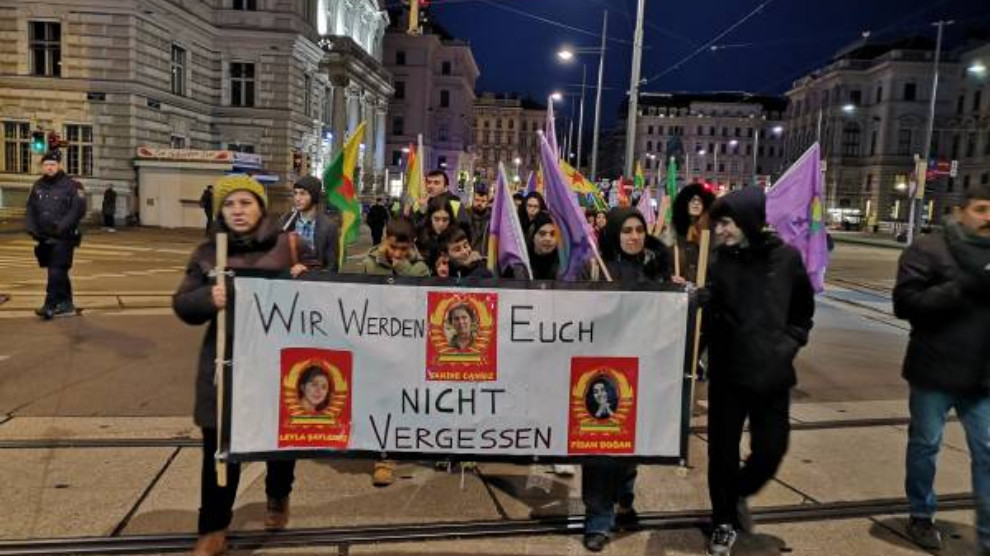 A march which ended in front of the French Consulate in Vienna was organised to pay tribute and demand justice for the three women revolutionaries murdered in Paris on 9 January 2013.
Kurds and their friends got together at the Opera Square to join the march organised by the Vienna Democratic Kurdish Community.
A rally was held in front of the French consulate where a black wreath was left to remember Sakine, Fidan and Leyla.
Speakers at the rally emphasized that Ömer Güney, the killer, carried out this murder upon orders of the Turkish state. It was also underlined that the French state knew this but limited the investigation against Ömer Güney. Speakers stressed that the struggle for justice and the truth will continue.