Women rally in Istanbul: "We will find Gülistan Doku"
Kurdish student Gülistan Doku has been missing for 248 days. In Istanbul, activists of a justice commission named after the 21-year-old demanded the resumption of the official search operations that had been stopped.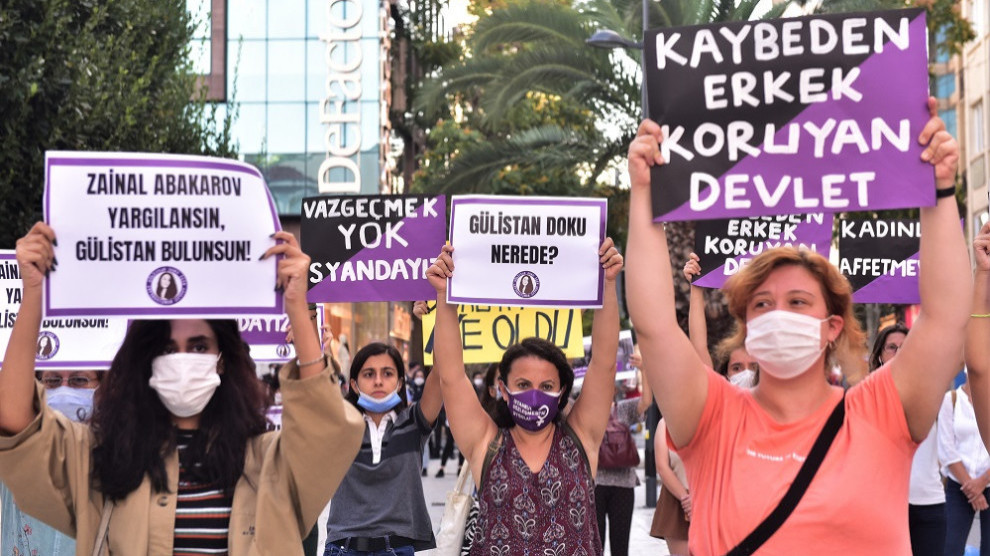 At a rally in Istanbul, numerous women activists have called for the resumption of the search for university student Gülistan Doku. For 248 days now, there has been no trace of the 21-year-old who studied childhood education in the province of Dersim and was last seen there on January 5. The Istanbul commission "Justice for Gülistan Doku" also demands investigations against Zainal A., the young woman's ex-boyfriend. He has since gone into hiding and is apparently protected from prosecution. The man of Russian origin had tried to drag the young woman into his car just one day before the disappearance of Doku. She fought back and passers-by who had observed the incident informed the police.
"Instead of criminalizing a family in search of their missing daughter, investigations should be launched that focus on Zainal A.," said the Commission spokeswoman Hivda Selen, referring to a sit-in initiated by relatives of the missing student in Dersim, which was violently broken up by police yesterday. Doku's mother and sister Bedriye and Aygül were temporarily detained.
Selen also mentioned that a delegation from the Justice Commission was denied access to the place where the sit-in is taking place. "Once again, it was not a killer who was arrested using massive police force. Nor was it Zainal A., whom we believe to be the suspect of the crime. It was Gülistan's mother Bedriye and sister Aygül - women searching for Gülistan."
Nobody will be able to stop the women from asking again and again about the whereabouts of Gülistan Doku and from looking for her, Hivda Selen emphasized, directing her attention to the police present, who had formed a cauldron around the rally in front of the Süreyya Opera House in the district Kadıköy. Other activists loudly chanted slogans such as "Men murder, the state is an accomplice" and "Long live women's solidarity".
"We are determined to bring those responsible for the 'disappearance' of Gülistan to justice. In the fight for justice for our friend, our steps are getting stronger every day. We will not give up the search for Gülistan. We women will find her," said Selen.
RELATED NEWS: