Women establish initiative against occupation and femicide
Many women, including representatives of women's organizations from the Middle East, formed an initiative with the motto "For security and peace, fight against occupation and femicide" to document the crimes committed by the colonial powers and Turkey.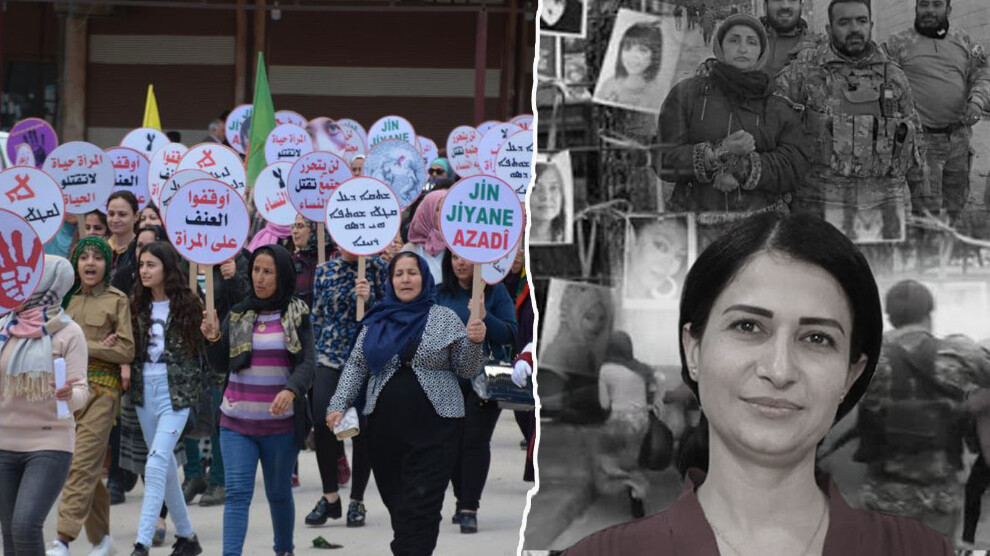 Women from North-East Syria and the Middle East, including representatives of women's organizations, announced on Monday the launch of their initiative following the online meeting they held to evaluate the developments in the region.
The press statement highlighted basic human rights, United Nations General Assembly agreements and international agreements that endorse the principle of equality between peoples, pointing out that the capitalist system is trying to maintain itself through chaos, war and crisis.
Stating that disintegration of societies and the deliberate increase of violence against women is one of the most important policies of the world capitalist system, women said that the support for political Islam proves that it is only a tool for war, occupation and exploitation, and that all international agreements are violated as relevant international institutions remain silent.
Noting that the invading Turkish state's occupation of Afrin, Serêkaniyê and Girê Spî, the constant bombing of Iraqi villages, Israel's occupation of many regions of Palestine are examples of these violations, women pointed out that, "Women are targeted the most during the wars in the region. In Syria, Syrian Future Party Secretary Hevrîn Xelef, Kongraya Star Coordination member Zehra Berkel and her comrades, Dünya Hesen on Mount Shengal in Iraq, HDP Party Assembly member Sêvê Demir and her comrades in Silopi, Semah Mubarak in Palestine and Selwa Bugigis in Libya were all targeted and murdered through these policies."
It was noted that the meeting, which was held to reclaim the seized rights and to ensure security and peace, yielded results with the establishment of the initiative "For security and peace, fight against occupation and femicide".
The women stated that this initiative has been established to document and to publicize all the crimes of radical Islam, the occupying Israel and the Turkish state against women, to convey women's voices to all relevant international institutions, to end the silence of these institutions, and to prosecute criminals within the framework of international law.
The women noted that the initiative was launched on October 12, the anniversary of the martyrdom of Hevrîn Xelef, former Secretary General of the Syrian Future Party, who was murdered by the Islamic gang organizations led by the Turkish state.
The names of the people and institutions that take part in the initiative are as follows:
Büşra Ali, President of the Lebanese Women's Association,
Lebanese Tashnaq Party Women's Committee Chair Mary Ann,
Tunisia, African Union Security and Peace Council Women's Committee Member Selve Kike,
Iraq Women's Association President Şemiran Odişo,
Şeyda Marûf Mehmûd, Member of the Board of the Women's Branch of the Iraqi Kurdistan Zahmetkeş Party,
Rabha Farisi, member of the Libyan Women's Peace Support Network,
Nevin Ubeyd, Member of the Assembly of Secretaries of the New Women's Organization of Egypt,
Kongreya Star Diplomatic Relations Bureau Member Rûken Ehmed,
Xewla El Isa El Hemud, Coordination Member of the Women's Council of North and East Syria,
Syrian Syriac Women's Union President Siham Qeyro,
TJA activist Hacer Özdemir