Women from 23 countries express solidarity to the HDP
More than 30 women politicians and activists from 23 countries around the world, from Vietnam to Argentina, from Nepal to Philippines and Mali, issued a message of solidarity with the HDP.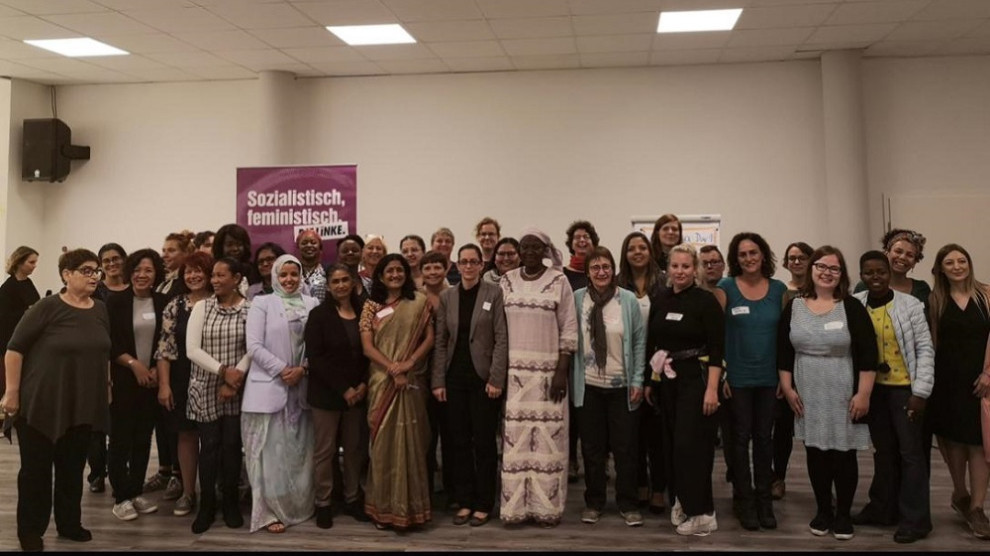 Worldwide reactions to the AKP's political coup and the appointment of trustees to Amed, Van and Mardin municipalities continue.
From Vietnam to Argentina, from Cuba to Belarus, from Ireland to Nepal, from the Philippines to Spain, from Tanzania to Germany, Greece, Mexico, Mali, over 30 women politicians and activists 'from 23 countries around the world issued a message of solidarity with HDP.
The women's message of solidarity is as follows:
"We, International feminist politicians, express our solidarity with the mayors Bedia Özgökçe Ertan, Adnan Selçuk Mızraklı and Ahmet Türk who were dismissed on August 19, despite being democratically elected in the 2019 local elections.
Amed (Diyarbakir), Mêrdîn (Mardin) and Wan (Van), were taken under the control of the central government through the intervention of the Ministry of Interior. At the same time, 500 members of the HDP were detained. Erdogan's government had previously used this method against elected HDP representatives in 2016.
Thousands of HDP members were arrested. Former co-chairs Figen Yuksekdag, and Selahattin Demirtas, and more than 50 mayors, are still in prison.
The co-chair system was cited as the reason for this last decision. This justification is not an understandable justification and has no basis in the rule of law.
Harsh intervention against critical voices, democratically elected people's representatives is an excessive restriction of freedom of thought.
As a result, women's rights are also restricted. The co-chair system is a way for the HDP to ensure gender equality. This practice is deliberately destroyed by the AKP government in order to prevent women's rights. An autonomous women's organization is like a thorn in the side of the government.
Therefore, the attack on our sisters in HDP is an attack on the international women's movement.
We want elected mayors to return to their duties immediately!
We demand the abolition of the trustee administration!
We demand the adoption of women's rights in Turkey!
We demand recognition of the co-presidential system!
Long live independence and international proletarianism!"
The letter has been signed by:
Fabina Rios (Argentina)
Yanina Huzouskaya (Belarus)
Odalys Peres Garcia (Cuba)
Silla Mari Kakkola (Finland)
Dominique Tripet, Communist Party of France (France)
Julia Wiedemann (Germany)
KajoTetzlaff (Germany)
Katrin Voss (Germany)
Anja Eichhorn (Germany)
Jana Hoffmann (Germany)
Birte Keller (Germany)
Danny Butter (Germany)
Nina Eumann (Germany)
Maria Gkasouka, Syriza (Greece)
Mariam Dhawale (India)
Wian Haji (Iraq)
Emma Sheerin (Ireland)
Fida Abu Dbai Nara, Haddash (Israel)
Cabbage Cecile Dakouo (Mali)
Corinne Camille (Mauritius)
Citlalli Hernandes (Mexico)
Utaara Mootu (Namibia)
Binda Pandey (Nepal)
Reihana Mohideen, Labor Party (Philippines)
Oulimata Niang (Senegal)
Antonia Todic (Slovenia)
Clara Alonso (Spain)
Dorthoy Semu (Tanzania)
Leyla Imret, HDP
Anna-Maria Wünst, HDP-Deutschland Vertretung, Activist (Germany)
Thi Hoang Van Nguyen (Vietnam)
Minetu Larabas Sueidat (Western Sahara)