Women in Raqqa call for unity against occupation
Women in the Raqqa city took to the streets to denounce the crimes committed in Turkish occupied regions in North-East Syria.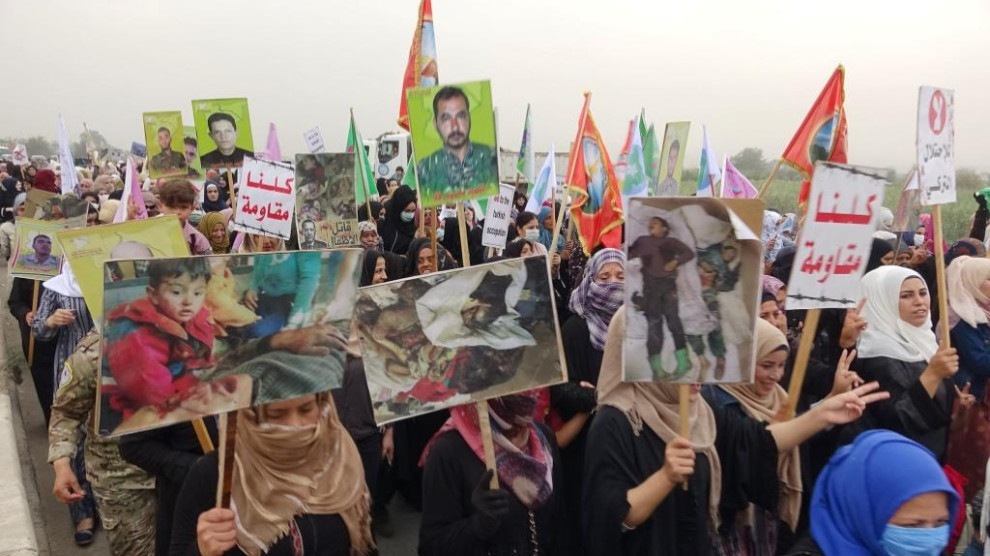 Raqqa Women's Office promoted a demonstration in protest at the Turkish crimes committed in Serekaniye (Ras al-Ain), Gire Spi (Tal Abyad) and Afrin regions which are occupied by the Turkish army and allied mercenary groups.
The demonstration was staged under the motto "Let's unite against Turkish occupation".
A number of women joined the protest march, as well as dozens from the democratic society organizations and people's municipality and intellectuals.
The crowd displayed photos of martyrs and banners which read "Syriacs, Kurds, Arabs and Assyrians; unite against Turkish occupation", "Why is international conscience silent on Erdoğan's crimes in the Middle East?", "Erdoğan massacres civilians with phosphorus and napalm bombs", "No to Turkish invasion in Irak, Syria and Libya".
In a speech during the rally, Fehime Casim from Raqqa Women's Office said the following; "The Turkish state is committing atrocities and plundering our lands. As women from Raqqa, we mean to show the whole world that our pain is one. We condemn the crimes committed by the Turkish state and we call upon the international community to stans against these crimes."