Women prisoners to protest conditions in Elazığ
Women prisoners in Elazığ High Security Prison have sent letters to expose violations of their rights. The prisoners also announced that they would start civil disobedience action if the violations of rights were continued.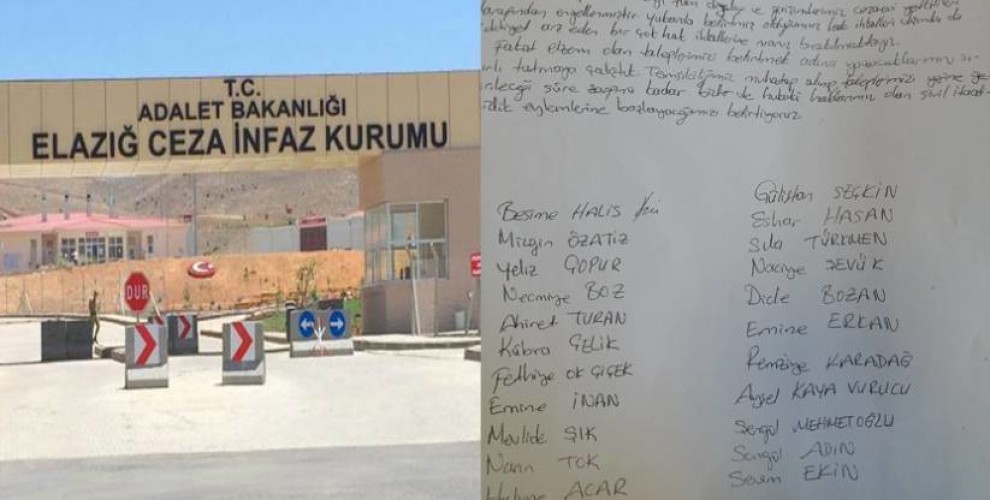 Twenty-two women prisoners, held in Elazığ High Security Prison, have sent a letter to their lawyers exposing the violation of rights they are subjected to.
In their letter the prisoners wrote: 
"As you know, R Type prisons are designed for ill prisoners, so despite being the only ones held here we are watched by 6 cameras and many surveillance windows. A person who is under constitutional security restriction has the right to privacy.
For this reason, - the letter added - two representatives on our behalf had contacted the authorities and had repeatedly submitted our requests for the removal of the camera application. We have also sent letters to all competent authorities. However, when we did not receive a positive response to our requests, we screened out the cameras to prevent images being taken without damaging the camera.
Although the decision of the Ministry of Justice about the removal of the camera has been made during this period, this decision was not passed on to us, and our friends who closed the cameras were given cell punishment. In addition, despite the decision of the Ministry of Justice to shut down the camera in our ventilation was opened".
The prisoners also complained about the health facilities and denounced to be systematically isolated. 
The prisoners announced that they will carry out disobedience actions to protest against these repressive measures imposed with the excuse of the State of Emergency being in place.