Women remember Shengal victims in Istanbul
Women in Istanbul showed their solidarity and support with Yazidi women.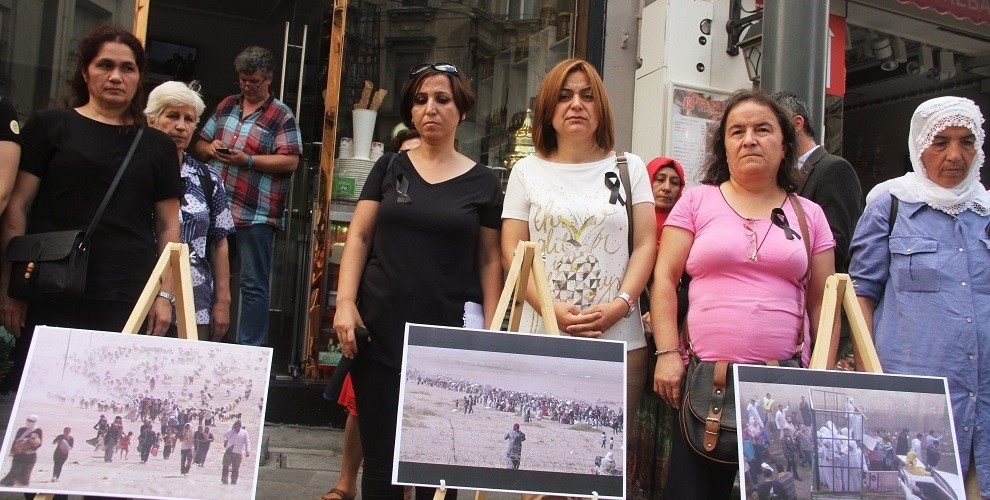 The Struggle for Kidnapped Women Platform condemned the massacre carried out by DAESH against the Yazidi people in Shengal, four years ago. The action was organised in Taksim square.  
HDP (Peoples' Democratic Party) deputy and HDK (Peoples' Democratic Congress) co-chair, Gülistan Koçyiğit, delivered a speech at the action which saw the participation of numerous women's organizations.
"This savagery has been a black mark in the history of humanity - she said - and we still know that many Yazidi women are in the hands of Arab sheikhs and rich men".
Koçyiğit pointed out that neither the Iraqi government, nor the Kurdistan Regional Government and international powers took any action when the genocide was carried out.
Koçyiğit added that many women have been rescued thanks to the proud struggle of the Platform Against Genocide and their families.
"Whether in Shengal or Chile, Argentina, or even Switzerland, wherever there are crimes against women we will be there to counter them", she said.
HDP Istanbul Provincial executive, Aysun Çeper, also spoke and said that Yazidi women have created their own women's councils and are healing their wounds by creating their own self-defence forces.