Women share experiences, establish new connections in Frankfurt
The Conference 'Revolution in the Making' has enjoyed the participation of over 500 women from around the world.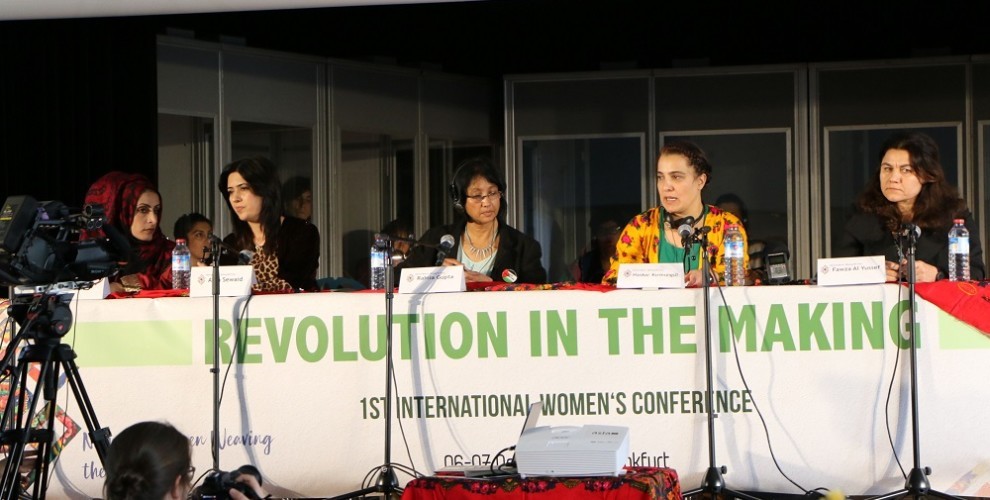 The second and final day of the International Women's Conference in Frankfurt has opened with a session titled "Women's Struggle for Freedom: From Fis to Kobane and Manbij to Raqqa".
Coordinated by author and activist Rahila Gupta, the session saw speeches by Haskar Kirmizigul who spoke on the philosophy behind the rupture from the patriarchal system, Avin Sawaid from Kongreya Star and Khawla Alissa Alhammoud, both coming from the North of Syria and whose speeches focused on the making of a women's confederal system, philosophy in practice.
While Kirmizigul brought the audience through the development and various stages of the women organising themselves also within the PKK, with Sakine Cansiz, one of the founding member of the Kurdistan Workers Party (she was murdered in Paris in 2013) being a pioneer of the liberation women movement that would have subsequently grown stronger within the party, finding in Abdullah Ocalan is first supporter and contributor, Sawaid and Alhammoud told the audience of the theory being put into practice in Rojava and also in Raqqa.
The second session was titled "Different Localities, Universal Struggles: Experiences of Women's Movements" and saw the participation of six women from different countries telling their experience of resisting and organizing in different context and spaces.
Speakers were from India, the United States, Northern Syria, the Philippines, Brasil and Afghanistan.
Jade Daniels from the US movement 'Black Lives Matter' spoke of the extrajudicial executions, police violence, systematical inequality and discrimination in the USA against black people and how these are local expressions of indeed a much more universal reality: those whose lives are devaluated, she argued, by the bio-political order of hegemony, whose lives are ungrievable, who become open target to killing. She went into explaining why white supremacy is sexist.
Rita Segato, professor of anthropology, explained how in Latin America the killings of women have already reached the extent of feminicide and argued that feminicide is not just physical elimination of the woman. She argued that recognizing the complicity of the state, women have concluded that feminicide could only be stopped through strong organization.
The afternoon will be dedicated to a session named "Revolution in the Making: Weaving our Future Together", and will be moderated by Meral Cicek, from REPAK.
The event will close with a final resolution.