Women take to the streets all over Europe - II
To mark 25 November, International Day for the Elimination of Violence Against Women, demonstrations have been organised in Germany, France, Cyprus and Italy.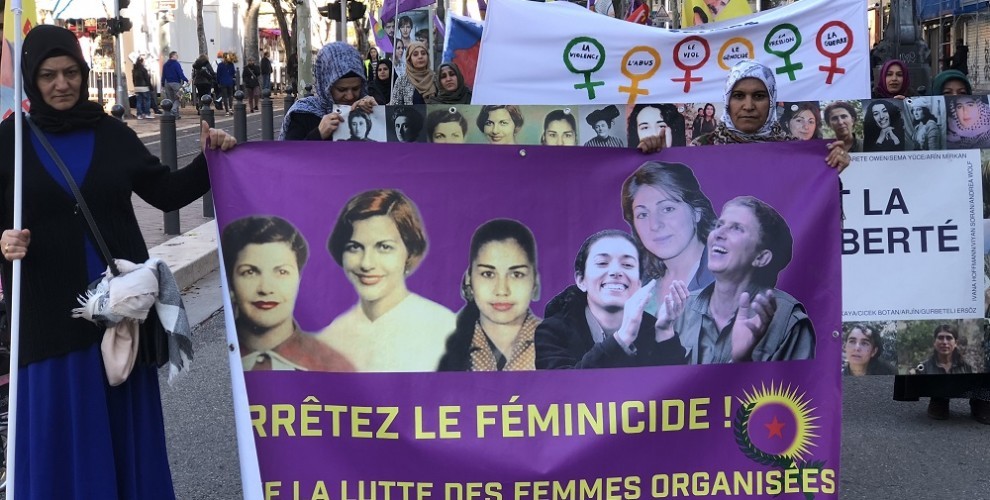 Demonstrations have been marking the weekend all over Europe. Women have taken to the streets to mark 25 November, International Day for the Elimination of Violence Against Women.
FRANKFURT
In Germany, the Frankfurt Amara Women's Council promoted a march together with Sara Women's Council of Offenbach and Nujin Women's Council of Hanou.

omen chanted slogans such as 'Yesterday Rosa, today Sara' and 'Jin, Jiyan, Azadi' (Woman, Life, freedom).

Speaking on behalf of YJK-E Frankfurt, Vildan Dirik said that the male-dominated mentality continues to increase its violence against women every day. Noting the importance of organization in order to stop violence against women, Dirik said: "There is no possibility of violence, slavery and labor exploitation where there is free woman".


ULM

Members of several organisations such as HDK-A, SKB, TJK-E, SYKP, ADKH, New Women, MLPD, Rebell, Mor-Kızıl Collective and Anatolian Federation joined a march to mark 25 November in Ulm.


The event, organized by the Women's Platform Ulm, took place at Münsterplatz.


Speeches pointed out the situation of women from Turkey who in Europe are also immigrants and being a minority are actually forced to live in more severe conditions.
DARMSTADT


A demonstration was held to mark 25 November in Darmstadt. A statement was read at the rally which began with a minute silence.
YJK-E activist Zozan Serhat pointed out the importance of women's struggle.

he action ended with slogans and music.


GIESSEN
A rally was promoted by the Berçem Women's Council in Giessen.

 statement was read in Kirchen Platz.
MARSEILLE


In Marseille activists at the 25 November demo carried photographs of Kurdish People's Leader Abdullah Öcalan and the three Kurdish women's revolutionaries who were murdered in Paris in January 2013.
The action was promoted by Arin Mirkan Women's Council in Marseille.
LIMASSOL


A demo was staged in Limassol, Cyprus, to mark 25 November.
TJK-E led the march from Theofilos Kurdish Cultural Center to Limassol City Hall.
Slogans such as 'Jin Jiyan Azadi', 'Jin Jiyan Ocalan' and 'Bij Serok Apo' were among the most heard at the march. The action ended with a press release in front of the municipality.

ROME
In Rome all kinds of violence against women were protested and rejected in a joint march of Italian and Kurdish women.