Yazidi Women call for International Action Day on 3 August
On 3 August 2014 DAESH mercenaries massacred Yazidis in Shengal.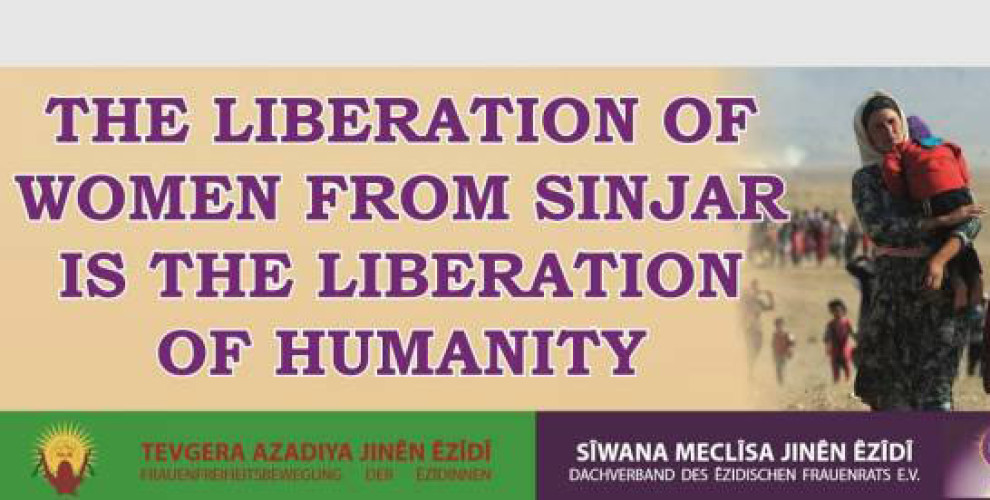 The European Yazidi Women Council has called on women to stage an International Action Day Against Feminicide on 3 August.
In a written statement called "The Liberation of Women from Sinjar is the Liberation of Humanity", the Council pointed out that the attacks carried out by the DAESH mercenaries on 3 August 2014, were a plan to annihilate the Yazidi society altogether.
The DAESH mercenaries targeted especially women. "On 3 August 2014, the world public opinion witnessed the most brutal attack against a society", said the statement and added: "Yazidi women were murdered, abused, tortured, sold in slave markets".
Remarking that according to unofficial date, at least 5 thousand women and children were abducted and sold in slave markets, the statement added: "We will never forget the women and children who are still in the hands of the DAESH mercenaries and we will increase our struggle to save them".
Stressing that the there is a risk of continuation of the massacre against Yazidis, the Council recalled that in early 2018, the Turkish fascist regime, in cooperation with NATO, perpetrated great massacres in Afrin, displaced Yazidis, Alevis and the Kurdish people from home and occupied their lands.
The statement noted that the sacred places of Yazidis were looted, hundreds of Yazidi women were abducted and tortured during Afrin invasion, the Council said; "The Turkish fascist regime carried out these practices in a joint and organized manner with DAESH gangs. Seeking to revive the Ottoman system, Erdoğan wants to redesign the Middle East through massacres and occupation. By means of genocidal plans, he wants to massacre everyone that struggles against this dirty plot. Afrin and Southern Kurdistan cases are a concrete expression of this truth, which is also proved by the elections in Turkey and Northern Kurdistan."
Calling on all women of the world to support the International Action Day Against Feminicide on 3 August ini response to the massacres of the Turkish state, the statement said; "We believe that the atrocities suffered by Yazidi women who were massacred, taken captive and sold in slave markets will be overcome through struggle and solidarity."
"We call on people to take to the streets and raise their voices on 3 August against the male mentality of DAESH. On this basis, we, the European Yazidi Women Council, will be out in the streets on 3 August, and we call on the Kurdish women and all our friends to ensure active participation in the actions."
Here is a first list of events to be held on 3 August.
* Berlin Brandenburger Tor at 5 pm, march-meeting
* Celle Grosse Plan at 4 pm, meeting
* Achim Obernstrasse at 4 pm, meeting
* Bielefeld Hauptbahnhof at 4 pm, march-meeting
* Wesel Feldmark at 5.30, march-meeting
* Saarbrücken Europagalerie at 6 pm, meeting
* Emmerich/Kleve Herzogstrasse at 6 pm, march-meeting
*Oldenburg Hauptbahnhof at 6 pm, march-meeting