YJA Star guerrillas: Zîlan showed women how strong they can be
YJA Star guerrillas commemorated martyr Zîlan, one of the leading members of the PKK, saying that "Comrade Zîlan created a line of resistance. With her action of self-sacrifice, she showed women how brave and strong they can be."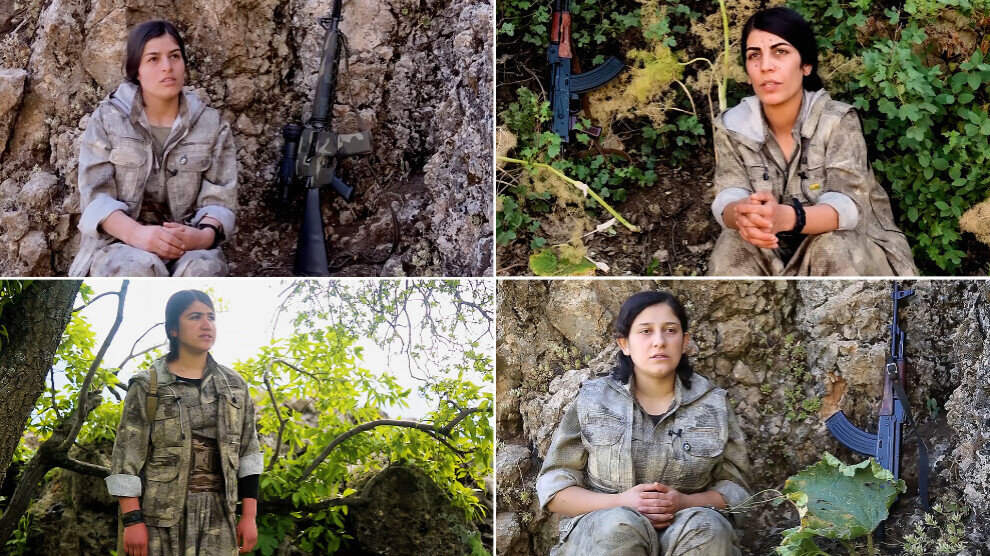 Guerrillas of the Free Women's Troops (YJA Star) commemorated all the martyrs of the revolution in the person of Zîlan and said that they would fight to realize the dreams of the martyrs. Recalling that Zîlan had carried out a self-sacrificing action to respond to a bomb attack against Kurdish leader Abdullah Öcalan, the female fighters stated that they owed today's achievements to the endeavour of the martyrs.
YJA Star guerrillas spoke to ANF to mark the 26th martyrdom anniversary of Zîlan (Zeynep Kınacı), who carried out an action of self-sacrifice in Dersim province on June 30, 1996.
Raperîn Zinar: Comrade Zîlan's action was a reaction to the conspiratorial forces. At that time, a bomb attack was carried out against Öcalan. Comrade Zîlan carried out an action of self-sacrifice among Turkish soldiers to respond to this attack. With her action, Martyr Zîlan showed that Öcalan is our red line, and those who ignore it will be punished. Comrade Zîlan represents the line of sacrifice and freedom for us, and we commemorate her on June 30 each year. Her action was a major one that only a battalion could carry out. After this action, thousands of other women have been inspired by her. Following in the footsteps of Zîlan, female fighters are currently resisting enemy forces in battle positions. Comrade Zîlan showed women how brave and strong they can be.

ZİLAN IS A SYMBOL FOR US
Arîn Merwan: Firstly, I would like to commemorate all the martyred comrades in the person of comrades Zîlan and Helmet. Friends who got to know Zîlan always talked about her stance, struggle and enthusiasm for life. With her self-sacrificing action, she prevented enemy forces from approaching Öcalan. She also carried out this action to protest the torture and persecution against the Kurdish people. Zîlan's action was a very influential one that terrified enemy forces. That's why Martyr Zîlan is a symbol for us. Today is a holy day for us, a meaningful day. When comrade Zîlan carried out this action, there were traitors and liquidationists among us. One of the goals of Zîlan was to respond to those traitors and liquidationists. Hundreds of comrades were inspired by Zîlan and joined the struggle. We, too, rely on the line of comrade Zîlan and we are struggling on this basis.

SHE ALWAYS PURSUED THE TRUTH
Avjîn Çiya: Today marks the anniversary of the martyrdom of comrade Zîlan. I would like to commemorate her and express my feelings about her. Comrade Zîlan is a symbol in the history of our struggle. She carried out a very meaningful action against both liquidationism and the conspiracy. I also want to take Zîlan's struggle as an example and follow in her footsteps. The way she displayed such will in those mountains and especially her love for Öcalan are very impressive. Comrade Zîlan was free in every sense; she always pursued the truth. All our aim is to be her successor. Currently, the enemy forces are attacking every area of ​​Kurdistan. Fighters are responding to these attacks by adopting the resistance spirit of Zîlan and Bêrîtan. Today, thousands of children are named after Zîlan, and thousands of our comrades are using Zîlan as nom de guerre. The only goal is to be like Zîlan. When I think of comrade Zîlan, I think of love and truth because her love for Öcalan, for the movement and for these mountains was so great. Zîlan is the symbol of freedom and truth.

HER WILL KEEPS US STANDING
Arîn Mîlad: On the martyrdom anniversary of our great commander, Zîlan, I commemorate all martyrs of the revolution with respect. Zîlan was one of the people who understood Öcalan best. With her action, she showed how committed she was. Comrades Zîlan, Egîd and Bêrîtan showed everyone what a great will emerged within the movement thanks to the philosophy and ideology of Öcalan. The backbone of the women's army is comrades Zîlan and Bêrîtan. Those who struggle with this will are inspired by the struggle of comrade Zîlan and the sacrifices of other comrades. As a woman, the greatest honour for us is to be able to fight in the line of those comrades. Comrade Zîlan devoted her entire life to the movement. She had a great life and made history. In our struggle, we are inspired by our comrades Zîlan, Egîd and Bêrîtan. These comrades have enabled us to become what we are now. We have reached this stage thanks to their endeavours. It is their will that keeps us standing.

HUNDREDS OF WOMEN WERE INSPIRED BY ZİLAN
Havîn Arjin: Zîlan carried out this action to respond to the conspiracy against Öcalan at that time. When we look at Zîlan's life, we can see what a combative personality she had. She proved this with her action in Dersim, with which she invented a new line of action. After Zîlan, hundreds of young women joined the movement and adopted her name as nom de guerre. They have promoted the truth by following in the footsteps of Zîlan. They have relied on Zîlan's manifesto. We will fight to the end to make her dreams come true.