YJK-S holds annual congress
The Swiss Kurdish Women's Union (YJK-S) held its annual congress and made plans and decisions for the new period.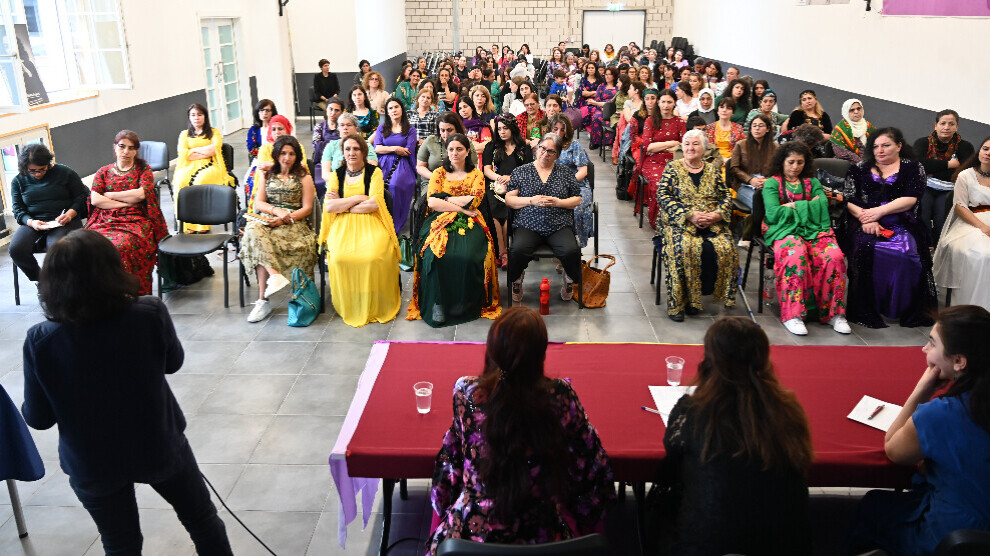 The umbrella organization of the Kurdish women's institutions in Switzerland, the Swiss Kurdish Women's Union (YJK-S), held its annual congress.
The congress held in the conference hall of the Basel Democratic Kurdish Community Center (CDK) was dedicated to Evîn Goyî, who was murdered in Paris on 23 December 2022, and Nagihan Akarsel, member of the Jineology Academy Center, who was murdered in Sulaymaniyah on 4 October 2022.
Dozens of delegates and many guests attended the YJK-S Congress, the umbrella organization of 6 assemblies, 4 communes and 3 initiatives, which renewed their organization with the congresses they held in March.
The conference started with a minute's silence in memory of the martyrs of the Kurdistan Freedom Struggle, the election of the chair and the setting of the agenda.
Later, Zeynep Dersim, a member of the European Kurdish Women's Movement (TJK-E), said that 2022 and 2023 were very busy both in the world women's struggle and in the politics of Kurdistan and Turkey. "Kurdish women have taken an active role in the past two years and have been a determining factor in the world women's struggle."
Dersim said that they will continue the women's struggle until they get results, and added: "Breaking the isolation of Leader Apo, the creator of the "Jin jiyan azadi" philosophy, and ensuring his physical freedom will be our main agenda."
Dersim spoke about the 14 May elections and said: "Today, the voting period in Switzerland may have ended. But our mission and responsibility have not. We should call our families, relatives and acquaintances living in Turkey and Kurdistan, and invite them to go to the polls on 14 May and cast their vote."
Talking about the 100th anniversary of the Treaty of Lausanne, Dersim said: "This treaty, which ignores the identity, land, language and culture of the Kurdish people, is null and void for us. We have to fight against the tyrannical system that carries out crimes against humanity and war and targets the free Kurds. It will be the struggle of the Kurdish people that will shape the future of the Kurds."
Some of the decisions taken at the congress are as follows:
-The main axis of YJK-S's new term work is to ensure the physical freedom of Kurdish People's Leader Abdullah Öcalan. All actions and activities should therefore be carried out keeping this in mind.
-Transferring the Science of Jineoloji to the masses by creating education-oriented workshops.
-Continuing work on the creation of a woman-centered confederal system.
-Working in assemblies for the dissemination and development of the use of mother tongue.
-Organization and strengthening of public diplomacy.