Young Women's Union launches tent action in Hesekê against Turkish attacks
The Young Women's Union launched a tent action in Hesekê on Wednesday to condemn the invading Turkish army's attacks on Northern and Eastern Syria. The action will continue until tomorrow without interruption.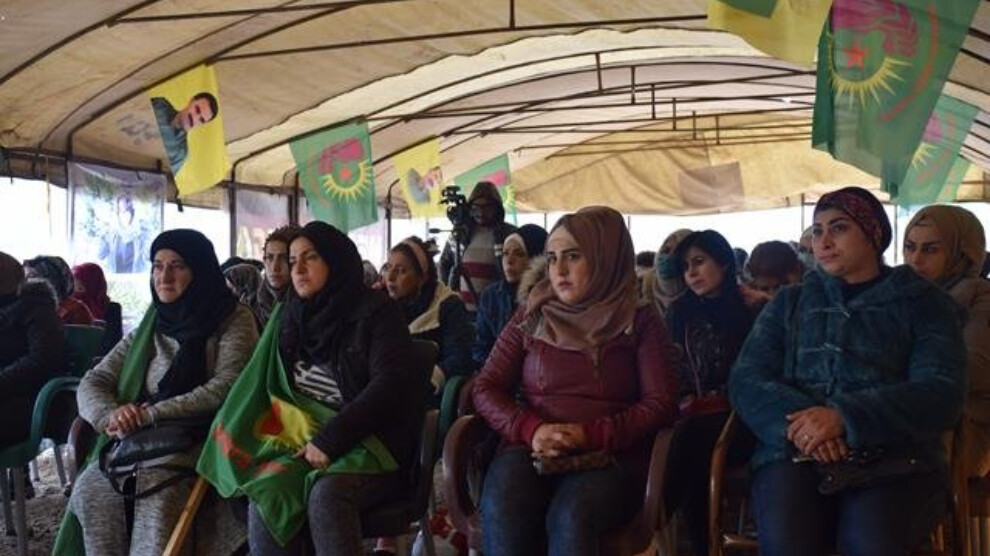 Hesekê Canton Young Women's Union launched an action tent in the Rêber Apo Park [Abdullah Öcalan] in the center of Hesekê to condemn the invading Turkish army's attacks against the citizens of Northern and Eastern Syria as well as the latest attacks on Kobanê, Zirgan and Til Temir.
According to the program of the preparatory committee, many activities will take place during the 3-day action.
Non-governmental organizations affiliated to the Autonomous Administration, women's organizations and tens of members of the Young Women's Union attended the action tent.
Speaking here, Sema Hesen, one of the executives of the Young Women's Union, said that the crimes committed by the invading Turkish state were an effort to put an end to the democratic nation project.
Stating that the attack in Kobanê, which resulted in the death of 6 members of the Revolutionary Youth Movement and the Young Women's Union, will not weaken the will of young people in Rojava, Sema Hesen added: "We are based on the ideas and philosophy of Leader Öcalan, nothing can weaken our will. We will continue to follow in the footsteps of our martyrs."
Cûmana Ibêd from Kongra Star, and Nisrîn Mecdel, Hesekê Canton Schools Teachers' Union executive, also drew attention to the importance of resistance in the face of attacks against the region.
The numerous citizens participating in the tent protest discussed the reason and purpose of the invading Turkish army's attacks on the region, as well as the organizational mechanism to block the attacks.
A video about the bomb attack carried out by the invading Turkish army and those who lost their lives in the attacks will be screened during the three-day action. In addition, a seminar on the importance of defense, the role of women's struggle and the history of the invading Turkish state will be held.