Zehra Doğan at Tate Modern in London
E Li Dû Man (Left behind) is an emotional journey through the most intimate and personal objects of the people of Nusaybin. The exhibition will close on 25 May.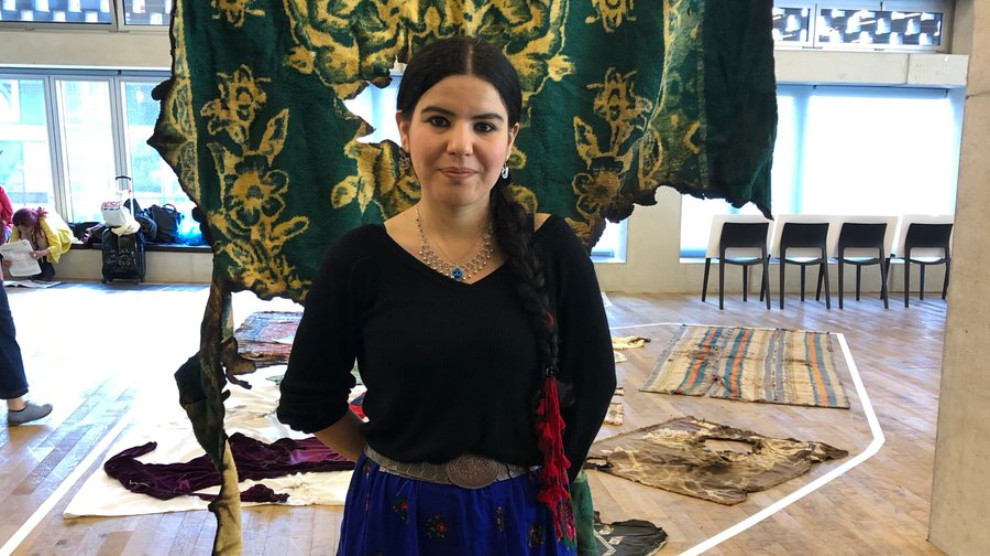 The exhibition/performance by journalist Zehra Doğan opened at Tate Modern in London and recalls the siege of Nusaybin, Sur, Cizre in 2015 and 2016. 
As Doğan herself said: "As a journalist who covered the destructions and confrontations in the Kurdish towns in Turkey between 2015 and 2016, I will show objects I assembled that had been abandoned under the rubble of demolished buildings. Through these objects depicting a wounded everyday life, I will tell the story of these people. This installation will highlight my work as an artist and as a journalist. One of the most striking objects on display is a burned multi-colored carpet."
This carpet represents all the country's inhabitants: Turks, Kurds, Arabs, said Dogan, "people are beautiful when they are together, not when they are divided. However, this partly burned carpet shows we were divided and burned. There will also be clothes that are a part of people's identity – how they value and define themselves. These items were left behind, burned and lifted out of the rubble, showing there were death…"
E Li Dû Man also houses an experimental, participatory press room where Zehra Doğan and her collaborator, journalist Ege Dündar, along with others will write content and co-produce with visitors a newspaper for artists and activists imprisoned in Turkey.
The installation invites the visiting public to read the stories  Zehra Doğan and fellow journalists documented, bearing witness to the displaced and those who lost their lives. Translation plays a key role in this installation which has been co-commissioned with Tate Exchange in collaboration with Index on Censorship, English PEN and PEN International. 
The videos and photos Zehra Doğan took during the curfew will be shown on screen with the installation. And stories will be read of those who lived behind the barricades. What happened during the curfew, what happened before, how did it end? 
"Each of the visitors - explained Doğan - will be informed of the events in 2015-2016 and will receive a written text. He/She will read, learn and understand. And when they leave, they will take with them a copy of the paper 'Ê Li Dû Man', prepared with journalist Ege Dündar. In this paper, they will learn about the Kurdish experiences, the jailed prisoners, the hunger strikes, the writers, poets, artists and children. After all this, perhaps each person can go home and act, by writing a letter to prisoners for example."
In a recent interview, answering a question about why her art and writings are so feared by the Turkish government, Doğan said: "The Turkish government considers my art as threatening because I draw what they have done. I paint their disgrace. Consequently, they hate my art but I have no choice, the Turkish government has given me so much material to work with. This government does not like my art because I document and provide evidence of their destructions – as I do in my writing."
Zebra Doğan was sentenced and jailed for "propaganda", because of a digital drawing showing the destroyed town of Nusaybin.
She was sent to prison in July 2016, released in December in 2016 and sent back to prison in June 2017. She was eventually released on 24 February 2019. 
The prison administration refused to give her any material that she can use for painting.