Zenobiya Women's Union plans to expand its work to all of Syria
The women's union Zenobiya works for the organization of women in the north and east Syrian regions of Raqqa, Tabqa, Manbij and Deir ez-Zor. However, the work is to be extended to all of Syria.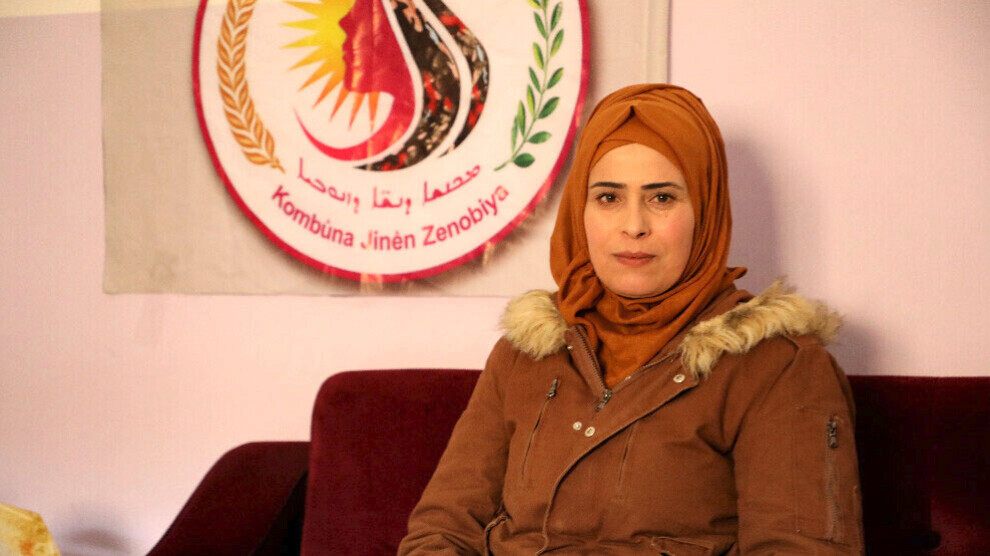 The Rojava Revolution is known as a revolution for women's liberation. The revolution, initiated primarily by Kurdish women, had profound effects on the lives of women of the most diverse ethnic identities in the region. The women's union Zenobiya has been working in the predominantly Arab regions of Raqqa, Deir ez-Zor, Tabqa and also in Manbij. Houda Isa Ali is the association's spokesperson. In this ANF interview, she spoke about the work of the organisation and the plans for the year ahead.
What was the situation of women in society and how they were organized in Syria before the revolution?
They didn't have a mission, and they didn't matter. Mostly, Arabs and Kurds lived in these regions. At that time, there were some women's institutions in Raqqa. They also called themselves the Women's Union, but only represented women by name. They worked under the influence of the Damascus government. Only women from the Ba'ath Party could be admitted. The group consisted of a few people and well-known women. Yes, women went to school and graduated from university, but because the role that women were assigned in society was so subordinate and influential, these educated women could not play a major role. Only women who served the interests of the Ba'ath regime and defended the regime's opinions could come to the fore. In any case, people from the Ba'ath regime came from outside and administered the company. Therefore, the people who had studied also sat at home. This system lasted for 40 years.
What influence did women have at the beginning of the revolution?
When the revolution began, women wanted to take their place, but the revolution moved away from its own line and women were pushed out of it again. Women had high hopes for the Syrian revolution. They hoped that they would get their rights, their freedom and be able to get involved in many areas. All of these hopes were dashed when the revolution strayed from its path. The looting and theft lasted two to three years when some armed groups occupied our region. Then the ISIS occupation began. That was an even more severe blow to the women. They have been slaughtered, sold in markets, locked in houses, forced to wear black veils, raped and enslaved by ISIS mercenaries. Raqqa became the capital of ISIS. Great suffering happened here. Yazidi women were brought here and sold. Women from Tabqa, Manbij and Raqqa met the same fate. The people here suffered a lot under the rule of ISIS. We had lost hope of surviving this, but the Kobanê resistance reignited our hope.
What impact did it have on women in the region, especially when YPJ fighters fought against ISIS and triumphed?
When Kobanê and Girê Spî were liberated and the YPG and YPJ organized and developed, many of our young women joined the YPJ to save themselves from this oppression. Many of these young women fell while liberating their home regions. As more areas were liberated by the YPG and YPJ, our hope for freedom grew. We have seen historical changes every day. After the Kobanê victory, the women of Raqqa, Tabqa and Deir ez-Zor began to take their place in the military units. They fought for the liberation of their own homeland. After these areas were liberated, we believed that it was necessary for the women of Raqqa, Tabqa, Manbij and Deir ez-Zor to organize and live in this spirit. If women were now active in leadership institutions, defense and security forces, in education, political parties and ideological areas, then this represented a great success for all. Now the colours of women have begun to become visible in society. Women are now participating in all areas.
How did the idea of ​​the women's union Zenobiya come about? Why Zenobiya? Does that mean something special?
Of course, the women's institutions that were founded in our areas did not fall from the sky. We took an example from the women in Cizîrê. We have accepted them as pioneers. After founding Kongra Star, we followed this example and founded our own women's institutions in our regions. These women's institutions established in our regions have become women's centers and places where women's problems are solved. Each previously established institution worked separately. They worked in the form of various women's institutions, self-governing institutions, Kongra Star committees and women's shelters. This is how our work has developed over the past four years. Four years later, we decided that these institutions should now be merged under the umbrella of a women's union. In this way, the decision was made to found the Zenobiya Women's Union. At the congress in June, it was decided to found a women's union. It aims to organize women in politics, defense, business, education, health and all other fields.
Zenobiya (Zenobia 240-274 AD) was the queen of Palmyra (Tadmur). She was a woman who fought for women and did not submit to persecution. That is why we, as women from Syria, have chosen this name.
At the moment, Zenobiya is working to organize the women of Raqqa, Tabqa, Manbij and Deir ez-Zor. In the future we will expand our work to all areas of Syria. After the establishment of the union, four offices were set up in Raqqa, Tabqa, Manbij and Deir ez-Zor. These four offices are managed by a board of directors. The board consists of seven people. Eleven committees were formed in the four offices. The economy, education, press, ideology, defense, martyrs' families and peace committees work actively. We also aim to set up a culture committee in the near future. Each color on Zenobiya's logo represents a different people. The lettering is in Arabic, Kurdish and Aramaic.
How did the women in the region receive this initiative?
After the Union was founded, meetings were held with women from all walks of life. There were extensive discussions with all the women. The women supported this project very much. A general women's council is to be set up in the next month. All women's institutions will be represented in this council. The Autonomous Administration, Kongra Star, the Mala Jin, the Zenobiya Women's Union and the Syrian Democratic Council will be in it.
The women in our region have developed very well politically. Zenobiya has become a center where all women can express themselves. Every woman wants to defend her rights through this institution. But there are also remnants of the ISIS mentality in society, and that makes it difficult for us.
Some customs and traditions coming from a tribal culture pose a challenge to us. We want to bring about a change in society through education. We will continue our resistance.