34th Kurdistan Dance Festival kicks off in Hanover
This year's festival of folklore dances of Kurdistan began on Saturday with a parade through the city centre of Hanover. Almost two dozen dance groups are taking part in the tradition-rich competition this year.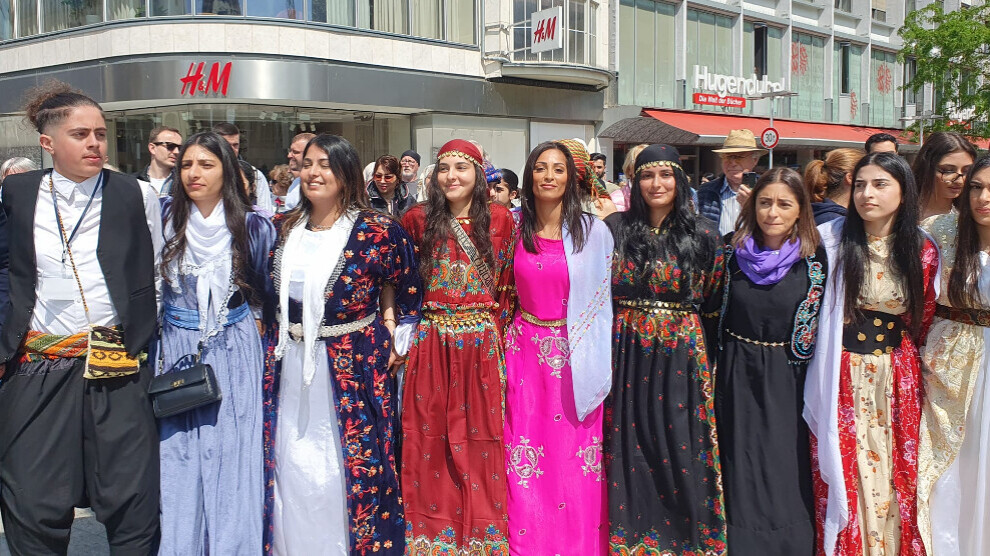 The 34th Kurdistan Dance Festival, Mîhrîcana Govendên Kurdistan, began on Saturday with a parade through the city centre of Hanover. The festival is organised by the Govend Europa association to celebrate Kurdish culture in Europe under the slogan "Our Culture is Our Identity".
The participants marched through the city in traditional dresses and costumes, accompanied by drums and dancing.

Yüksel Koç, co-chair of the Kurdish umbrella organisation in Europe, KCDK-E, also came to Hanover for the kick-off. In a short speech, the politician said: "Turkey is a colonial state and is pushing the assimilation of the Kurdish people, especially by suppressing their language and culture. Let us defend our culture against assimilation and carry it into the future."
On Sunday, the festival will continue at the Theater am Aegi from 9.30 am. After an opening speech, the children's dance groups will perform first. After this performance, the actual dance and music competition will begin, in which 23 groups from Germany, Switzerland and France will be participating this year. The groups will be judged by a jury, which will examine the costumes, the music, the dance, the facial expressions and gestures, the creativity, the stage set-up and the choreography, among other things. The two-day event will end with an award ceremony and a closing speech.