Şahin Doğan: "These prohibitions do not intimidate us; they strengthen us"
Plays, concerts, or Kurdish artists continued to produce in 2021 despite all bans and repression. Şahin Doğan from the Mesopotamia Cultural Centre (MKM) says that the bans do not prevent them from producing.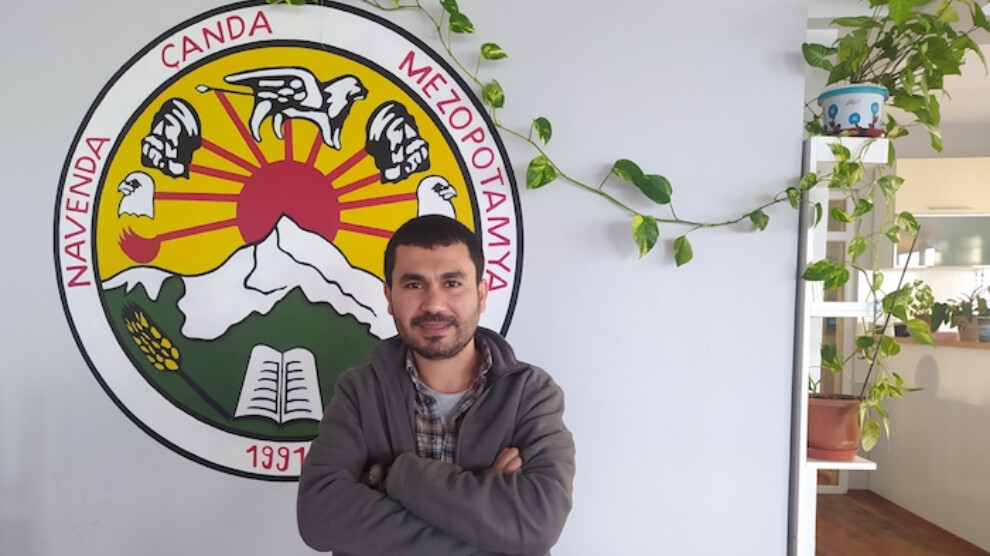 The Mesopotamia Cultural Center (MKM) was established 30 years ago and, despite the prohibition and disregard of Kurdish culture and language, has produced works in many areas over these years, defying all the oppression policies. The bans have survived to the present day. MKM's 30th founding day celebration was banned by the Kadıköy District Governor's Office on 16 October, hours before the event. It was not only MKM's activities that were banned. The ban in all areas of Kurdish culture continues in 2021. And in the last 6 months, when artistic events happened after the epidemic...
Sculptor Şahin Doğan, one of the MKM workers, talked about all these pressure policies to ANF.
A 100-year old policy
Explaining that the bans are not limited to today, Şahin Doğan emphasizes that the issue dates back to the establishment of the Republic: "There has been pressure on the Kurds for nearly 100 years. Cultural genocide is carried out over time. In fact, we have a structure that aims to destroy a people culturally, and the republic was built on this basis.
Maybe the name of these methods was changed in the past: before it was the Eastern Reform Plan, now it is called in a different way. But it should be noted that when we look at this policy, 30-40 years back, we can see that it was somewhat successful, so to speak, and some Kurds actually became ashamed of their identity. The Republic of Turkey is a nation-state and does not accept any different culture, language, identity other than itself. Of course, they saw the Kurds as the most dangerous among these different groups. Because Kurds are a people hard to assimilate and destroy, and they are resisting. Within the nation-state, for example, Armenians were subjected to genocide through the Deportation Law and their existence was destroyed. But they could not do that with the Kurds."
The name changed by the purpose remained the same
According to Doğan, the name of these policies implemented for 100 years has changed, but the purpose has remained the same: "Now there is a more refined policy of genocide – which is called cultural genocide. This is not finished today, the 100-year-old state policy is being implemented by further refinement and layering. Today, its name is no longer the Song Reform Plan. It is called Collapse Plan for the last 5 years.
Fascism is implemented in a more open way
Stating that the MKM was founded against all these policies, Doğan said: "The MKM emerged as a response to this understanding of genocide. The MKM was not established in such a period of economic prosperity. On the contrary, it was established in the midst of pressures in order to keep our culture alive. Producing art here means wearing a shirt made of fire, and the artists are aware of this. The MKM has a history of 30 years. In those 30 years, there were years when fascism was more open, then there were years when it was even more hidden, acting as if it had granted some cultural rights. It was like this, 'you can live with your Kurdish identity as an individual, but you cannot exist with your rights as a people.' This is what I mean by secret fascism. When we look at the last five or six years, this fascism can no longer hide its reality. In fact, fascism is implemented in a more open way."
The MKM is aware of all these policies
Şahin Doğan underlines that fascist policies have increased and have become more visible in this 100-year period. "Perhaps we are facing the most multiplied form of the policy of destruction that has been implemented for 100 years. Therefore, these prohibitions do not surprise us, we find fascism carried out in secret more dangerous. Here it is more openly hostile and it openly says, I do not know your existence, language and culture. Not in its discourse, but in its actions. It used to say this in its discourse, too. But now, at least, it accepts the existence of the Kurdish people. And the biggest reason for accepting the existence of Kurds is their struggle.
In the past, there were no Kurds. Now there are Kurds, but they do not have rights. When we look at the truth, there is still not a full recognition of their existence. That's why the MKM is a culture and art organization aware of all these policies carried out for the past 30 years. It is already organized to combat it. It still continues to produce its work with the excitement of the first day."
If we don't have a stage, we will set up one...
Doğan also underlines that prohibitions will exist in every period and added that these bans do not intimidate either the MKM or the people's struggle. In fact, he said, "all these prohibitions strengthen them. There will be bans, but we do not expect the state to make it easy for us. We will continue to find our way as we have done for the past 30 years. We will create our own opportunities. If we cannot find a stage, we will set up one. We will continue to take to the streets. These prohibitions strengthen us. They don't thwart us...  When the MKM was founded, we had no stage. We were staging our plays and events in a place in which 100 people could enter. At that time, we played among people, at rallies. Today, we are among the people again. For example, we go to weddings and they attack these too, but we will continue to do our job, despite their attacks. We also try to stage our events at every possible venue.
There is also a digital space today. For example, if we had organized a concert in the last 30th year, maybe we would have reached 5 thousand people. But because it was banned, we reached 100 thousand people. The issue is not only the banning of a concert or a play. They are trying to prevent a people from breathing. That's why the struggle is so important and why culture and art are pillars of it. The entire struggle is to reveal the existence of a people standing on their feet."