Bayık: The Kurds are leading a renaissance in the Middle East
In his message to the 31st Kurdish Cultural Festival, Bayık highlighted the role of culture and art in the struggles of societies and said it was time to take steps in the fields of music, cinema, theater, literature, folklore, painting and sculpture.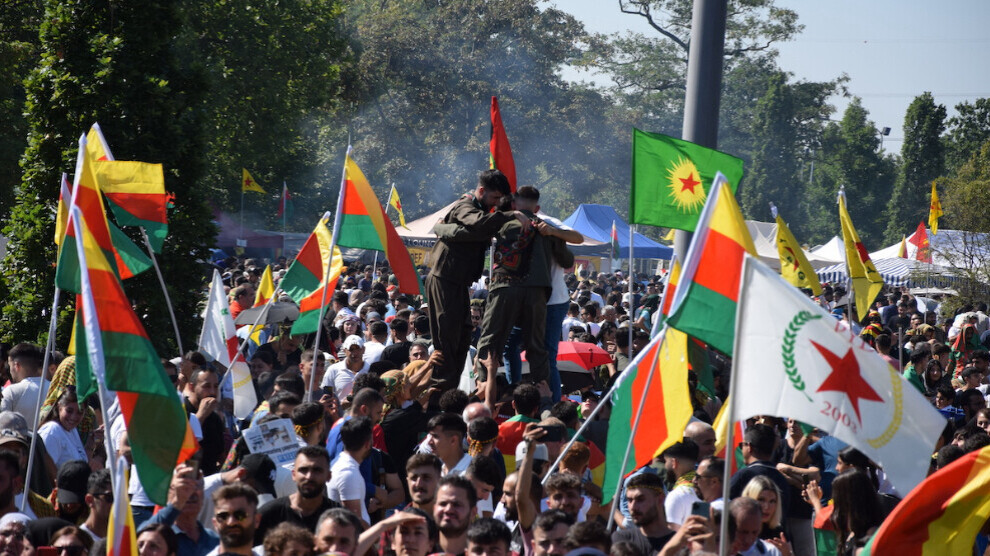 The KCK (Kurdistan Communities Union) Executive Council Co-Chair Cemil Bayık sent a message to the 31st International Kurdish Cultural Festival in Frankfurt.
In his message to the festival, which is attended by thousands of people, Bayık highlighted the role of culture and art in the struggles of societies and said it was time for the Kurds to take steps in the fields of music, cinema, theater, literature, folklore, painting and sculpture.
Greeting the participants of the festival, Bayık paid tribute to all those who have been martyred in the guerrilla areas in Medya Defense Zones, in prisons, in the areas of struggle and resistance, and in the attacks and massacres against the Kurdish people. He vowed to fulfil their aspirations and keep their memories alive.
Bayık expressed his gratitude to Kurdish people's leader Abdullah Öcalan who, he said, made unprecedented efforts for the improvement of Kurdish culture and arts, and to the artists who gave a concert in Italy demanding freedom for Öcalan.
Referring to the genocidal policies pursued by the nation states, forces of capitalist modernity and all sovereign forces to deflect humanity, detach it from its traditions and put it through genocide, Bayık stated that there could be no life without culture and arts.
Bayık pointed out that capitalist modernity considered culture and the arts as a sector and sought to take peoples and societies under control through not only terrifying means of war, but also soft power methods. "Resistance and struggle against these policies and attacks are valuable and sacred. Culture is the future and reality of peoples. Every human being and society grows, lives and develops on its own roots," he said.
Bayık stressed that the Kurds experienced policies of cultural genocide more than any other society as the tyrant and genocidal powers were still employing every method to annihilate them. "They kill the language, culture and art through white slaughter. Still, the Kurdish people have never bowed down. They have always stood on their own feet, fought for their freedom. They have been a source of morale and hope for all the forces of freedom and democracy. This has been achieved thanks to their commitment to their culture."
Bayık said that the Kurdish people have great advantages today after 50 years of struggle that has generated great values and opportunities.
"The legendary struggle of Leader Öcalan in Imrali, the struggle of the guerrillas in Zap, Metina, Avashin and Xakurke, and the struggle of the freedom prisoners behind bars require the creation of great works. These historic struggles should be crowned with literary and artistic works. Those dealing with cultural and artistic activities in particular should appreciate these struggles. The Kurds are living a renaissance today thanks to tens of thousands of martyrs, and they have the Middle East live its renaissance. The greatest disaster for this society would be a failure to embrace its ancient and historical culture and art. Leader Öcalan did so, and created a culture with the struggle of the PKK, through which he encouraged the Kurds to fight for their own freedom and to inspire entire humanity."
Bayık stressed that artists should defend society and be based on socialisation, draw strength from socialisation and consolidate socialisation through their art. "The capitalist modernity stands against socialisation, and therefore encourages populism, individualism and materiality. In doing so, it draws artists into a commercial state and drives them apart from their goals. By means of this policy, it kills not only life and society, but also art and artist. For this very reason, culture and art play a vital role in the creation of the mindset, personality and social life, as well as in the improvement of social creativity and the protection of the future of society. That's why artists are the leaders, guides and intellectuals of society. It is their responsibility to develop and preserve social, moral and political features."
Bayık continued: "Everything begins in the mindset and is won with it. Leader Öcalan has put up a remarkable struggle for the improvement of the mindset, personality and life of the Kurds. To do this, he developed a struggle of philosophy, ideology, leadership, organisation, militancy, people, life and mentality. As a result of this struggle, the Kurdish people reached a desired and exemplary level. The duty and responsibility of the artists is to improve these realities further among the Kurds and other peoples of the world, in the international arena. All challenges, obstacles, failures and shortcomings can be overcome through mindset. To this end, Leader Öcalan presented us with the mission of "Revolution of Conscience and Mindset", which enhances human perspective, courage, determination and will."
Bayık pointed out that the attacks of genocidal, collaborationist and treacherous capitalist modernity could not be confronted through military struggle alone. "In order to thwart these attacks, we need to wage a struggle and war in the ideological field. We can frustrate these attacks through a struggle in the fields of culture and art. Artists are the tongue, heart and mind of society. They see the problems of society and lead it to solutions. Artists from Kurdistan are the leaders in shaping and enlightening society.  As the genocidal Turkish state seeks to destroy the Kurds, the duty of artists is to develop a struggle against it. They should understand the influence of capitalist modernity and nation states, and reconsider and strengthen their sense of patriotism and revolution."
Bayık pointed out that the legendary struggle in Kurdistan, which inspires the forces of freedom and democracy all around the world, should be represented more successfully in art worldwide.
"We are in the most critical phase of the 50 years of struggle, which embraces not only dangers but also great opportunities. The danger is not posed by the capitalist modernity and cruel-genocidal states alone, but also from the collaborating Kurdish line that takes sides with the perpetrators of genocide against the Kurdish people and their freedom struggle. Leader Öcalan, the guerrillas and our people are resisting it. This resistance is also directed against the support of NATO and the second largest army of NATO. The hearts and minds of our people in Europe should be in Kurdistan and they should mobilize all their means for it. I salute the struggle of our people in Europe. The artists and our people in Europe should take it as a fundamental duty to preserve and develop the Kurdish culture and language. All Kurds should be able to read and write in their language and raise their children in a free Kurdish culture."
Bayık continued: "Leader Öcalan said 'Culture, language and geography constitute the body which you should claim. This is a vital instruction and perspective that concerns all of us all the time. You are physically far away from the country, but you should not leave your country and land in your hearts and minds. Our people's commitment to their country, culture and language and the freedom struggle of the country should always remain strong and alive. So much so that even your dreams should belong with Kurdistan, not Europe. Culture is land, country, agriculture, labour. It is life itself."
Bayık suggested the opening of an art conservatory as soon as possible, development of culture and art, engagement with the freedom and democracy struggle and enhancement of solidarity in the international arena.
"We should know that our main struggle is for the physical freedom of Leader Öcalan, and the fact that the Kurdish people have been held in captivity for 25 years. Actions are taking place everywhere for the physical freedom of Leader Öcalan today and these actions will continue to grow every day. Culture and art have a fundamental and basic role in the struggle for the physical freedom of Leader Öcalan. We are sure that all the artists will lead this historic campaign. On this basis, we celebrate the 31st Kurdish Cultural Festival, trusting that it will play its historic role. On this occasion, I extend my greetings and respects to all esteemed artists and patriots, and wish you all success," he added.